The beautiful deep blue water of Lake Thun is so stunning. In this blog, we tell you everything you need to know about lake Thun. How to get to Lake Thun, what to expect and more! After reading this blog you're ready to explore what Lake Thun has to offer.
In our opinion, a visit to Lake Thun should definitely be on your bucket list. Lake Thun is located in the centre of Bernese Oberland. The alpine lake is named after the wonderful city of Thun, which is located on the northern shore of the lake. An interesting fact, this lake is the largest Swiss lake which is located entirely within one single canton. It's time to learn more about the beauty this lake has to offer, let's start!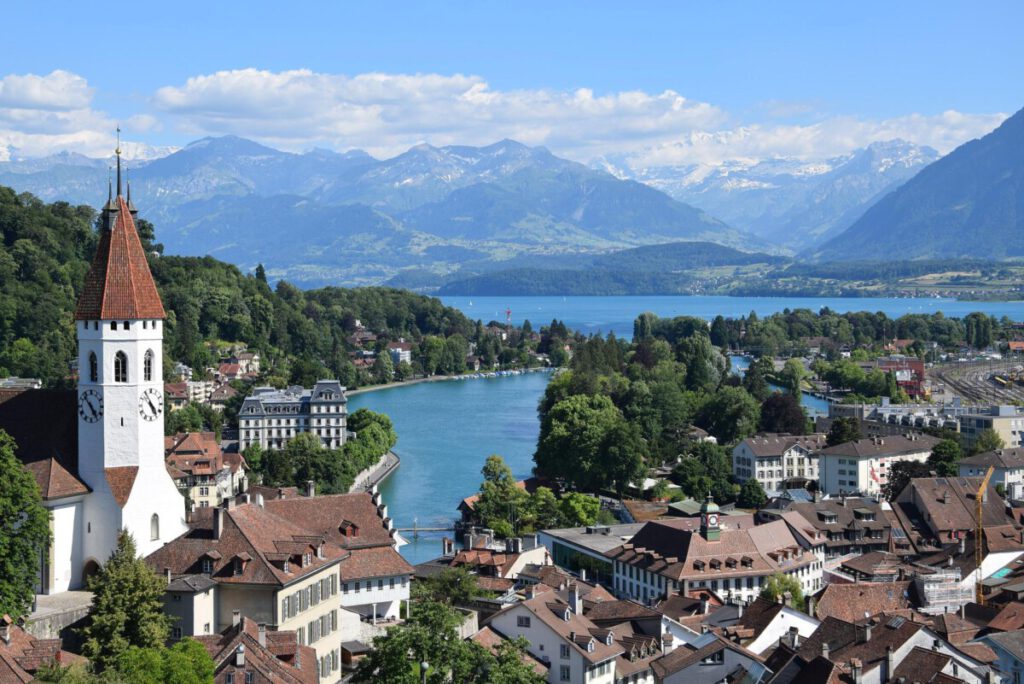 How to get to Lake Thun?
There are several ways to reach Lake Thun. To reach the lake you can first travel to Thun or Interlaken, both of these cities are situated near the lake. There are several towns located near the lake, almost all of these towns can be easily reached by car or public transport. If we take Interlaken and Thun, these are easily reachable.
Travel by train to Lake Thun
Travelling by train is an excellent option too, we already made a blog post about Switzerland's efficient railway network, check it out here. An intercity train travels between Interlaken and Bern, with stops in Thun and Spiez. This train leaves every 28-30 minutes from Bern and Interlaken. If you would like to travel by train from Interlaken to Thun, it will take around 32 minutes. To travel from Spiez to Interlaken will take around 20 minutes.
If you'd like to travel from Bern to Thun, it will take around 25-30 minutes and from Bern to Spiez will take around 20 minutes.
Travel by car to Lake Thun
If you travel by car to Lake Thun it will take around 30 minutes to travel to Thun from Bern, 30 minutes from Interlaken and around 40 minutes to the town of Spiez.
Experience the beauty of Lake Thun
Highlights of Lake Thun at a glance:
This lake is the largest lake in the Bernese Oberland
On Saturdays, Children travel for free on the boat cruises
You can travel for free on your birthday on the boat cruises
There are numerous fabulous activities along Lake Thun
Several steamer cruise options, from sunset cruises to morning cruises
Boat trips on Lake Thun
As we mentioned a few times earlier, Lake Thun has deep blue water, which gives it a magical touch. We highly recommend booking a boat trip to explore the lake. This is a unique way to see the beauty of Lake Thun and its surrounding towns. The wonderful greenery and the snowy Alps of the Bernese Oberland. The nice thing about boat cruises, is you see the surroundings from a new perspective.
Different possible boat trips at Lake Thun
There are several boat trips available to book at Lake Thun. The most popular one is the boat cruise from Interlaken to Thun. This cruise will take around 2 hours. At a slow pace, you can enjoy the greenery and beauty. You can book a 1st class or 2nd class, just like trains. Good to know, most boats have an inside bistro/cafe/restaurant.
The boat leaves from Interlaken West, it travels all the way along Neuhaus nature reserve to St. Beatus Caves, Beatenbucht –> Spiez –> Gunten –> Oberhofen –> HIlterfingen –> Hunibach and its final destination is Thun.
Which season is the best to book a boat trip on Lake Thun?
In our opinion, there is no best season to book a boat trip on Lake Thun. The boat leaves from April during Spring, until November. During these months you can enjoy a boat trip. Imagine enjoying a coffee during the autumn season while the boat cruises along with the vivid colours of the leaves.
From Spring season till Autumn season you can take an afternoon trip while enjoying the peaceful sound of the waves buffeting the boat. There are meals, drinks and so on. You can have lunch and have dinner at the ferry as well.
We took a boat trip during the summer season, it was a nice way to relax on a hot day. The refreshing breeze and splashing waves on the boat will keep you cool. You can take the boat early in the morning from 8:40 a.m. We loved an early trip, to start your day with a fresh cup of coffee and a view which is breathtaking.
Are there sunset boat trips on Lake Thun?
Yes, there are sunset boat cruises on lake Thun from May till October. The boat leaves from Interlaken west station, at 6:10 p.m. -please check if the time does not change and is accurate – The boat arrives in around 2 hours in Thun. During the boat cruise, so during these two hours, you can fully relax and enjoy the fabulous sunset over Lake Thun. There is a delicious three-course sunset menu. Could you think of a more romantic way to end your day? For more information, we would advise you to check out this website.
Fabulous castles at Lake Thun
Lake Thun offers history. Five magical castles are situated around Lake Thun. You can visit these castles and explore their historic rooms and find out more information about who lived in the castles and more. You can stroll through the beautiful castle parks and enjoy the view of the Bernese Alps. There are art exhibitions in the castles and there are several cultural events in and around the castles. Check out the several beautiful castles here.
Can you swim at Lake Thun?
Yes, you can swim at Lake Thun! Actually, there are many possible spots to go for a refreshed swim. The most popular spot by locals is the Thun lakeside beach. Here you can enjoy breathtaking views of the Bernese Alps and have direct access to the lake and several heated swimming pools. This place has a 50-metre swimming pool and a 10-metre diving tower. There is a children's pool + playground. Plenty of space to sun on the lawn, with trees to stay in the shadow if you would like.
There are sports facilities, ranging from table tennis to volleyball courts. There is a self-serving restaurant too during the opening hours. Find out more information via this link.
The opening hours are from Monday till Sunday
May till August 07.00 – 20.00
September 07.00 – 19.00
Holidays 07:00 – 19.00
1. August 07:00 – 18.00
Conclusion
All in all, we can conclude that Lake Thun has a lot to offer. From beautiful castles full of history to the relaxing boat trips leaving from Interlaken to Thun. On the warmer summer days, you can swim at Lake Thun in several spots. We hope you will have a lovely stay in and around Lake Thun. If you have any questions, feel free to leave a comment below.