This unique place, only accessible by cable car, is called Bettmeralp! In this blog post, we will inform you about the top 12 things to do in Bettmeralp, Switzerland! With over 280 sunny days a year, this is a perfect place during summer.
Famous for its excellent ski facilities, this is an ideal place for your next holiday destination. In this blog, we will tell you the top 12 things to do in Bettmeralp, Switzerland. Let's start!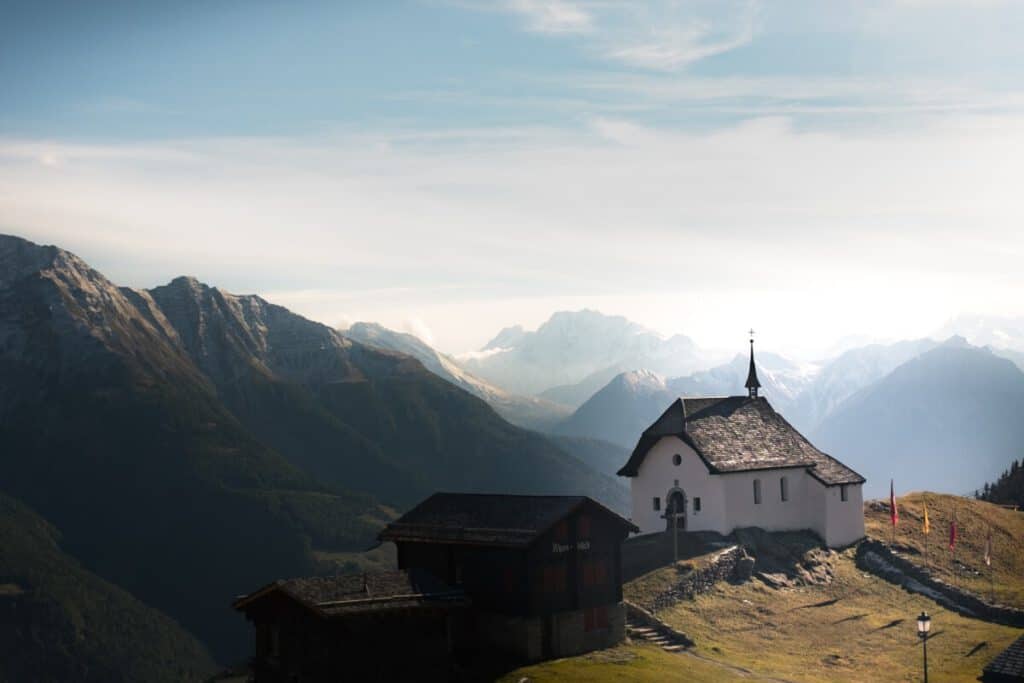 1. Wintersports
One of the reasons people visit Bettmeralp every year during the winter seasons is its perfect snow conditions. Bettmeralp offers a great variety of pistes. A total of 104 kilometres is available in Bettmeralp. There are slopes for both beginners, intermediate and more advanced skiers. So for every skier is a place. There are:
42 kilometres pistes for beginners (these are blue marked pistes)
around 50 kilometres of pistes for intermediates (these are red marked pistes)
12 kilometres for the more advanced skiers(these are black marked pistes)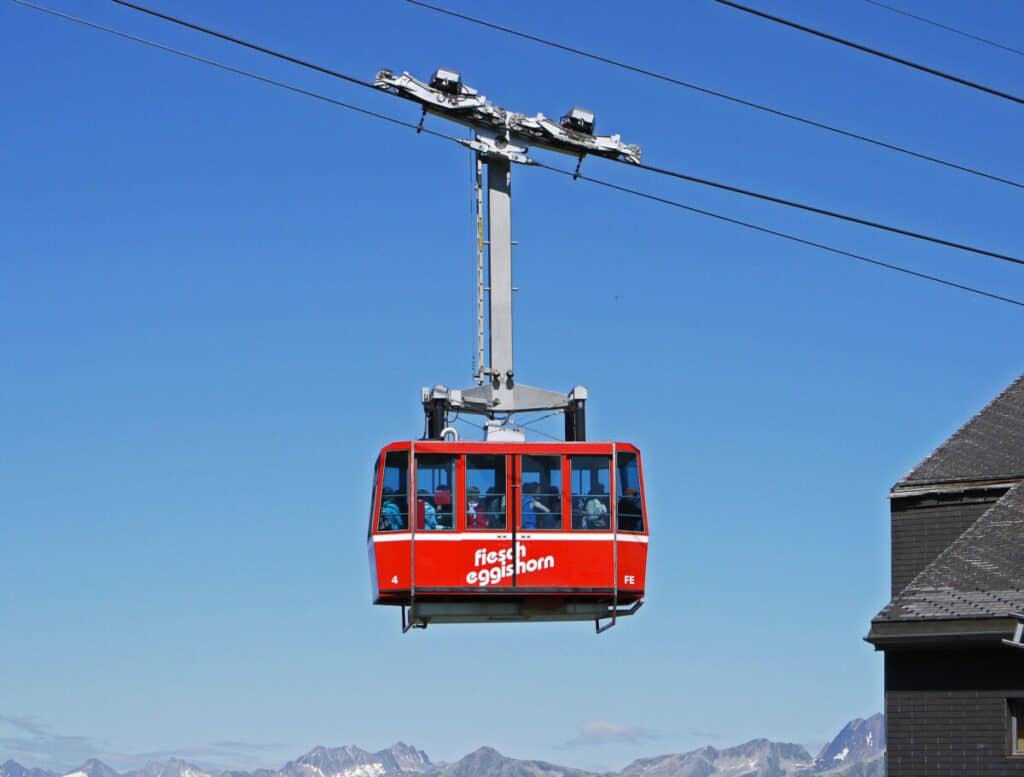 Bettmeralp is located in the beautiful canton of Valais, because of the high altitude of the ski resorts, the reliability of snow is high and this is why the snow condition on the over 2000 kilometres of pistes is so good.
All in all, Bettemeralp is a great place to go for ski holidays. We highly recommend the Eggishorn run, where you get a perfect and nice view of the Glacier, and the Aletsch glacier. The panorama tunnel run is great too! If you love to ski at night, there is night skiing available as well, so the pistes are covered with lights! Such a magical feeling to ski in the evening, with all the lights surrounding you.
2. Lake Bettmersee
At an altitude of 2006 metres, the beautiful lake Bettmersee is located. This lake is unique and offers more than just hiking facilities. On the lake you can enjoy water activities, did you know the lake is only a 6-minute walk from the centre of Bettmeralp. Here you can fully relax, sit down and enjoy the flourishing wonderful nature.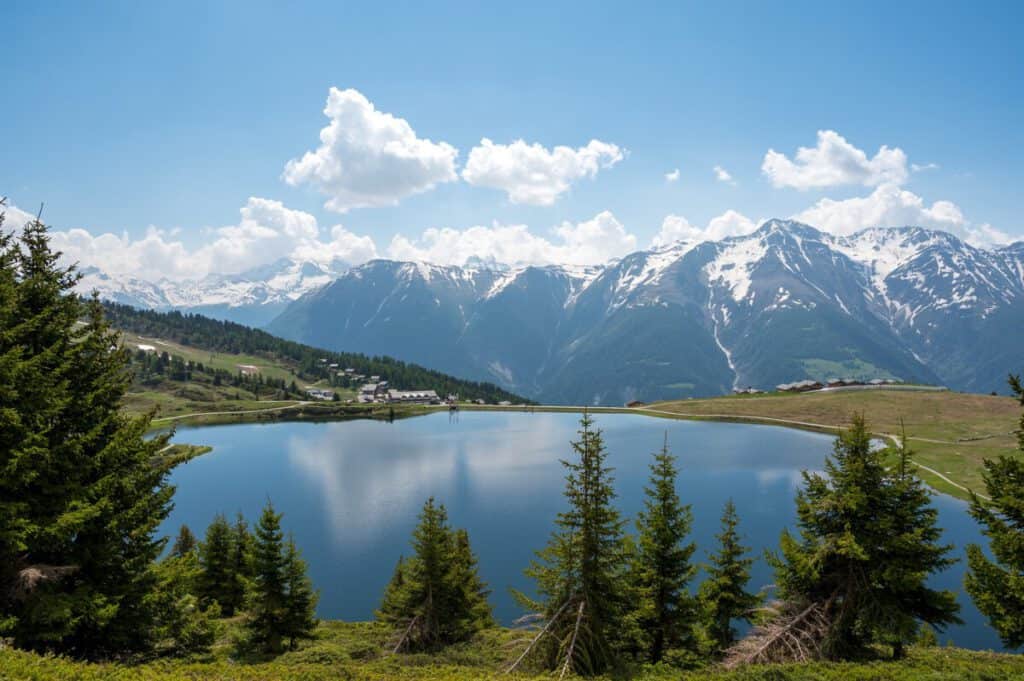 Of course, you can enjoy a leisurely stroll along the lake. Check the image below for a drone view, from above, the lake is so close to the town itself.
3. Hiking
Bettmeralp offers amazing hiking trails for families, couples, solo hikers, and everyone. Explore nature, forests and lakes. In the canton of Valais there are over 8000 kilometres of hikes with signs, so marked to guide you.
Enjoy the fresh air, the flourishing nature, hiking will make you feel so relaxed, you can think freely and in fact, according to research, nature can help you think freely and make you feel better.
4. Discover the Aletsch glacier
This is something, which shows the power of nature. This massive ice glacier, called the Aletsch, is so impressive. Maybe these facts will make even more impact on you. The glacier is over 20 kilometres long, imagine, in the thickest place, the ice Is more than 800 metres thick, you can find this place at the Konkordiaplats, check it here.
This makes it the largest and biggest glacier in the entire Alps. It is an ideal place to visit during your stay in Bettmeralp or the surrounding towns. The Aletsch glacier is part of the Unesco World Heritage Site, a nice location to take a photograph, do not forget to tag #swissfever!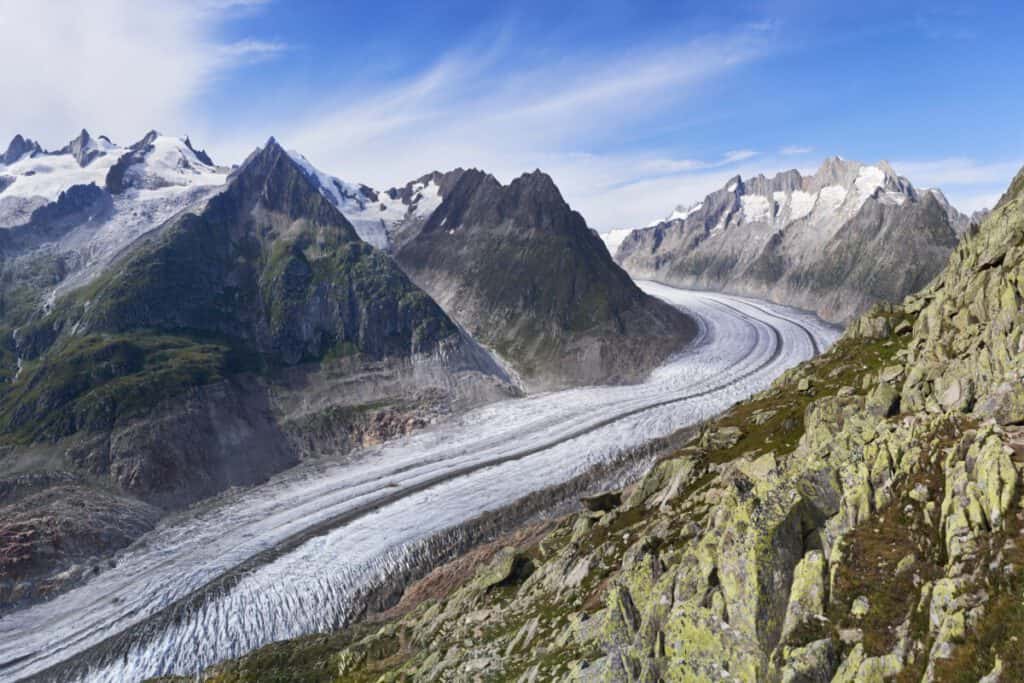 5. Swim in hallenbad Bachtla
You can't always have perfect weather during your holidays so, it is nice to have an alternative to do with your kids. One thing almost all kids like is swimming. Think of taking a cool dip in an outside pool or a relaxing swim in the warm indoor pools. A link to the website of hallenbad Bachtla.
During the warmer days during the summer season, you can enjoy the sun on the grassy field aside from the outdoor pools. To fully relax, consider booking a spa or wellness, this will make you feel so relaxed.
6. Toboggan run (much fun)
We love this, and many people do too! Sledging down the pistes is so much fun! This activity is perfect to do with your friends or family! And good to know, this is an activity for both younger and older people. The toboggans, so the sledges can be hired at almost all lift valley stations.
So after you hired a sledge, hop on the lift to the top of the mountain. Now comes the funny part, enjoy an adventurous run on your sledge, actually kilometres long, to the valley station. We are sure this is so much fun! Do not forget your gloves when going on your sledge, the powder snow can be a bit cold:)
7. Baschweri (climb park)
Time to reach some higher altitudes, and climb through the trees! This adventure park offers amazing courses for everyone, no matter the level of your skills. You can encounter balancing wooden beams up in the trees and then go down with a zip line, good to know, do not worry, you are always roped with a rope to the lines. So this is a safe activity, but we are sure your adrenaline level will increase.
8. Bettmerhorn Hangbrucke
The Bettmerhorn-Riederalp suspension bridge is 124 metres long. Some people are afraid of heights, in that case, perhaps this is not the perfect activity for you, but…those people who love some adrenaline level increase, keep reading. How to reach the suspension bridge? The suspension bridge can be reached via Belalp or Riederalp. The duration is in both cases about 2,5-3 hours to the suspension bridge and than 2,5 hours to the end of the hike,
This makes a total of about 5 – 5,5 hours of hiking Belalp – bridge – Riederalp. The Belalp side of the hike is exposed to the sun with only a few shady places, so we highly recommend taking some sun protection with you. On the Riederalp side, the path goes mostly through the Aletsch forest, which reduces the impact of the sunlight quite a bit. So maybe take this path if you hike with your kids or the elderly.
You will probably enjoy crossing the 124 metres long suspension bridge, over the Massa gorge, but as a reward, you get an impressive view of the Aletsch Glacier. Via this link, you can view where the hanging bridge is situated.
9. Dinner
During your holidays in Bettmeralp, you probably would like to have dinner some evenings. We would characterise Bettmeralp as a cosy and charming village, with quality food, and a nice and warm atmosphere. This village contains some very delicious restaurants. Some of the best restaurants in Bettmeralp are:
Restaurant Gläcktricka (Topas, 3992 Bettmeralp, Switzerland)
Restaurant Alpina (Oberdeisch 5, 3993 Grengiols, Switzerland)
Alpfrieden (Bettmeralp, 3992 Bettmeralp, Switzerland)
10. Ice skating
Another activity which is available in Bettmeralp is Ice skating, this is such a nice activity. In particular, this is a great activity for bad weather days. So when it's raining or windy, enjoy your day at the ice rink.
Maybe join a game of hockey, or just enjoy some free ice skating, at your own pace. it can be so relaxing. Good to know, the ice rink is open for everyone, for the recreational ice skaters and the more professional ice skaters.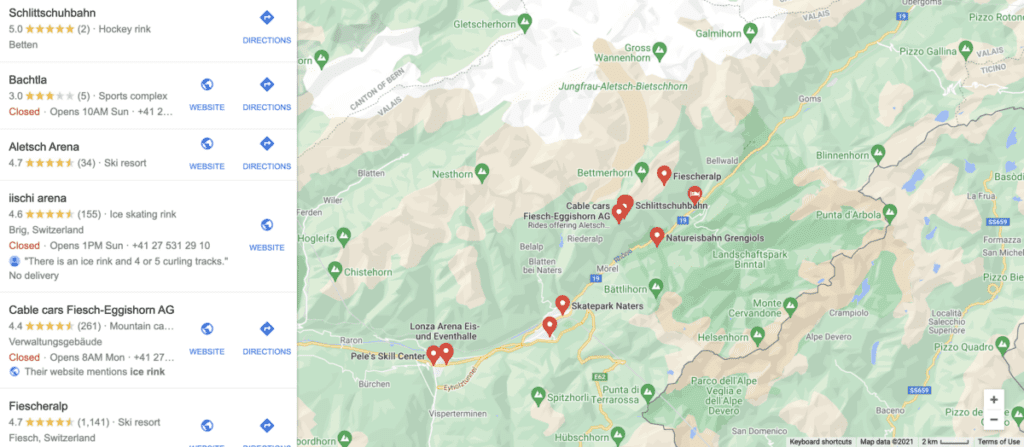 For the dancers reading this, there are ice rinks with music and here you can dance on the ice, how fantastic! Useful information: you can hire ice skates at many places in Bettmeralp. In the image below you can view all available ice rinks in and around Bettmeralp. You can also click the link here.
11. Visit the famous Kapelle Maria zum Schnee
Explore some history in Bettmeralp. This Kapelle Maria zum Schnee, which actually means, Mary of the Snows was first built in 1697, the views from the Chapel are impressively beautiful. Just to let you know, there is a possibility to get married in this picturesque, rich history Kapelle. These days, the Chapel is well-known and a landmark of Bettmeralp. You can view the location here.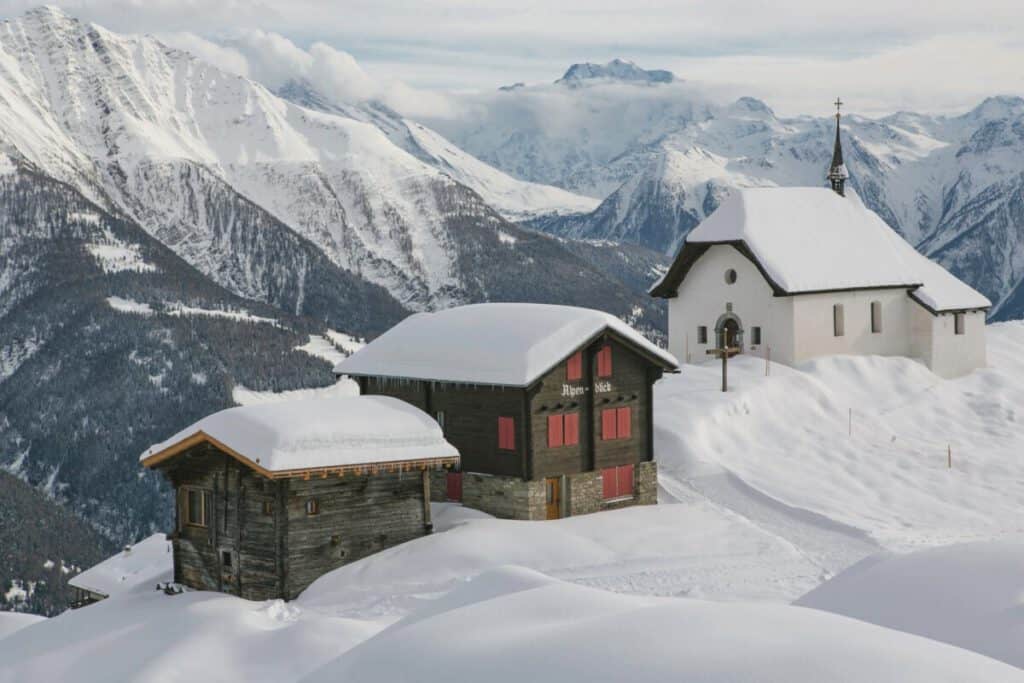 Some people say: in the chapel you can find inner peace, just to get away from the fast-moving society. You can fall into a trance and find what you were looking for. During the winter season, the snow makes the chapel look even more beautiful.
12. Mountain biking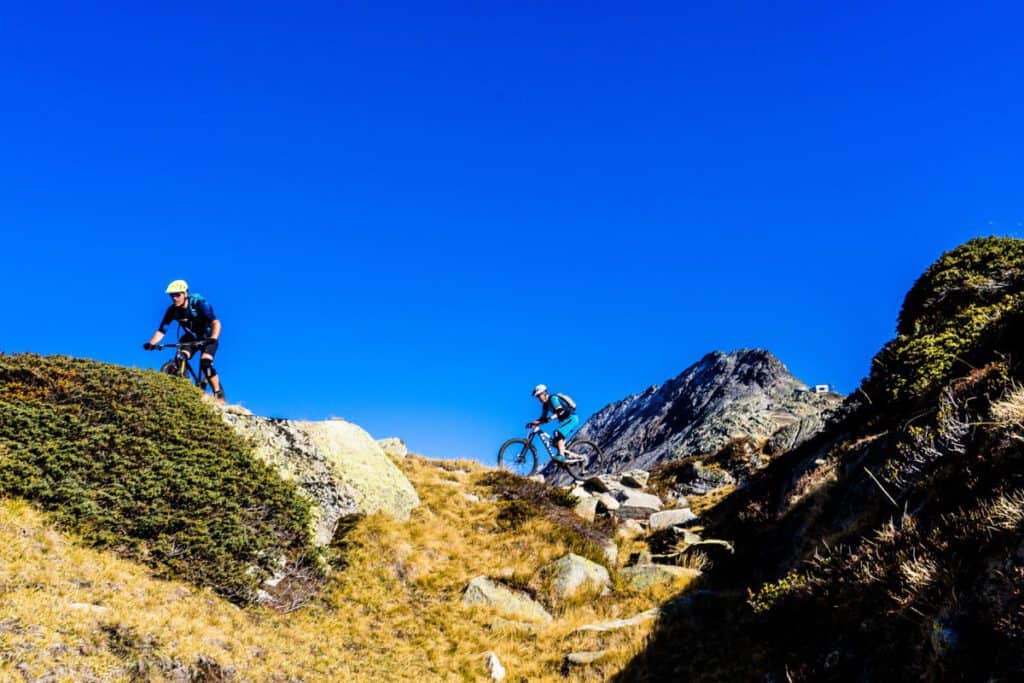 Time for some adventure, hire a mountainbike or take your own mountainbike with you. There are over 100 kilometres of routes, with some impressive views of the Aletsch Glacier. This is a fantastic place for mountainbike lovers. Good to know, you could also take your kids with you and hire an electrical mountain bike, in this way they can go way easier upon the mountains. This place offers some amazing mountainbike routes, a great activity to add to your holidays!