Lauterbrunnen, located in an impressive valley, known as the valley of 72 waterfalls, between gigantic rock faces and mountain peaks, is a true gem. In this blog, we will inform you about the best things to do in Lauterbrunnen, such as hikes, where to stay and more! This colourful alpine village is a must-visit. Let's dive right into it, time to explore what Lauterbrunnen has to offer!
Top things to do in Lauterbrunnen
Lauterbrunnen and her region offer many awesome activities, to make your holidays unforgettable. We have made a selection of recommended attractions and activities to do when visiting Lauterbrunnen.
Paragliding over the Swiss Alps, to boost your adrenaline, and admire the breathtaking views, is an activity you will never forget. Fly over the Swiss Alps. You will fly with a professional pilot, all you have to do is enjoy the views and this experience. Read more about this activity below.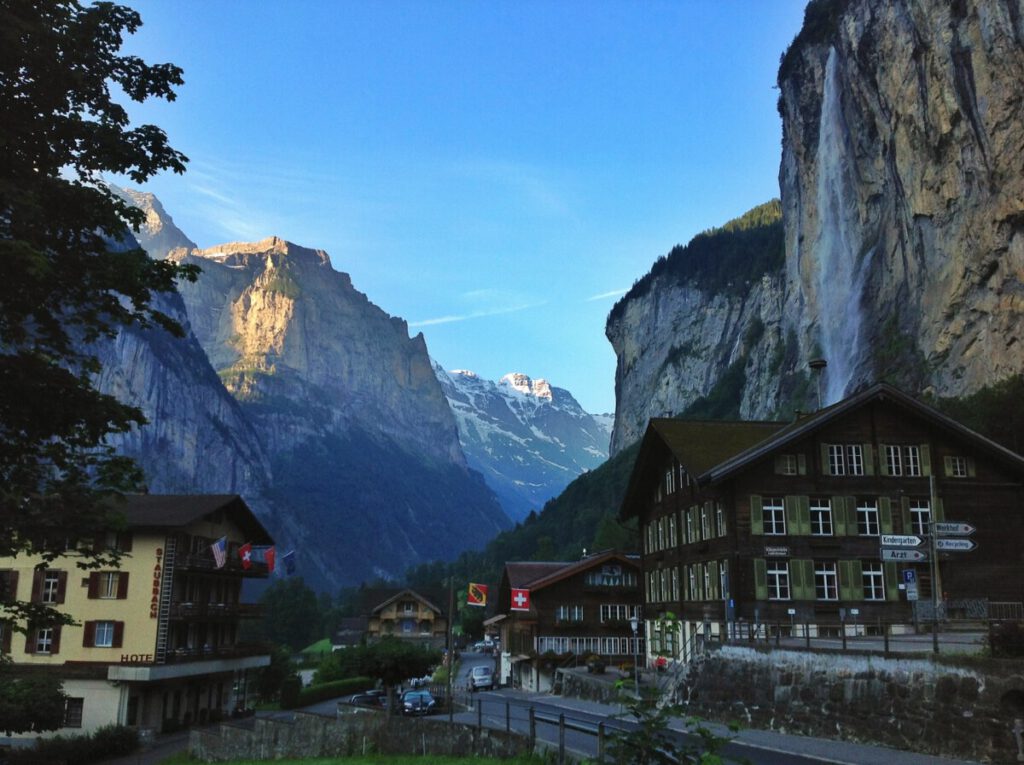 Hiking in Lauterbrunnen
If you love hiking, this holiday destination is the perfect place for you. Whatever you prefer, leisurely walks or more intense hikes are all possible. With an offering of over 500 kilometres of hiking trails and paths, this is a perfect place if you love hiking. Perfect for more advanced hikers as well as for beginners.
We have made a selection of 3 more easy hikes in Lauterbrunnen and its region
Flower Trail: is a really easy route, perfect for families as well. The route has a length of 2.3 kilometres, with an elevation of 219 metres. Kids can enjoy the many games installed along the path. Enjoy the beautiful flowers and views.
Haaregg: a nice hike with beautiful views. Around 16.4 kilometres long, with a climb of 58 metres. And a descent of 1465 metres. Starting at Kleine Scheidegg in front of Eiger, Moench and the Jungfrau. Starting gently through alpine meadows. Then it gets a bit harder, with roots, rocks and forest soil, and gravel roads. This brings you to Zweilütschinen. If you go uphill follow the signs from Grindelwald up to Kleine Scheidegg.
Royal Walk: this is a short walk to a panorama viewpoint, the length of the hike is 1.72 kilometres. If you do not have much time, or energy these short walks gives you a lot of value and a fabulous view from the panorama viewpoint. This hike is perfect for children too, there is a playground at the start of the hike.
Wengen to Wengernalp: this is a beautiful hike as well. Although the hike is quite intense the hike is not technically difficult, starts in the old town of Wengen, hikes for approximately half an hour, then through the forest, for an hour and then you arrive beneath the mountains Eiger, Monsch and the Jungfrau, then 1.5 hours to Kleine Scheidegg, with a reward, stunning views.
Visit the waterfalls in Lauterbrunnen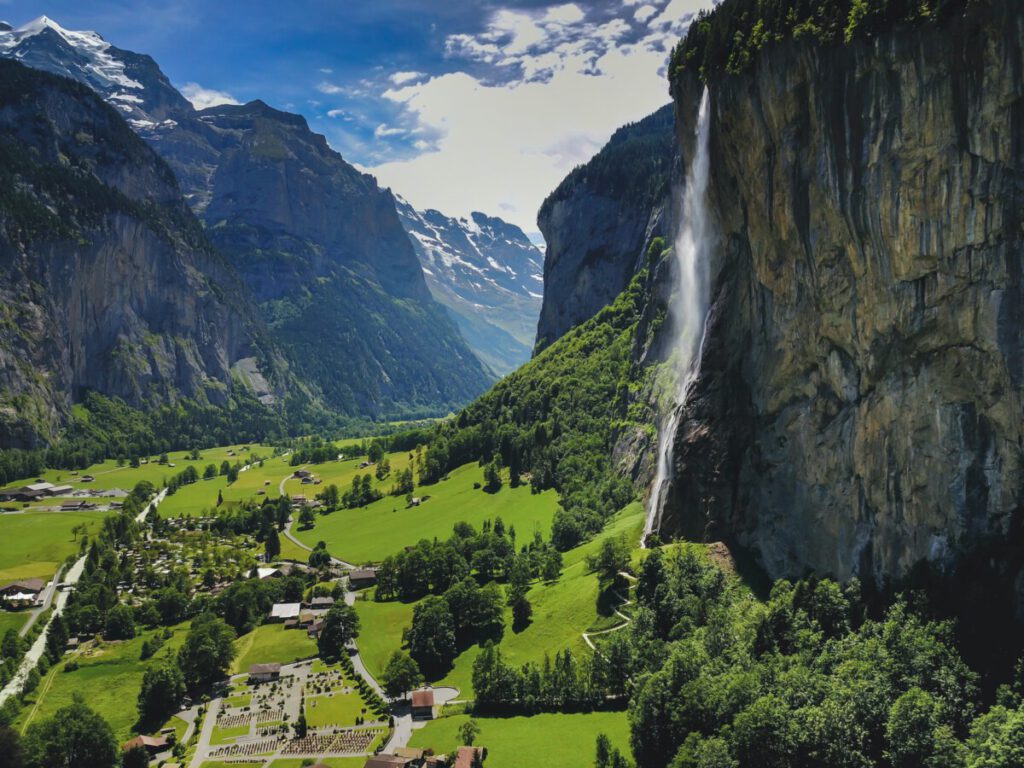 Lauterbrunnen is located around 70 kilometres southeast of Bern, laying in the valley of Lauterbrunnen. The word Lauterbrunnen, which in German means Many Springs, to be precise, loud springs. The valley is known for the 72 thundering waterfalls, that gush down into the valley, some waterfalls are several hundred meters high!
The most beautiful waterfalls in Lauterbrunnen
What are the most beautiful waterfalls in Lauterbrunnen? Lauterbrunnen was added to the UNESCO World Natural Heritage Site in 2001. Although Lauterbrunnen and its region offer 72 waterfalls there are three unique and outstanding waterfalls in Lauterbrunnen, here are the top three of the most beautiful waterfalls in Lauterbrunnen:
The Staubbach Falls
The famous landmark of Lauterbrunnen is located less than a kilometre from Lauterbrunnen. This waterfall is almost 300 metres high, formed by a single unbroken fall. Impressive!
Murrenbach Falls
This fall is hidden behind a mountain, this is such a spectacular fall. Did you know this fall carries over 20,000 litres of water per second through the narrow gorge during hot summer days or thunderstorm/rainy days?
Trummelbach Falls
This fall is located just outside Lauterbrunnen. Here you can find the Mürrenbach falls in the Stechelberg. The waterfalls are in five cascades, from a height of 417 meters. We recommend visiting during Spring, the snow is melting and then the waterfall is even more spectacular!
Where to stay in Lauterbrunnen?
Top Hotels and appartments in Lauterbrunnen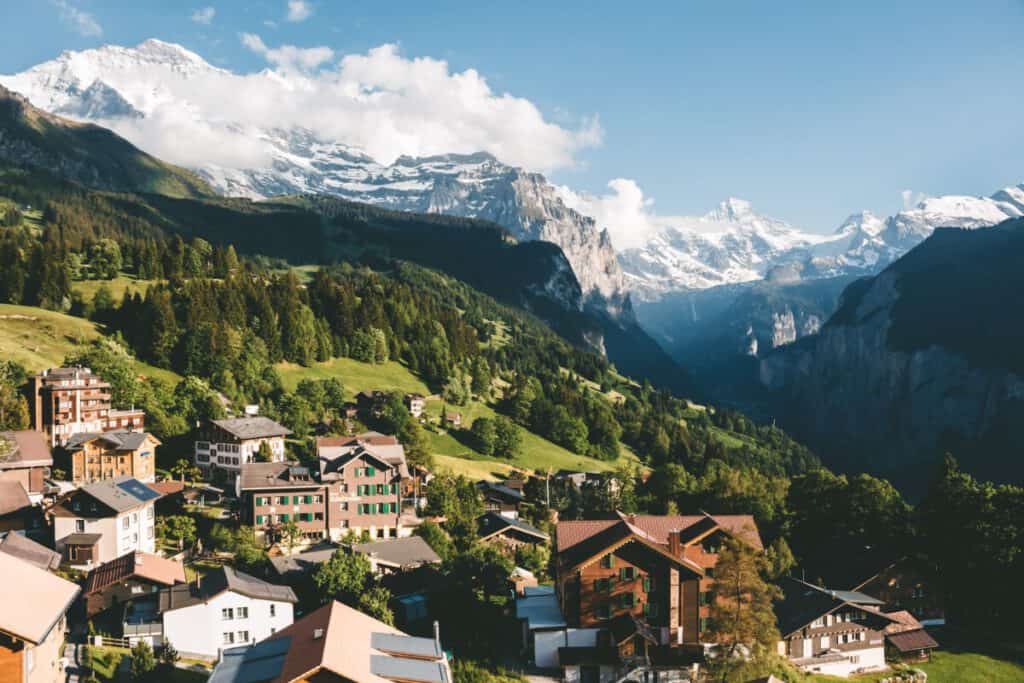 Where to stay when visiting Lauterbrunnen? Although you might think this place doesn't offer many places to stay, with only 2000 citizens you are wrong. Finding a place here to stay is quite easy. There are many beautiful hotels. Via this widget shown below you can easily find a beautiful hotel to stay in, just type in "Lauterbrunnen" and add your travel dates, in that way you will find suitable stays for you, to make sure you're holidays will be unforgettable!
Top Campings in Lauterbrunnen
Switzerland is such a beautiful country to go to with your camper. We have made a selection of top-rated camping places in and around Lauterbrunnen. Take a look at the top 4 top-rated and beautiful places to camp in and around Lauterbrunnen:
The Camping Jungfrau
Camping Eigernordwand
Beautiful Camping Rütt
Lovely Camping Breithorn
Top Restaurants in Lauterbrunnen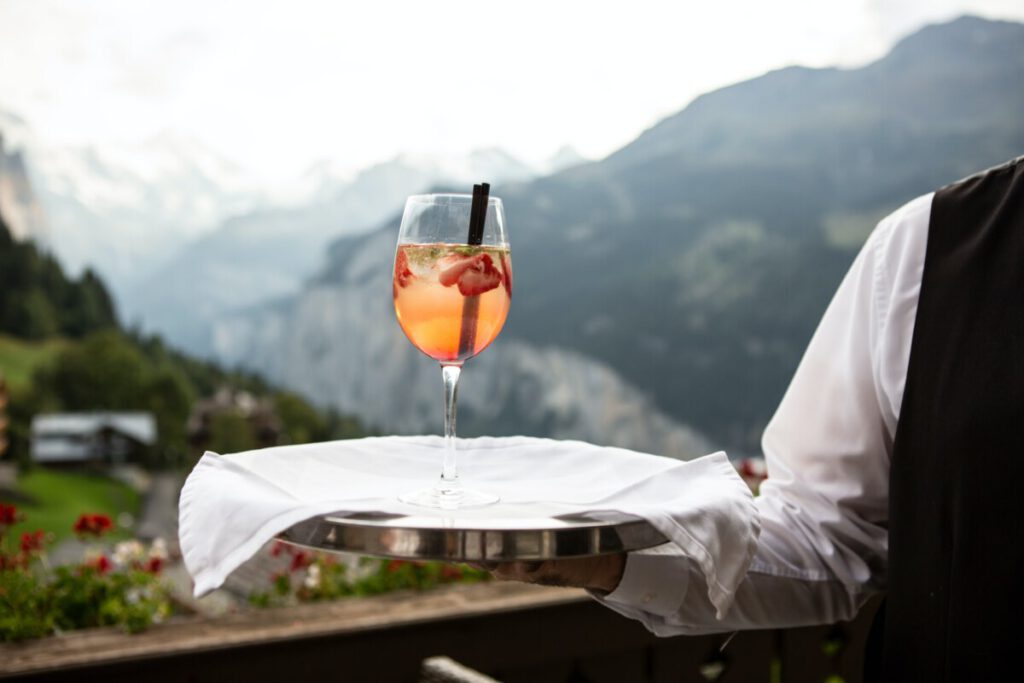 Are you looking for a good restaurant? Lauterbrunnen has a diverse range of good restaurants. There are plenty of good restaurants to eat, have a simple dinner, or luxury gourmet dining, or a Swiss Fondue, it's all possible in Lauterbrunnen. We have made a list of the best restaurants in Lauterbrunnen, with local cuisine, fresh products, and delicious ingredients, the top 5 restaurants in Lauterbrunnen:
Weidstübli (Weid 406, 3822 Lauterbrunnen, Switzerland)
Oberland (Fuhren, 3822 Lauterbrunnen, Switzerland) (Try the delicous fondue)
Hotel Horner (3822 Lauterbrunnen, Switzerland)
Tham (Rouft 1067A, 3825 Mürren, Switzerland) (a Chinese restaurant)
Allmend Bergrestaurant (Allmend Bergrestaurant, 3823 Wengen BE, Switzerland) (amazing view)
Breakfast in Lauterbrunnen?
Looking for a place to have breakfast or a good cup of coffee in the morning? We have made a list of places to go for your morning breakfast or a freshly brewed coffee. Lauterbrunnen offers some cute coffee shops:
Airtime Cafe, a lovely cafe in Lauterbrunnen with a great breakfast and a beautiful view, is located: Fuhren 452, 3822 Lauterbrunnen, Switzerland.
BASE Cafe, this cafe is the perfect place for a fast breakfast, to start exploring what Lauterbrunnen and it's surrounding region has to offer. Located: Fuhren 460B, 3822 Lauterbrunnen, Switzerland.
Flavours Cafe, this place offers delicious breakfast, a small, but charming cafe with delicious breakfast. Located: Fuhren 452C, 3822 Lauterbrunnen, Switzerland.
Bergrestaurant Kleine Scheidegg, this place is good for a late breakfast, or lunch. After a nice hike, you can reward yourself with some delicious food. Located: Kleine Scheidegg, 3801 Lauterbrunnen, Switzerland.
Café LIV, this cafe is located in Murren, quite close to Lauterbrunnen, we had to mention this cafe as it offers delicious homemade, soups, cakes and sandwiches, the place to go! Located: Bir Schiir 1056, 3825 Mürren, Switzerland.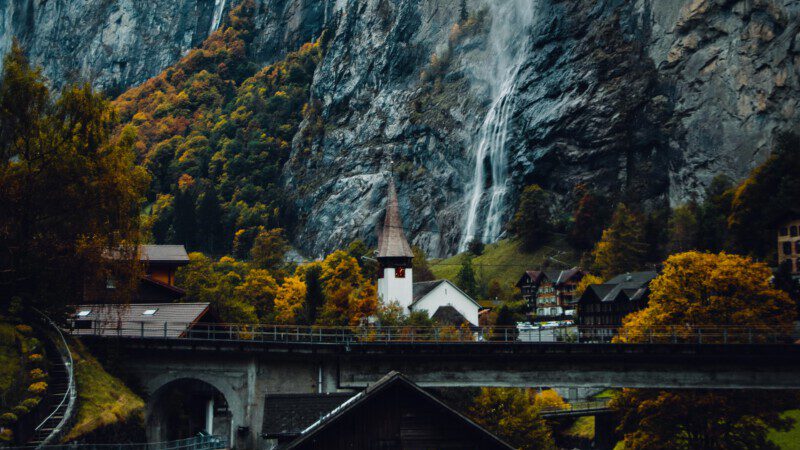 Frequently asked questions
What is the weather like in Lauterbrunnen?
The weather really depends on the month and time of the year you are visiting Lauterbrunnen. With this link you can easily check the weather for the next few days or today, to be sure of an accurate weather prediction.
What language is spoken in Lauterbrunnen?
The main language spoken in Lauterbrunnen and its surrounding region is Swiss German (which is quite similar to German, with some differences due to the dialect). But do not be afraid, most locals understand English, as Lauterbrunnen is yearly visited by many tourists.
What is the nickname of Lauterbrunnen?
Lauterbrunnen is often called the valley of the 72 waterfalls, some of these waterfalls are 300 meters high. This makes Lauterbrunnen a really unique village and a must-visit! The name is derived from the 72 waterfalls that gush down into the valley from the vertical cliff faces, some of which are several hundred meters high.

What is the most popular waterfall in Lauterbrunnen?
The most famous and popular waterfall of the 72 existing waterfalls in Lauterbrunnen is the Staubbach Falls which plunges almost 300 meters. In fact, these are the highest, single unbroken waterfalls, in Europe.
What is the nearest airport to Lauterbrunnen?
The nearest airport to Lauterbrunnen is Airport Bern, short(BRN). Around 60 kilometres to get to the airport, or from the airport to Lauterbrunnen. Via this link you can check the exact route on Google Maps.