Switzerland, renowned for its pristine landscapes and breathtaking mountains, offers an array of adventures. Among these, a visit to Mount Pilatus from Zurich stands out as a remarkable experience that combines natural beauty and a touch of Swiss charm. In this comprehensive guide, we will answer the question of how to reach Mount Pilatus from Zurich and what to expect. Let's dive into it!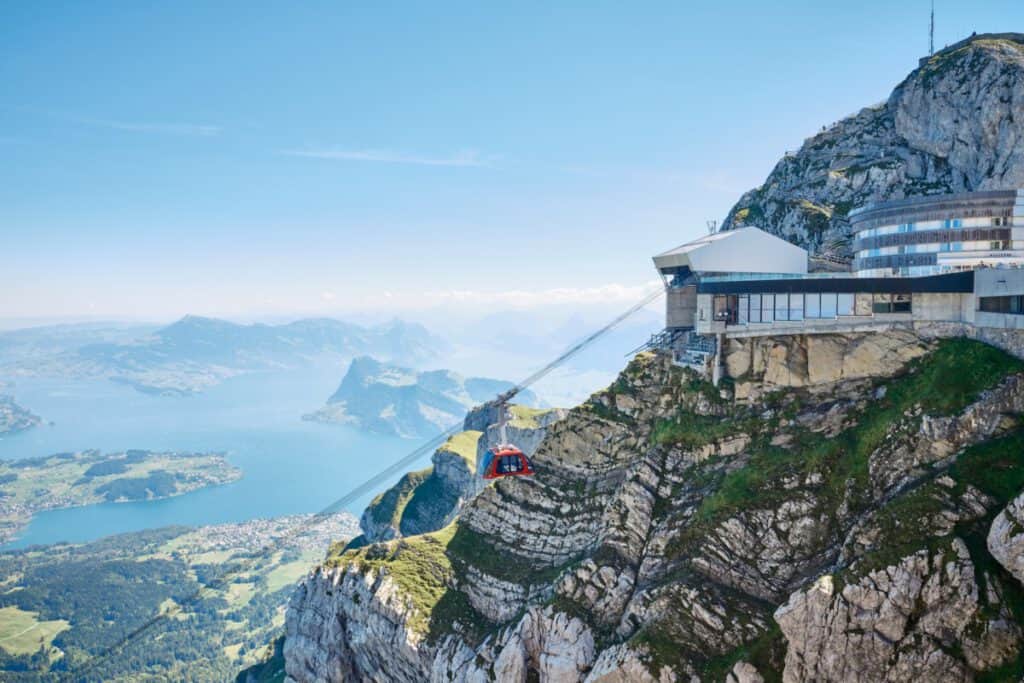 Reach Mount Pilatus by car
If you're craving flexibility and the allure of the open road, a car journey to Mount Pilatus from Zurich is your perfect adventure. Covering about 100 kilometres, the drive takes around 1.5 to 2 hours, offering captivating views all along the way. Wind through charming Swiss villages, lush meadows, and picturesque landscapes that seem straight out of a postcard. Don't hesitate to stop every now and then and enjoy the views.
Set your GPS to Mount Pilatus and follow the well-marked route. Be prepared for tolls on specific highways. This road trip provides not just a means of travel, but an experience in itself. You'll have the freedom to stop and capture breathtaking photos, explore quaint towns, and truly soak in the beauty of Switzerland.
Remember to check road conditions and plan for parking at the base of Mount Pilatus. The journey by car ensures convenience and a sense of discovery, adding an extra layer of excitement to your Mount Pilatus adventure. So, pack your essentials, hit the road, and let the scenic journey to this iconic Swiss peak become a cherished part of your trip.
Reach Mount Pilatus by public transport
Start at Zurich Hauptbahnhof: Your journey begins at Zurich's main train station, Zurich Hauptbahnhof. This central hub is well-connected and easy to navigate, making it a convenient starting point for your Mount Pilatus adventure.
Hop on a Train to Lucerne: Once at Zurich Hauptbahnhof, board a train headed to Lucerne. The train ride itself is a treat for the senses, offering an hour of picturesque landscapes and charming Swiss towns along the way. As you watch the scenery unfold, you'll quickly understand why train travel is a beloved mode of exploration in Switzerland.
Bus to Kriens: Upon arriving at Lucerne, your next step is to take a short bus ride to Kriens, the gateway to Mount Pilatus. The bus ride is a continuation of your scenic journey, as you'll pass through the delightful streets of Lucerne and witness glimpses of the surrounding natural beauty. Kriens serves as the starting point for your ascent to Mount Pilatus, setting the stage for the breathtaking experiences awaiting you.
Mount Pilatus Opening Hours:
If you're planning to visit Mount Pilatus, it's important to know the opening hours to make the most of your experience.
Spring to Autumn Delights:
Mount Pilatus welcomes visitors from late spring to early autumn. This period typically spans from April to October. During these months, you have the opportunity to immerse yourself in the beauty of the Swiss Alps and explore the various attractions the mountain offers.
A Day of Exploration:
The opening hours of Mount Pilatus usually extend from 9:00 AM to 5:00 PM. This generous timeframe allows you to embark on a day of exploration, taking in the breathtaking panoramic views, engaging in thrilling adventure activities, and relishing the culinary delights offered at the mountaintop restaurants. Please, for up-to-date opening times view the website of Mount Pilatus here.
Tickets for Mount Pilatus
1. Ticket Options:
Mount Pilatus offers a range of ticket options to suit different preferences and itineraries. Whether you're planning a day trip or an extended stay, you'll find choices that align with your travel plans.
2. Round-Trip Tickets:
Round-trip tickets cover your transportation to and from the summit, ensuring a seamless journey. These tickets typically include a combination of cable cars and the iconic cogwheel train – the steepest in the world.
3. Family and Group Discounts:
Travelling with family or friends? Mount Pilatus offers family and group discounts, making it an affordable and memorable outing for everyone. Check the website for specific details and eligibility.
4. Golden Round Trip:
The Golden Round Trip is a popular option that includes a boat ride on Lake Lucerne, the cogwheel train adventure, and the cable car ascent. This all-inclusive package guarantees an immersive experience and covers your entire day's transportation.
Things to see and do at Mount Pilatus?
Mount Pilatus, an iconic Swiss peak, beckons adventurers with its breathtaking landscapes and a multitude of captivating experiences. As you ascend to its summit, a world of wonders unfolds, offering a harmonious blend of natural beauty and thrilling activities.
1, Panoramic views
At an elevation of approximately 2,132 meters, the summit of Mount Pilatus treats you to some beautiful views that leave you speechless. The Swiss Alps sprawl before you, a majestic masterpiece that shifts with the changing light. On clear days, you might even catch a glimpse of the distant Black Forest in Germany.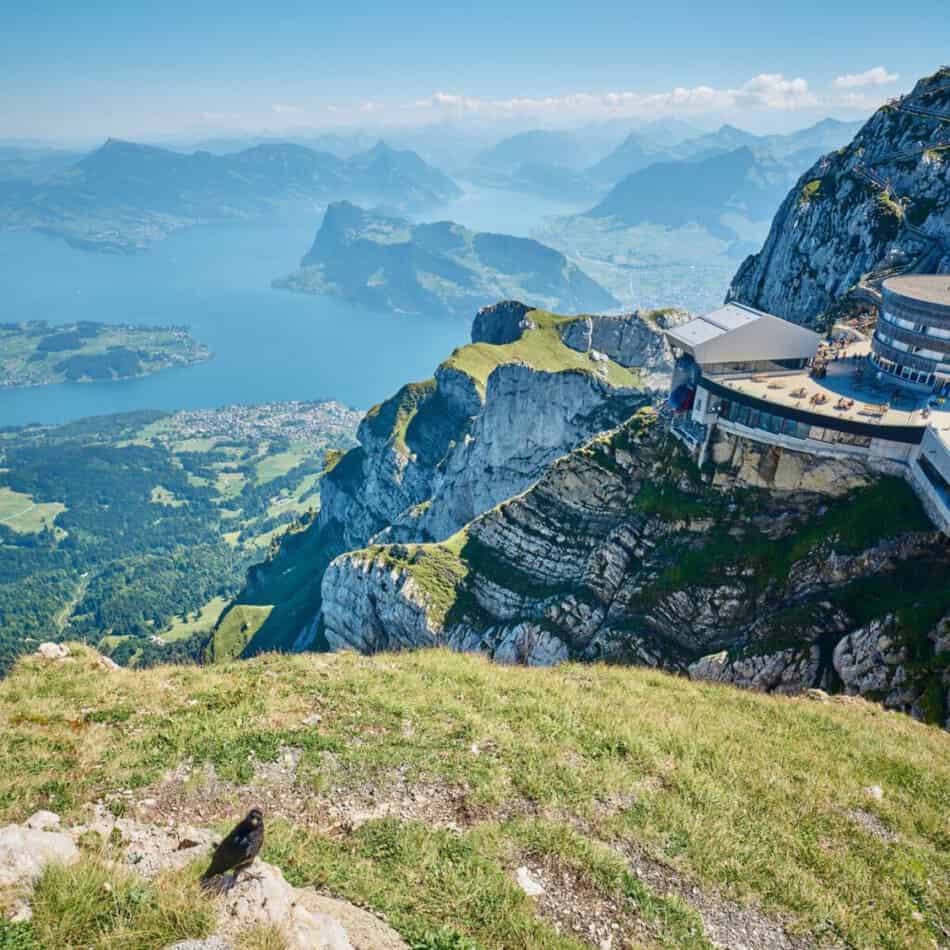 2. Golden Round Trip
Embark on the famous Golden Round Trip, an all-encompassing adventure that showcases the best of Mount Pilatus. The journey includes a boat ride on Lake Lucerne, where tranquil waters mirror the surrounding peaks. The cogwheel train, takes you on a steep ascent, offering close-up views of the mountain's rugged terrain. Finally, the cable car completes the trip, lifting you to the summit while providing unparalleled views. You can find more information about the golden round trip here.
3. Hiking trails
For nature enthusiasts, Mount Pilatus offers a network of hiking trails for various skill levels. Explore the Dragon's Path, a serene trail that winds through Alpine meadows, offering captivating views of Lake Lucerne. Those seeking a challenge can opt for steeper trails that lead to hidden viewpoints and untouched landscapes.
4. Adventure activities
Thrill-seekers find their haven on Mount Pilatus. The Fräkmüntegg area features a rope park where you can test your agility and courage among treetop obstacles. Alternatively, embark on a paragliding adventure, soaring above the landscape while being cradled by the Swiss breeze.
5. Culinary delights
Savour Swiss cuisine at the mountaintop restaurants, allowing you to indulge in local flavours while surrounded by stunning scenery. The culinary experience at Mount Pilatus is a treat for the senses, combining exquisite dishes with the ambience of the Alps.
6. The dragon ride
One of the newest attractions, the Dragon Ride is a thrilling aerial cable car that provides an unforgettable journey. Suspended over the landscape, the cable car offers unobstructed views and an exhilarating ride that adds an extra layer of excitement to your adventure. You can get a glimpse of the dragon ride on the website or on the pictures in this blog post!
Conclusion
Mount Pilatus isn't just a mountain; it's an invitation to immerse yourself in the beauty and excitement that nature has to offer. Whether you're drawn to the serene hiking trails, the adrenaline-pumping adventure activities, or simply the opportunity to breathe in the crisp alpine air, Mount Pilatus promises an unforgettable experience.
From the moment you set foot on the Golden Round Trip to the panoramic views from the summit, each aspect of this journey adds to the tapestry of memories you'll create. So, prepare to be mesmerized by the wonders of Mount Pilatus and let the mountain's magic leave an unforgettable memory, we hope you will have a wonderful time exploring the beauty of Mount Pilatus and its surroundings.