Time to talk about the majestic Matterhorn, a beautiful pyramid-shaped mountain, located near the charming village Zermatt. In this blog we will inform you about how to reach the Matterhorn from the alpine village Zermatt.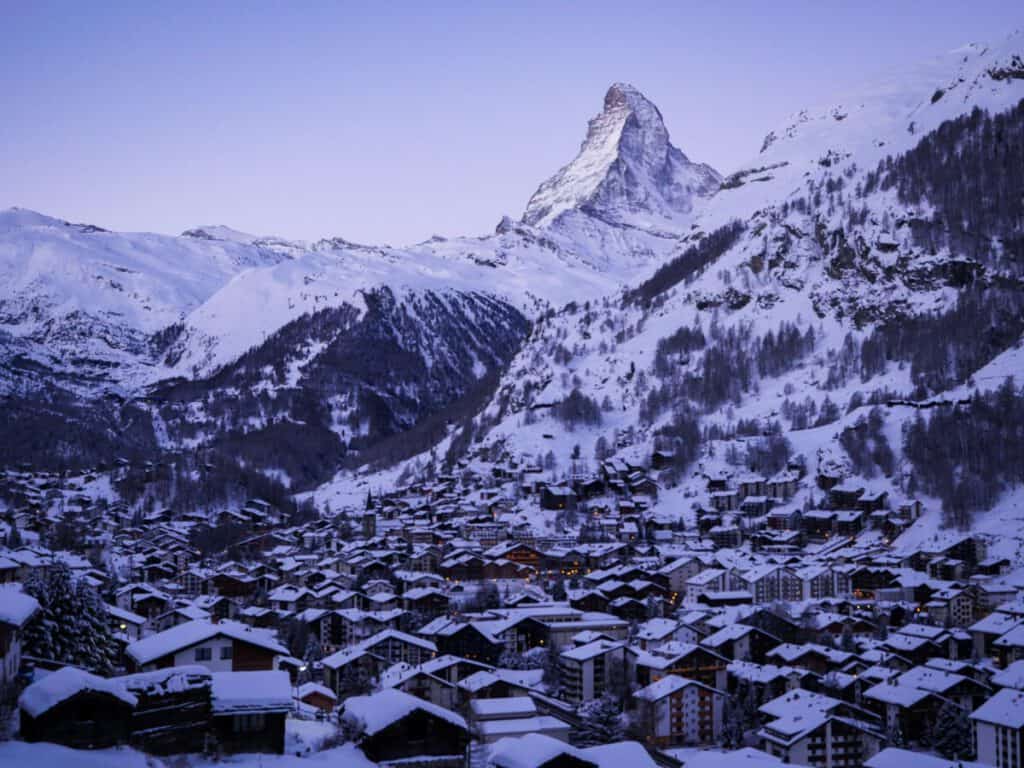 How to reach the Matterhorn from Zermatt
There are several ways to reach the Matterhorn, the first one is by first travelling to the famous alpine village Zermatt. Zermatt is located in the canton of Valais. This village is closely located to the foot of the Matterhorn. Zermatt is a perfect starting point to explore the Matterhorn. Good to know: Zermatt is a car-free village, you won't be able to travel through it by car, you can hop on an electric bus, hire a bike or hike.
You can easily park your car in the parking lot called Tasch, this is a link to the location of the parking lot. This parking lot is around 6 kilometres from Zermatt. As Zermatt is car-free, you will need to hop on the train, this is directly possible from the parking lot, here is a station, which travels to Zermatt.
You might be surprised, as Switzerland has quite high fees for parking, this parking lot only has a daily parking fee of 6 CHF. You could also go to another parking lot, but you won't win, compared to the benefits of this parking lot, efficient, clean, close to the train.
The train takes you to the Zermatt village in around 10-15 minutes, the train departs every 20 minutes. You could also walk, but this is a hike of 6.4 kilometres. Perhaps taking the train is worth it, plenty of hiking possible on the beautiful Matterhorn.
Good to know, although Zermatt seems to be located really close to the Matterhorn, you are still some kilometres away from the Matterhorn, directly from Zermatt, several railways, cable cars and even ski lifts depart to take you to the higher elevated viewing platforms.
So now it's time to inform you about how to reach the Matterhorn, from Zermatt. You now know how to get to Zermatt, now let's talk about how to reach the Matterhorn.
How to reach the Klein Matterhorn(3883m) full route
There are several cable cars, buy a ticket and hop on the cable car, which brings you to the peaks of the Matterhorn. If you arrive in Zermatt by train, we advise following the signs, which takes you to the gondola station. If you want to travel on foot, this will take around 20-25 minutes. There are no cars in Zermatt, but there is an electric bus, you could take this bus as well.
Starting from the railway station in Zermatt, by following the signs, you can reach the gondola station, here you can hop on the gondola to reach the mid-station, called: Furi. As you can see in the image below, it takes around 17 minutes to reach the cable car station in Zermatt from the train station on foot. Arriving in Furi, you will need to hop on another cable lift, the cable lift flies over the rocky, alpine landscape and will take you to the station called: Trockener Steg, which is located at an elevation of around 2939 metres.
This station is still not the end of the journey to the Klein Matterhorn. At this station, you can walk to your next cable car ride, which departs to the Klein Matterhorn, which is located at an impressive elevation of 3883 metres.
We highly recommend taking the Matterhorn Glacier Ride, these cabins are way more luxurious and they are newer. The ride is called: Crystal ride, there is a glass floor that turns transparent during the ride up to the Klein Matterhorn, this is really unique and impressive.
Once up, you will experience quite some temperature drop, as you now have reached the eternal snow. This whole journey from Zermatt will take around 40-50 minutes, but we are sure, this is already such a unique experience.
Opening times of the Matterhorn Glacier Paradise cable cars
The Matterhorn Glacier Paradise cable cars are operating daily from 9:00 – 16:00. Be aware, with poor weather conditions, the cable car may close earlier. Always check the weather and the actual opening times of the cable car.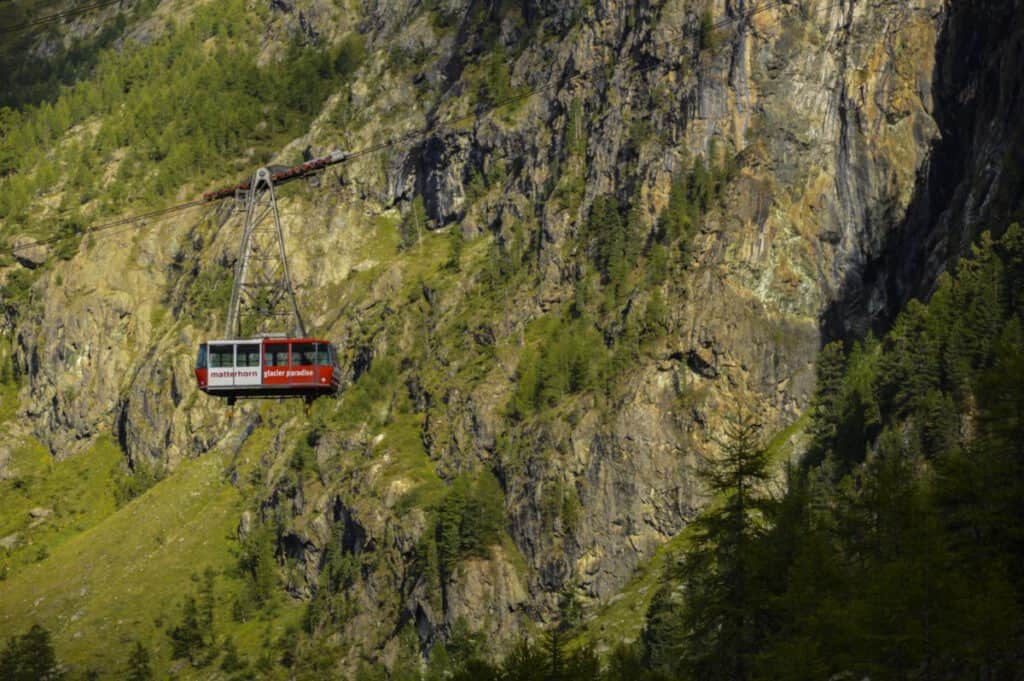 Ticket prices
If you want to travel from Zermatt to Klein Matterhorn you will need to buy one return ticket. This ticket does already include the full journey from Zermatt to Klein Matterhorn. As explained above, it is not a single cable car run to the Klein Matterhorn from Zermatt. You will hop on a total of three cable cars to reach the Klein Matterhorn. Starting from Zermatt to Furi, in Furi, you hop on another cable car to Trockener Steg, then this cable car takes you to the Klein Matterhorn.
So in short:
Zermatt to Furi around 5 minute ride
Furi to Trockener Steg around 17 minutes
Trockner Steg to Klein Matterhorn around 8 minutes
so netto travelling time in the cable car is around 30 minutes. But including the walking time, it takes around 40 minutes.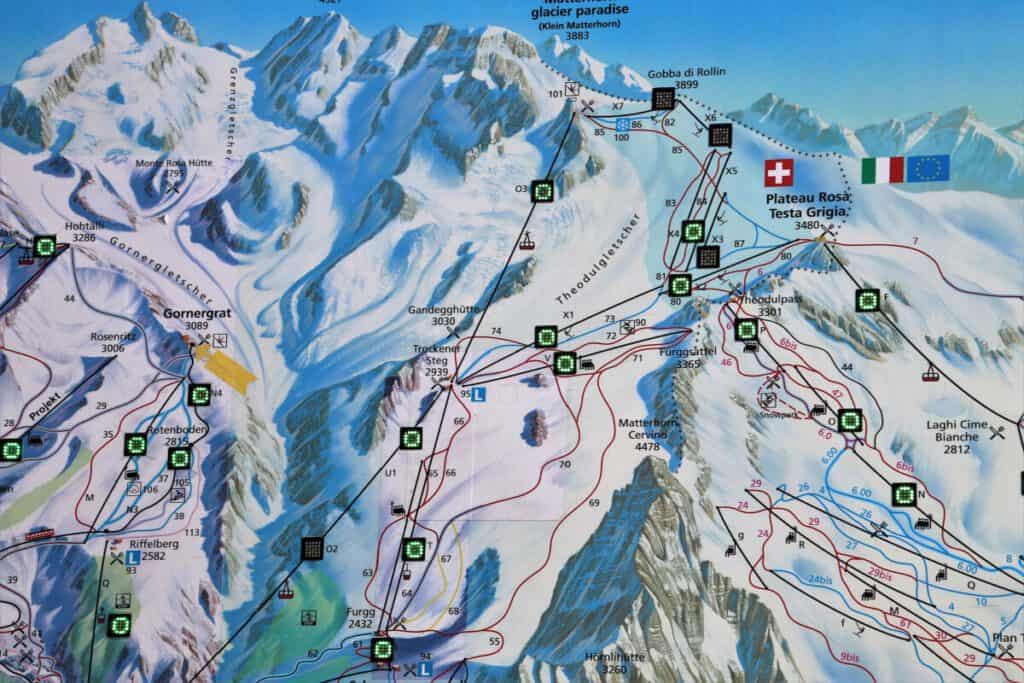 With the single ticket, you can scan in the entry of every cable car station, to enter the cable car. This needs to be done when travelling up and down. As we mentioned above we recommended the Crystal Ride cabins, as they are more luxurious, they also come with an extra cost. The extra costs for this special gondola journey are around 10-15 CHF for adults.
The prices for a return ticket of the Matterhorn Paradise cable car experience are:
Adults: 90.50 CHF
CVhidern from 9 – 15.99 years are 45,50 CHF
8.99 and lower of age, childern are free
Arrived at the Klein Matterhorn, what to see and do?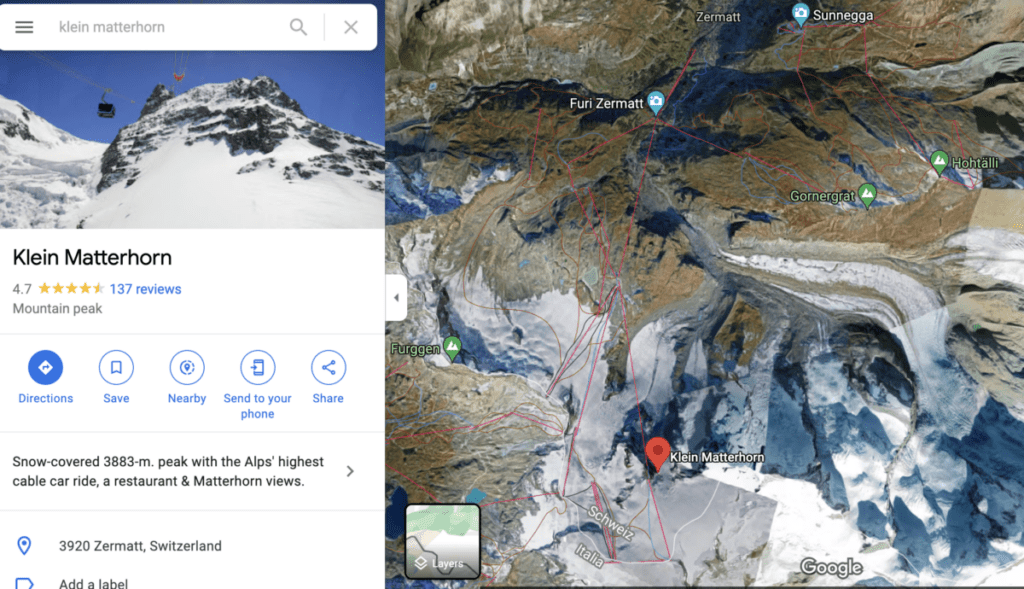 You just arrived at the summit, called Klein Matterhorn. At the summit, the Matterhorn Glacier Paradise complex is located. Just some features of the complex:
restaurants
ice caves
summer skiing and sledging(awesome for kids, and adults of course)
many more activities
Glacier palace
The glacier palace is a really unique experience, when visiting Klein Matterhorn, we recommend exploring the Glaciers. It is like a fairy tale. You go down around 15 metres, here you can explore a real fairytale, beautiful glittery ice crystals, ice slides and a glacier crevasse. This is a perfect activity to do with your friends or family. The Glacier Palace is open during the whole year. The glacier is full of cosy lights and music, walk through the tunnels of ice, this is such an impressive experience. You can take so much amazing pictures here, do not forget to tag #swissfever.
Of course, the duration of your visit depends on yourself, but we visited Glacier Paradise for around 45 minutes, we recommend wearing warm clothing, you probably already did as it is a bit more chilly at an altitude of around 4000 metres.
Highest mountain restaurant
Enjoy the highest mountain restaurants, the Matterhorn glacier paradise restaurant is located at the Klein Matterhorn, at an altitude of 3883 metres. The impressive 360 degrees panorama views from the restaurant are breathtaking. You can have breakfast here, delicious lunch or enjoy dinner with a spectacular view. The restaurant offers a meal for everyone, no matter your preferred taste. Good to know, you can order french fries or Italian pasta for half the price.
Plan your day
We recommend planning a visit to the Matterhorn for a half day. Why? So you already need to travel by cable car for 40 minutes up and down. So a total of 80 minutes by getting up the Matterhorn and down. Besides the cable car, you also need to travel to the cable car station in Zermatt. Depending on your starting location, as we mentioned above from the parking lot in Tasch it takes 10-15 minutes by train to reach Zermatt rail station.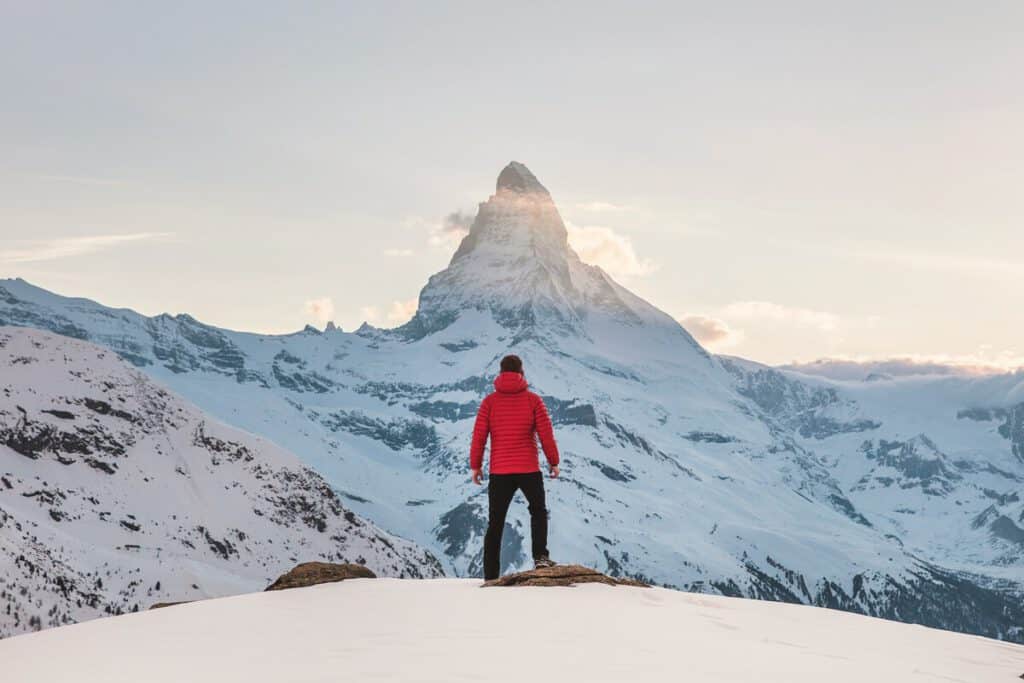 Then you need to walk to the cable car station. We reserved around 1-2 hours to explore the Klein Matterhorn. Of course, this time on the summit can be longer, if you decide to have dinner or lunch in the restaurant or go sledging or skiing. All in all, half a day would be a nice estimation of the time you need to experience the Matterhorn.
Conclusion
All in all, we can conclude that visiting Klein Matterhorn is really worth it. In this blog, we talked about how to reach Klein Matterhorn, from Zermatt. We advised parking in Tasch, a parking lot, with a train station. From the train station, you can travel to the car-free village Zermatt. Here you can walk to the base cable car station. Now the journey starts. By cable car, you travel from Zermatt to Furi, from Furi to Trockener Steg, and lastly from Trockener Steg to Klein Matterhorn.
Arriving in Klein Matterhorn at around 3883 metres you can enjoy the breathtaking views, the restaurant, the 15 metres deeper glacier paradise. In the post, you can read a more detailed explanation about how to reach the Matterhorn from Zermatt, with answers to probably most of your questions. If you do have another question do not hesitate to leave a comment below.