Planning your next winter ski holidays is always fun! Switzerland offers a wide range of possible winter destinations. In today's blog post we will inform you about the beautiful alpine village Andermatt. We will help you plan your next ski holidays to Andermatt and inform you about everything you need to know.
Andermatt is a wonderful ski holiday resort, situated in the heart of the Swiss Alps. Laying in the canton of Uri, just an hour away from Lucerne, offers a stunning landscape and a charming atmosphere. Let's jump right into why you should consider Andermatt as your next ski holiday destination!
Wintersports in Andermatt
Skiing in Andermatt
Andermatt has a high worldwide reputation, especially among the more advanced off-piste skiers, known for its steep pistes, snow powder and off pistes with high-quality snow. You can easily reach Andermatt, from Zurich airport in around 1.5 hours. The resort is situated at an altitude of 1445 meters, and the village has a charming alpine ambience. Because of the introduction in 2013 of the luxury resort the Chedi Andermatt, which is a really modern resort, the alpine village started attracting even more tourists.
There are 2 main ski areas in Andermatt, the first one is the Andermatt ski area. We recommend this area for the more advanced skiers, with 70 kilometres of amazing pistes. In this area, you can find the Gemsstock mountain, a high mountain facing north, with reliable snow forecasts.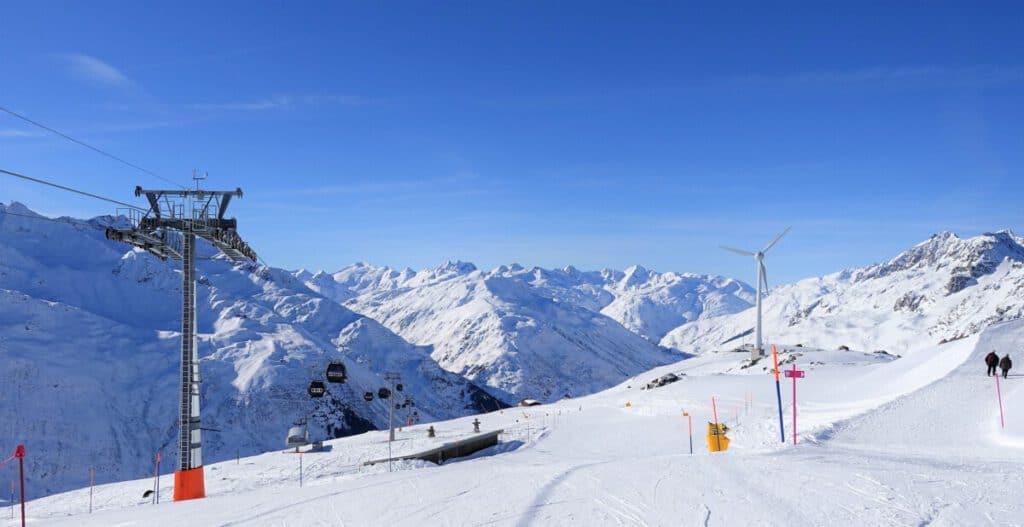 If you are an intermediate or a beginner, consider the sunnier Natschen area, this one is connected to Sedan. This area is also well reachable from the Chedi. This area covers around 55 kilometres of pistes.
There are a total of 125 kilometres of pistes, to give you an idea of the sort of pistes available in Andermatt:
Beginner: 28 kilometres
Intermediate: 52 kilometres
Advanced: 40 kilometres
Ski season in Andermatt
The ski season is from the end of November till mid or late April, depending on the temperature. The area is really reliable for its snow, especially on the 3000 meters high Gemmstock. The Gemmstock is well known for its great amounts of snow. Because the mountain is situated to the north above the mid-station you will find excellent red and black pistes with great snow.
Psst…checkout our travel guide and start discovering Switzerland now!

Click here to go to the guide
What are the costs of skiing in Andermatt?
We will give you a brief overview of the costs of skiing in Andermatt for one day, think of equipment, lift passes, food and so on.
Ski equipment(skies, shoes) = 55 CHF
Food = 50 CHF
Lift pass = around 60 CHF
Accommodation really depends on your needs and wants
Is Andermatt great for beginners?
Ski resort Andermatt does offer a few easy slopes, from the mountain down to the Valley. The main easy slope is Passstrase, this is a highlight for beginner skiers. You can also find some great beginner slopes from Gutsch to Stahlgrund. From the 70 kilometres of slopes in the Andermatt area, there are 28 kilometres of blue pistes. If you are a beginner, do not go to Gemmstock, here you won't find many slopes for beginners, beginners should go to the other side of Andermatt, checkout the ski resort of Natschen, Oberalp or Gutsch.
Ski schools in Andermatt
If you want ski lessons, there are several on-site ski schools, here you can go and book a ski lesson, or a group session. The average prices for ski lessons in Andermatt are: on average for an hour of private ski education, you will have to pay 95 CHF. Of course, group lessons are way cheaper, and also perfect to learn how to ski, you will join a group with around 4 to 8 people, a half-day of skiing lessons costs around 50 CHF, the lesson starts around 10:30 in the morning, until 12:00 o clock.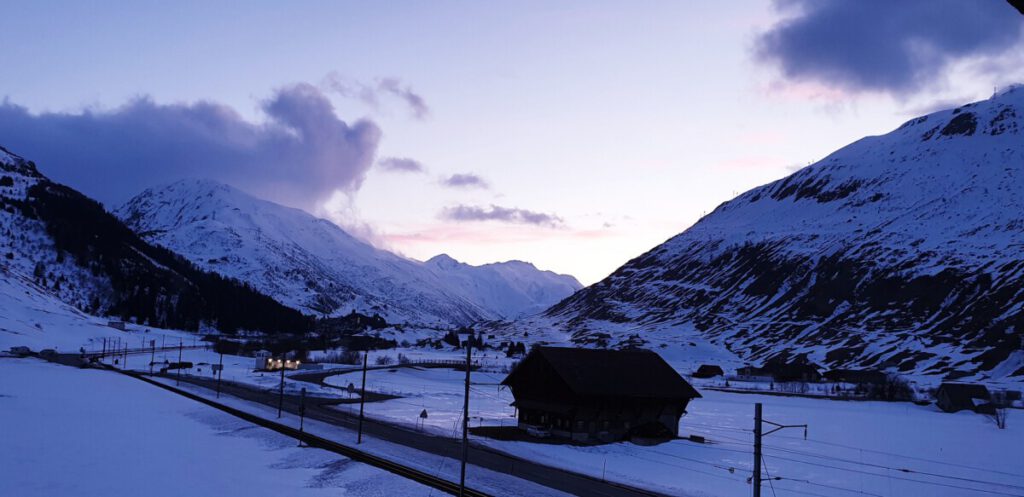 Cross-country skiing in Andermatt
This sport is getting more and more popular. Cross-Country skiing activates the whole of your body! Explore the region of canton Uri, in the pure fresh air, with nice winter sun. Cross-country skiing is a really nice way of exploring the beautiful nature of Andermatt.
There are well-prepared cross-country tracks that run along the valley from Andermatt, via Hospital to Realp. Good to know, the cross country tracks are being groomed every day, there are 28 kilometres of tracks between Realp and Andermatt. Pure fun:)
When can you perform Cross Country Skiing? The tracks are available if snow conditions are acceptable from December.
There are cross country ski passes, you can buy them online or in Andermatt, at places like the tourist office, the valley station, the railway station and so on. The prices for the cross country ski passes are:
Day Pass Urserntal CHF 12
Week Pass Urserntal CHF 50
Season Pass Urserntal CHF 80
Children (under 16 yrs) free
Swiss cross country ski pass CHF 160 (Matterhorn Gotthard Railway excluded)
Cross Country-skiing tips
An important notice, it is mandatory to keep your ski pass with you, they can ask you to show your pass when you are on the tracks.
We recommend booking the beginner package, this package is 99 CHF, it includes both equipment and the ski pass and an instructor.
There is a nice theme trail, perfect for families with kids. The track is called: on Gloria's tracks, and can be found on the 2-kilometre cross country section called Meer. Marked by a large sign, near the Nordic House in Andermatt.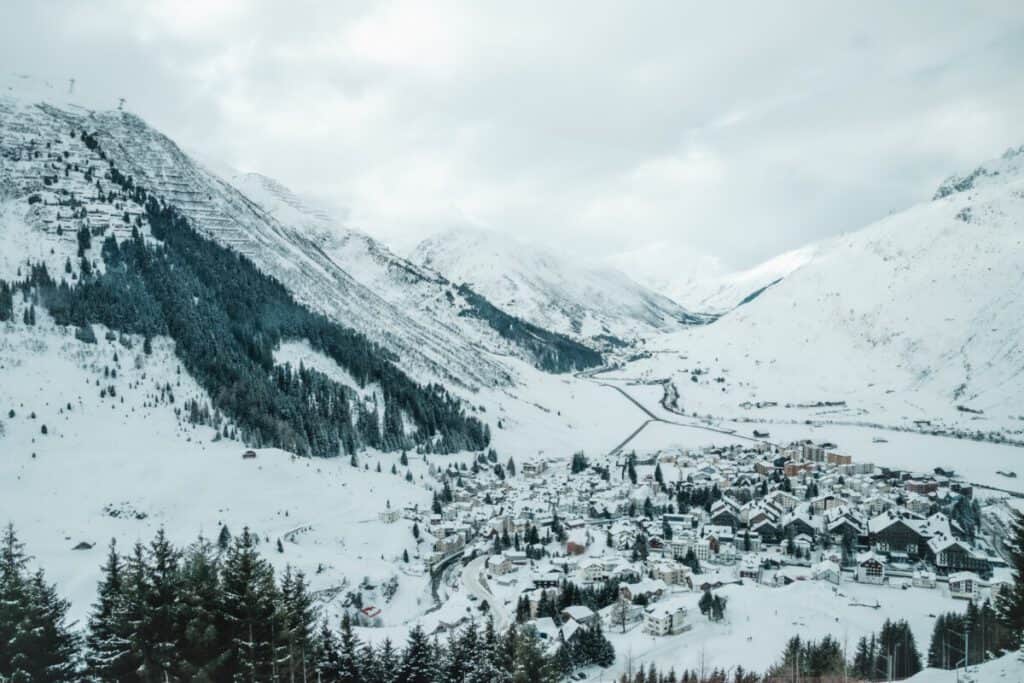 Winter hiking in Andermatt
Good news for the people who do not like winter sports, exploring the region on foot is a fantastic way as well to explore everything Andermatt has to offer. For example, enjoy a lovely winter hike. The winter hiking trails in and around Andermatt are well prepared and maintained daily. They are marked with pink coloured signs. We have found some amazing winter hiking trails, you can find them here!
Andermatt to Natschen – this is an easy rated hiking trail with a length of around 6 kilometres and a duration of almost 2 hours. The higher you get the more beautiful the views get. Via this link you can view the route.
Talboden Andermatt to Marcht – this hiking trail is around 5.5 kilometres long with a duration of around 1.5 hours. This is a sunny trail with fewer altitude differences, there is a net descent/ascent difference of 100 meters. So a great hiking trail for everyone.
A little longer hike from Andermatt to Hospental to Realp, with almost a length of 9.5 kilometres, and a duration of around 2.5 hours this hike is a little longer. But the trail is amazing, walking along little rivers, beautiful views of the towns, a recommended trail to pick.
Conclusion
All in all, we can highly recommend Andermatt as your next ski holiday destination. We do have to state, maybe consider visiting Zermatt, St Moritz or Verbier if you are a beginner for your next winter holidays. These resorts offer more pistes for beginners. If you are an off-piste enthusiastic, then Andermatt is the place for you, with excellent off pistes, this will raise your adrenaline level.
Andermatt offers amazing winter hiking trails, in the blog post you can find some amazing winter hiking trails. Andermatt offers a sport which is getting more and more popular: cross-country skiing – really fun – definitely reccomend you to try it! If you have any more questions, do not hesitate to leave a comment below!