Flims, Laax and Falera are popular holiday destinations for families, hikers and mountain bikers. Located in the canton Graubünden, these 3 villages offer plenty of hiking trails, fabulous views and several magical lakes. The perfect vacation destination for adventure and relaxation! Both during summer and winter, this area is the place to be for hikers and for skiers and snowboarders!
In this blog, we will inform you about the most recommended places, and activities to do when visiting Flims, Laax or Falera. We will start with the top things to do in Flims.
What to do in Flims?
Flims offers beautiful views, landscapes and plenty of possibilities to relax or be active. Hiking in the mountains on various hiking trails or mountain biking. Plenty of hotels and resorts can be booked with excellent facilities and spas to relax. We will inform you about the top things to do in Flims, during winter or summer.
Winter in Flims
Flims, Laax & Falera offer 235 kilometres of slopes, for beginners, and more advanced skiers, actually a perfect winter sports destination for everyone. The Ski resort of LAAX is easily reached from Flims by bus. Laax is Europe's leading freestyle resort, with the world's biggest half-pipe. Flims and Laax offer several lift facilities to go up in the mountains and enjoy the fresh snow.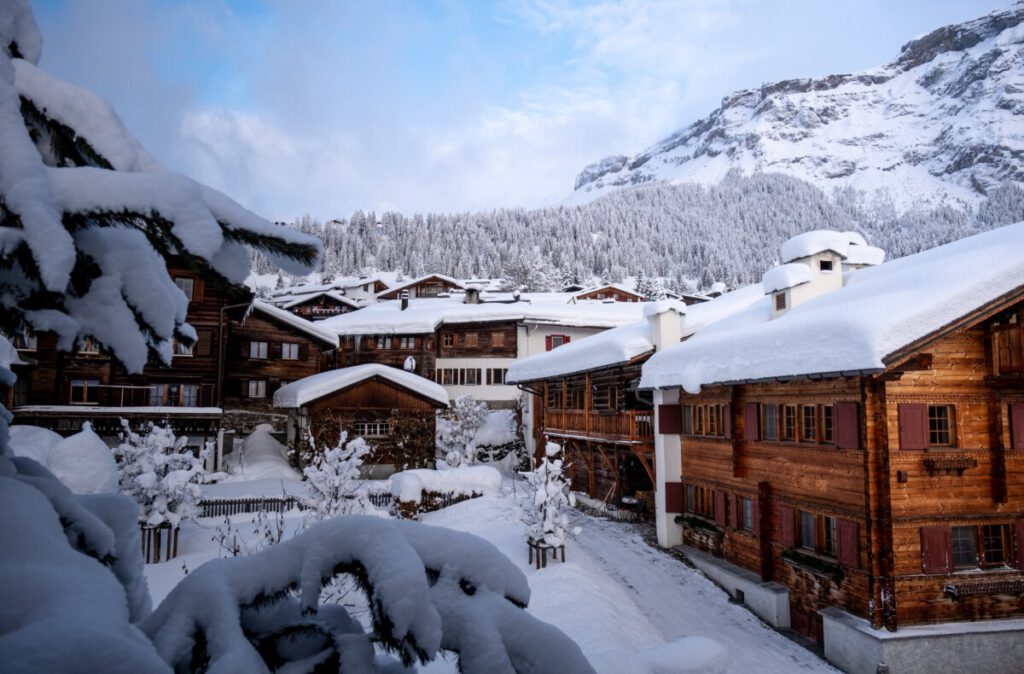 Summer in Flims
While enjoying the slopes during Winter, in the Summer season Flims shows another beautiful side. Many hiking trails appear when it is getting warmer and the snow disappears. Many hikers and mountain bikers are going up in the mountains to enjoy the Swiss mountains. Bathing in the mountain lake with crystal clear water, Caumasee is a must-visit. Walking to the Crestasee for a swim is a must too. A hike to the viewpoint of Il Spir lets you explore the Swiss Grand Canyon.
1. Caumasee, Flims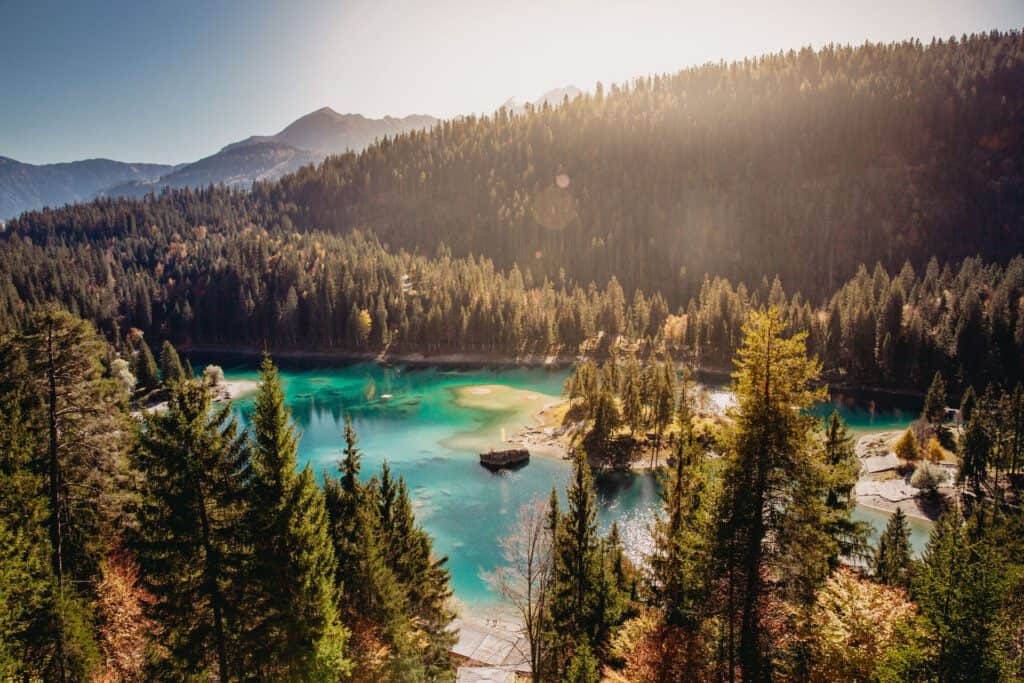 We did put Lake Caumasee at number one for a reason, this lake is impressive. The water is crystal clear, and perfect to cool down during a warm day. Flims does not only offer great hiking and mountain bike trails. When you visit in the Summer you can walk to the beautiful Lake Cauma.
To get to Lake Cauma you can start at Flims Waldhaus and enjoy a leisurely walk through the forest. The path is very well accessible with a buggy or by wheelchairs. I really enjoyed this hike through the forest to Lake Cauma. Good to mention, there is a possibility to take the lift down to the lake. This lake is known as Lag la Cauma, which means lake siesta. Lake Cauma is known as the jewel of Films, fantastic for a swim or just chilling or sunbathing. There is a restaurant located directly at the lake, to enjoy lunch with a spectacular view.
Some facilities at Lake Cauma:
Standup Paddles
Restaurant
Changing rooms/toilets
Beach Volleyball field
Boat rental
Crystal clear water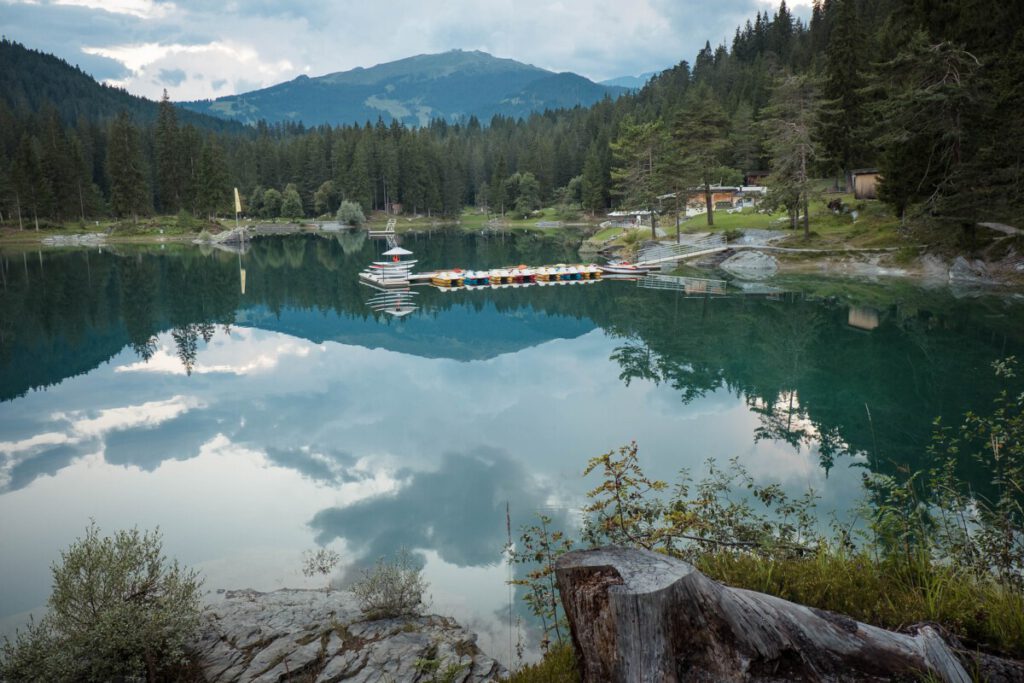 How to reach Lake Cauma?
By Car
Paid parking spaces are available at Flims Waldhaus. From the parking lot, it will take approximately 10 minutes to walk through the forest to the elevator. This path is very well accessible with a buggy or by wheelchair.
By Public Transport
Lake Caumasee is very well accessible by public transport. The nearest bus station is Flims Waldhaus Caumasee, with your guest card you can travel by bus for free. In this way, you can avoid busy parking lots or paid parking spaces. From the station, it takes around 15 minutes to walk to the lift through the forest.
By foot/bike
By bike, you can go from Staderas, from Flims Waldhaus playground on forest trails through the Flimser forest to Lake Cauma.
If you decide to walk, which we recommend, you can start at Flims Waldhaus with a leisurely stroll through the beautiful forest. This route is very family-friendly. While walking to Lake Caumasee you can decide to walk all the way down to Lake Cauma or take the lift.
Opening times
The lift runs from June to August from 8 am – 5 pm when the restaurant is open.
The restaurant located directly at Lake Cauma is open every day from 8 am – 5 pm. During the high season which means from June – August the restaurant is open until 9 pm.
We highly recommend downloading the INSIDE LAAX app. When staying in Flims/Laax or Falera you can get awesome deals, and discounts with your guest card. There is a discount for Lake Caumasee as well!
Entrance prices
Adults: CHF 7.00
Adults with guest pass: CHF 5.00
Residents of Trin, Flims, Domat/Ems: CHF 5.00
Students: CHF 5.00
Children/school pupils (6-16 years): CHF 3.00
Children below 6 years of age: free of charge
2. Aussichtplatform Il Spir (viewpoint)
A nice walk through the forest starting at Flims, you walk through the forest and can enjoy a view of the beautiful lake Caumasee from above. This is really impressive. It takes around one hour to walk from the entrance at the parking place at Flims to Viewpoint Il Spir. It is definitely worth the hike. The hike is perfect for families too, the path is mostly flat with a view of little hills.
Along the path, there is a small stroke of water, perfect to cool down a bit if it is a warm day. At the viewpoint, there is a lovely restaurant too, with a beautiful view and delicious local food. The restaurant's name is Restaurant Conn. The viewpoint(aussichtplatform) Il Spir is very cool. The viewpoint Il Spir offers a majestic view 180 degrees over the Ruinaulta, take your camera with you to make some amazing pictures!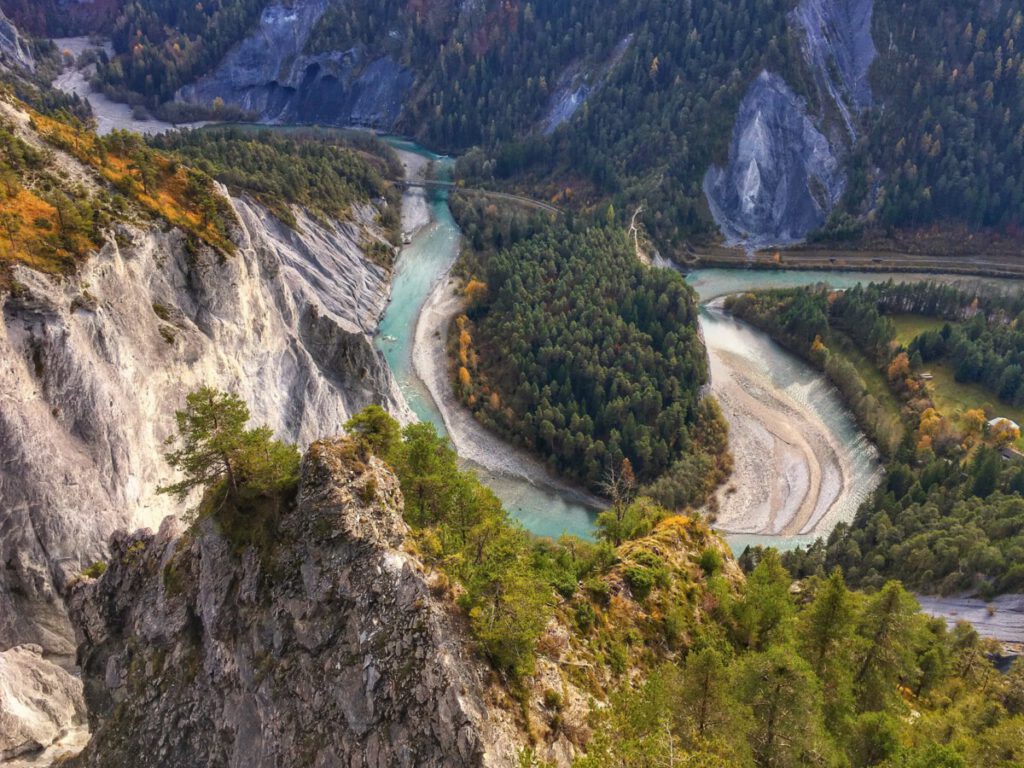 3. Flims, Laax and Falera, the place for skiers and snowboarders
When the sun comes up, and the day starts it is time to go up to the mountains. There are several cable cars available. In total there are 28 ski lifts and approximately 20 of the ski lifts have placed an altitude of between 2 and 3 kilometres. This means that the winter sports destination, Flims, Laax and Falera is one of the most reliable regions for winter sports in the world. You are almost always sure that the slopes are white when you come.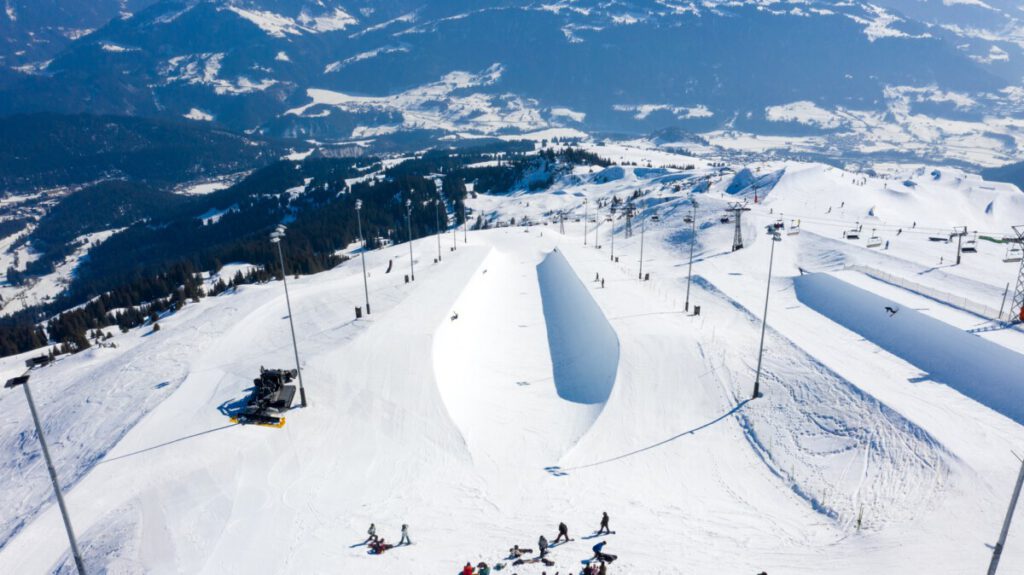 Good to know, this snowy area is for everyone, are you a beginner, is this your first time skiing or snowboarding? No problem there are many blue slopes to try on your own. Or book a class and learn from a well-trained teacher. If it is not your first time skiing or snowboarding, that's no problem as well. The beautiful slopes in Nagens and Mutta Rodunda are fantastic for more advanced skiers and snowboarders. From La Siala to Flims, is a slope to test your stamina! This is a trip of 13 kilometres and you will descend approximately 1700 metres`!
A short summary of what this region offers during winter:
4 Snowparks
224 kilometres of slopes
28 lifts
over 30 restaurants with delicious food
70% reliability that there is snow above 2 kilometres
4. River rafting and canoeing
Time for adventure, adrenaline levels do rise while river rafting! You can go river rafting in the Rhine Gorge, a really adventurous experience. From Ilanz to Reichenau, this route is one of the most exciting rafting routes in Europe. Enjoy the amazing views and the steep cliffs, the rapids and water ensure a refreshing but overall very fun experience. There are several experienced guides available to go on the rafts. You can book this activity in Flims, Laax and Falera at the guest information centres. These telephone numbers can be contacted to get more detailed information and dates.
5. Connbächli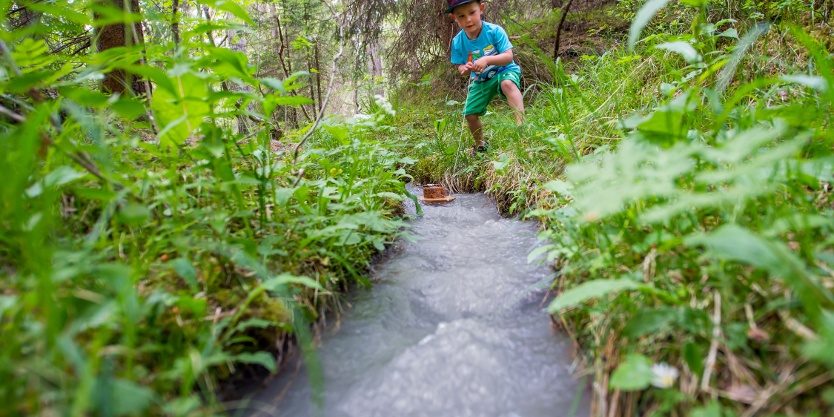 Number 5 on the list of activities is the Connbächli, which was named The Conngraben earlier nowadays is called Connächli, in fact, this is one of the most important and oldest, longest still water bearing trenches of Flims. Although the trench is not economically used, it is really important. We advise you to wear good footwear, this is necessary on the six-kilometre long trench, the walk takes about one and a half hours, and is perfect for families. Something you should not forget is your ship, you can build your own ship or you can buy a locally made kit, and built the ship. After that, it is time to start exploring the beautiful Flimserwald. To buy the locally made kit, you could visit the tourist information centre in Flims.
6. Lake Cresta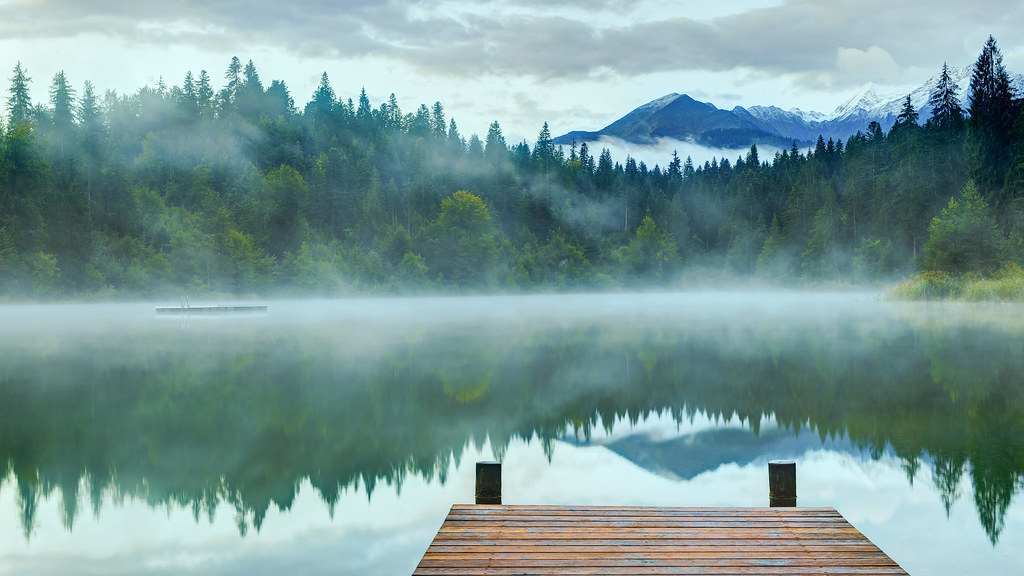 When visiting Laax, Flims or Falera we highly recommend visiting Lake Cresta. The crystal-clear water is magical, and let's not forget the stunning mountain view. Definitely can be called a hidden gem. The lake is 375 metres long and 180 metres wide. After a hike or on a warm day this is the perfect place to cool down and enjoy the crystal clear fresh mountain water. One quite special aspect is that lake Cresta is only accessible by foot, no cars are allowed. This makes this area very peaceful and quiet.
Some facilities at Lake Cresta:
Standup Paddles
Boat rental
A restaurant
A fireplace
Changing rooms
How to reach Lake Cresta?
By Car
You can easily reach Lake Cresta, there are several parking places, from the parking places you can walk to Lake Cresta in about 10 minutes.
By Public Transport
Another possibility is by taking the Postbus from Flims/Laax to Trin/Chur. Exit the bus at station Trin, Felsbach-Crestasee. It takes about 20 minutes to reach Lake Cresta, a nice walk through the forest.
By Foot/Bike
By foot, we advise you to start at Flims Waldhaus and walk in the direction of Conna, then you will pass Lake Cauma and follow the signs directly to Lake Cresta.
By bike, go through the Flimserwald forest from Staderas to Conn, then from Conn to the Crestasee.
Opening hours Restaurant
The restaurant located at Lake Cresta is open from the first of May until mid-October.
May until June
Monday + Tuesday = Closed
Wednesday until Sunday = 9 a.m. – 6 p.m, keep in mind, these opening hours may vary because of the unpredictable weather.
Bathing lake opening ours
The opening hours can vary because of the unpredictable weather in Switzerland.
The Kiosk is open on weekend from 02.04. to 13.05.2021. From 13 May to mid-September 2021, the kiosk will be open daily. The kiosk is located at Lake Cresta.
Entrance prices
Students: CHF 5.00
Children/school pupils (6-16 years of age): CHF 3.00
Children below 6 years of age free of charge
Adults: CHF 7.00
Adults with guest pass: CHF 5.00
Residents of Trin, Flims, Domat/Ems: CHF 5.00
Conclusion
Flims, Laax and Falera have so much to offer. The regions have excellent well-prepared slopes during the winter season with modern cable cars. Beautiful mountain restaurants and of course a festive mood. During the summer season, you can enjoy beautiful hikes through the swiss landscape.
The famous Lake Caumasee is a recommended place to go to as well. This crystal-clear blue lake is a gem. You can easily hike to the lake. During the summer season swimming in the lake is amazing. We hope you enjoyed this blog, if you have any questions, feel free to leave a comment below.