You've probably booked your winter holiday trip to Switzerland, but the next step is: packing your bags. During the winter season, Switzerland turns into a magical fairytale place. Winter season comes with colder temperatures as well. The temperatures can drop below zero degrees Celcius, especially on the slopes higher up in the mountains.
Proper preparation is essential for a comfortable and successful ski holiday to Switzerland. This blog post will inform you how an adequate ski holiday packing list to Switzerland should look. Let's dive right into it!
/Every product is independently selected by our editors. Things you buy through our links may earn us a commission\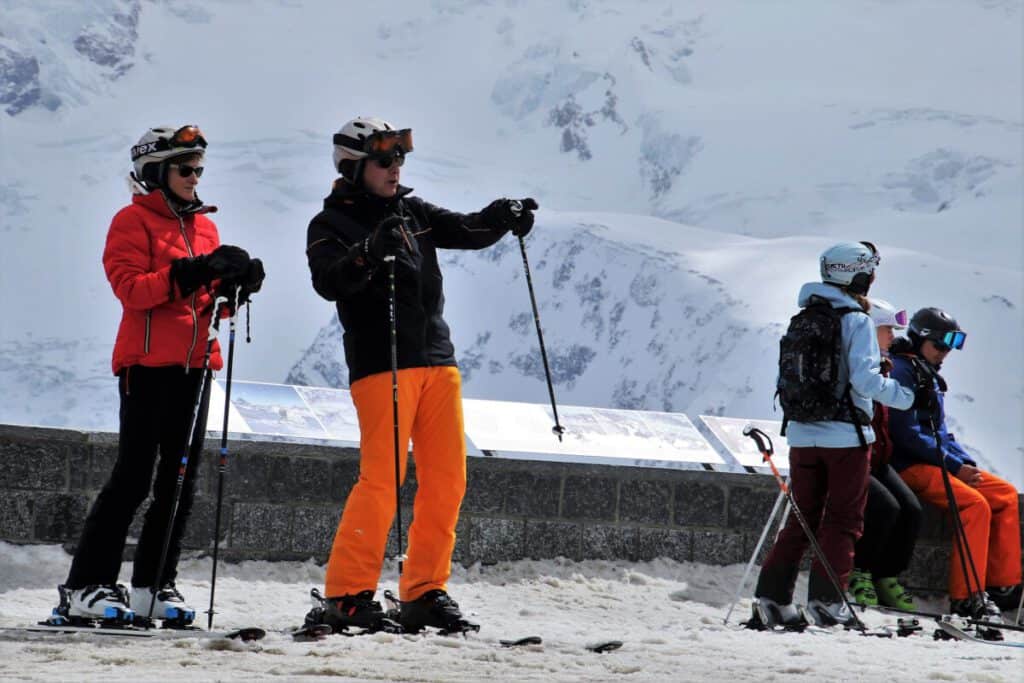 As you might have seen, we already wrote a blog about what to wear during the winter season in Switzerland. The main difference between this blog and the other one is that this blog is created with a focus on winter sports, with the intention to perform ski, snowboarding or other winter activities. The other blog is created for wintersport enthusiasts, hikers and city explorers.
What is the ski season in Switzerland?
The ski season normally runs from November to March. Nevertheless, resorts at a higher elevation, or locations with certain and a lot of snowfall, may stay open until the end of April. In general, the advice is to check weather apps and ski area websites regularly, to check up-to-date information about whether ski areas are open.
What to wear when skiing/snowboarding in Switzerland?
When you go skiing or snowboarding in Switzerland you will need a proper outfit. Also, some accessories shouldn't be forgotten. We will list the most essential items below, including links to products which are our favourites.
Your ski outfit:
Pants
Good quality ski pants which are waterproof are essential. Don't hesitate to choose a bright colour. This is great on the white slopes. Especially for your kids, we recommend taking some brighter colours like yellow, orange, green or purple. This will make it easier to find your kids in busy places or on the slopes.
The great detail which we like and prefer on our ski pants are the elastic bands at the end of the trouser leg. These will be tightened on your ski boots to prevent snow from coming in your socks and ski boots. These ski pants from Colombia are awesome, check them out here.
Jacket
A ski jacket is a must. Preferably wind and waterproof. This will prevent so much discomfort during your ski adventures. Some days it can snow, rain or be windy. During these days you are happy you've chosen to invest a little more in a quality jacket. This ski jacket is quite affordable and waterproof which is great.
Layers
Yes, layers are key. You will need to take some layers with you depending on the length of your stay and if you are able to wash your clothes at the hotel you're staying in. We take several thermal long sleeves with us. These are lifesavers. They keep you so comfortable and warm. Check them out here.
Fleece sweaters
Fleece sweaters are a great addition to your list too. Definitely take them with you. Imagine you are at a ski restaurant on the mountain. In the sun it can actually be quite warm. Then it's great to take off your thick ski jacket and enjoy some sun in your lightweight fleece sweater. These fleece sweaters come in a wide variety of colours and patterns.
Thermal underwear
We always wear thermal underwear under our ski pants. This will keep you warm and comfortable during a long day on the slopes. We love these once, check them out here.
Ski socks
Take some proper ski socks with you. The thing about these socks is that they are thicker than the socks you for example wear in your sneakers. This will prevent sore feet and will keep your feet warm.
Ski gloves
Ski gloves are a must. We always select waterproof gloves. Many cheaper gloves will keep your fingers warm for an hour but not for a full ski day. Invest in some proper ski gloves, this will save you so much discomfort. These ski gloves are waterproof and not so expensive!
Neckwarmer
It can be quite chilly around your neck when you're only wearing a ski jacket. A neck warmer is great to keep your neck warm when performing ski activities. This one is so nice and thick.
Ski accesories
Ski goggles
Ski goggles are great. There is a difference between your sunglasses and ski goggles. We think skiing goggles are way better. Ski goggles are indeed thicker and larger, but they will protect your eyes and upper face from the bright sun.
Besides the sun, the most important benefit of goggles is to prevent your eyes from tearing and making your vision blurry. Also, snow and ice particles can get into your eyes when skiing with some speed down the slopes. We like these goggles as they are UV-protected, also they come in various options check them out.
A helmet
Please, please wear a helmet. Yearly so many accidents occur with people not wearing a ski helmets. It can literally save you. Properly fitting helmets reduce the risk of ski and snowboard-related head injuries by 60 per cent. They do so by absorbing the shock of a fall or collision. Even if a skier or snowboarder sustains a head injury, the injury will be less severe if their head is protected by a helmet. Read more about the importance of helmets in this blog.
A backpack
You might have your phone, keys, some drinks and food with you. The best way to store them is in a backpack. A backpack can be really useful to store your personal items in. We always put sunscreen in our backpacks as well. This backpack is really great, the nice additional feature is that it's waterproof and stores our boots as well.
So, these items are essential to be on your packing list for your ski holidays in Switzerland. Be sure to take enough thermal long sleeves and extra socks with you. Also, we often hear: "ski clothing is expensive". We won't argue this, this clothing is indeed pricy. We also had some questions at first, but the investment is so worth it. We wear our pants already for some years. Also, our ski jackets can be used for multiple years. It is so important during ski holidays to be and stay comfortably warm. The right outfit can make this happen.
Ski/wintersport equipment
Whether you have to buy ski equipment, depends on if you hire ski equipment or already bought skis/snowboard by yourself. At first, we always hired our equipment. After some years we were able to buy ski equipment by ourselves. However, if you're going to ski for the first time or only once a year. It might not be worth it to buy them yourself. In general skis you hire are of great quality.
Sun protection
Often forgotten is how to protect yourself from the sun during a visit to Switzerland during the winter season. Especially higher up in the mountains with the bright sun directly reflecting on the snow, you can easily get sunburned. That's why proper sunglasses or goggles are a must.
Quite interesting to mention is that snow is highly reflective of UV radiation. To be more precise, snow reflects more UV radiation than water. So skin damage and sunburn can rapidly occur when you are in the mountains. Please keep in mind, even on colder and cloudy days, eye protection and sunscreen, or covering clothing are a must. Take some sunscreen with you as well.
Of course, you shouldn't forget important accessories like phone chargers, personal health items and the general clothes you always take with you. Our packing list shows the most essential items you need to pack for a winter ski holiday visit to Switzerland. Please check our other blog about what to wear in Switzerland during the winter season as well. This might give you some additional useful information, to prepare for a visit to Switzerland during the winter season.
Conclusion
Ski holidays in Switzerland require a bit of a different packing list than a normal winter visit to Switzerland. In this blog, we inform you about what to take with you on ski holidays to beautiful Switzerland. The packing list includes all the essential items you should pack, to keep yourself comfortable warm and safe.
We hope this list helped you prepare and pack for your ski holidays in Switzerland. If you have any suggestions for items that should be added to this list, feel free to contact us or leave a comment below. If you have any other questions: we're here to help!