Ski resort Davos, located at an altitude of 1560 metres, is the highest and one of the largest towns situated in the alps. The ski resort Davos offers amazing ski facilities and has a wide variety of hotels. In this blog, we will tell you everything you need to know for your next ski holiday to Davos! Let's start!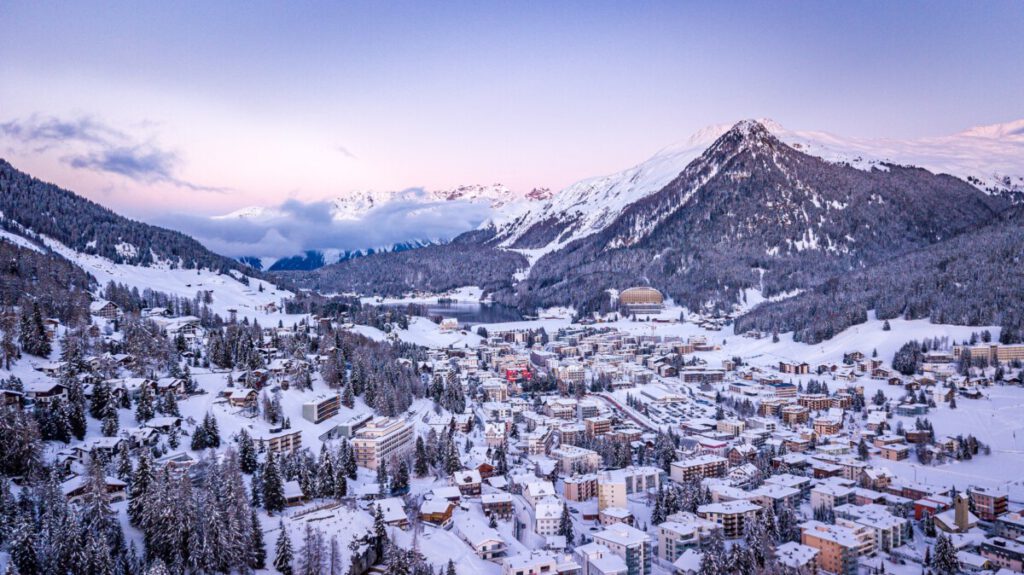 Why consider Davos as your next ski holiday destination?
Choosing a ski holiday destination can be quite tricky, winter holidays in Switzerland is, of course, a great idea. As Switzerland is known for its great ski facilities. There are several fantastic ski resorts in Switzerland such as Zermatt, St Moritz and so on. Today we're gonna have a look at ski resort Davos. We think you should really consider Davos as your next ski winter holiday destination for several reasons:
There are around 80 ski pistes
A total of 215 kilometres of prepared ski pistes
The resorts Davos and Davos Klosters are connected by 5 ski areas.
Davos Klosters is one of the largest ski areas of the alps
There are superpipes on Jakobshorn
This is just a small list of reasons why Davos is such an amazing place to go during the winter holidays. Davos has a lot to offer, let's find out why Davos could be a great winter holiday destination.
Wintersports in Davos
As mentioned above there is the main city Davos and the smaller mountain village Davos Klosters. These two resorts are connected by a total of five ski areas. This creates a large ski network of pistes.
There is a total of 215 kilometres of pistes:
66 kilomtres of beginner pistes
107 kilomtres of intermediate pistes
42 kilomtres of advanced/harder pistes
There are a total of 55 ski lifts in the area. 12 cable cars, 14 chair lifts, 24 T-bars, 5 children tows and 2 children escalators, this is quite a significant number of lifts, which is great, moving through the areas is easy. The longest piste is 15 kilometres and the longest off-piste is 24 kilometres. Besides all these amazing numbers, Davos offers great apres-ski facilities, hotels and mountain restaurants with amazing views!
Skiing and snowboarding in Davos
The Swiss ski resort Davos is the highest town in Europe, it is maybe not the most beautiful town, compared to for example Verbier or Zermatt it definitely offers an amazing amount of pistes. Compared to for example the car-free village of Zermatt, Davos is way busier, lots of traffic makes it quite a busy and noisy town.
The town is known as an economic centre – a meeting point for world leaders. The grey block architecture makes it look less attractive than the more wooden buildings in and around Zermatt and Verbier. but besides the town, if you move a bit away from the town, the ski pistes are superb. Extensive undemanding posted terrain and manifest accessible off pistes, a great place for the more advanced skiers as well.
The ski areas in Davos
As we already mentioned above, there is the main town Davos and the smaller mountain village Davos Klosters, the village is located at a lower altitude. These two ski resorts connect a total of five ski areas. The largest area is the Parsenn sector, the is the sector shared between Davos Dorf and Klosters.
The Jakobshorn can be reached from Davos Platz, the Pisha is above Davos Dorf, and The Rinerhorn is shortly located from Davos above Glaris. The last area, fifth area is Madrisa, located on the far side of Klosters.
The two ski resorts may be connected, but unfortunately, the five areas are not connected with each other, which is a pity. Davos ski area is also great for skiers with a little more experience than people who still need to learn how to ski. The amazing prepared long blue and red pistes just above the treeline are amazing for intermediate skiers. The longest pistes are 12 kilometres long, which is awesome.
The average price for skiing in Davos
This is probably the most asked question, what does a week of skiing in Davos approximately cost? We will answer your question in the table below. We will make a small calculation for a 7-day trip to Davos during the winter season. This is quite a general universal calculation, but of course, some people prefer more luxury than others.
| | |
| --- | --- |
| | Costs |
| Ski Pass | 395.00 CHF(adult) |
| Ski Equipment | 209 CHF |
| Food | 400 CHF (really average, depending on if you have dinner in a restaurant or at home |
| Travel costs | 350 CHF |
| Hotel costs | 1000 CHF (a luxury hotel will raise the total costs) |
| Total costs | 2354 CHF |
Prices for a ski pass in Davos
The price for a ski pass in Davos, for a full day, depends on the region you want to visit, on this website you can check the up-to-date prices for the specific ski area you would like to visit. To give you an idea the price of a ski pass in the whole area is around 78 CHF.
Skiing in Davos as a beginner
Davos offers a great number of easy pistes, perfect to learn your first move on skies. There are 15 ski schools, with professional ski teachers. You can easily hire great quality equipment at several locations. There are beginner areas to learn how to ski, these are located in the town itself, and can be easily reached by bus.
There are two areas called Bolgen and Bunda, these two areas offer great beginner lectures, with English and Chinese speaking teachers. These beginner areas are located in Davos Platz near the Jakobshorn valley station. The other beginner area Bunda is located in Davos Dorf near Jakobshorn valley station. Both areas are easily reachable by public transport. This is a perfect place to enjoy your first ski experience!
Hotels in Davos
There are a lot of hotels in Davos, with amazing spa facilities, food and rooms. There is a wide variety of hotels to choose from, from the more expensive star hotels to the standard hotels, which are great too.
Where to have dinner in Davos
After a nice day of skiing, it's time to have dinner. There are amazing restaurants in Davos, we have made a top five of our favourite restaurants in Davos:
Bachi's Strandbad Davos (perfect for lunch too, amazing views of the water)
Scala Davos | Restaurant mit Italienischer, Mediterraner & Schweizer Küche
Da Elio, Restaurant und Pizzeria (famous for its pizzas, and ending with an Italian expresso).
Steakhouse Ochsen
Der Pate
Conclusion
All in all, we can conclude that Davos is a great winter holiday destination. Offering a lot of ski facilities, with a huge network of pistes. Both for the beginners, intermediate and the more advanced skiers. There are off-piste slopes as well. There are two areas for beginners, here you can learn your first moves on skies.
Davos offers a wide variety of hotels, from standard hotels to luxury hotels. It is not hard to find a good spot for dinner in Davos. We hope your questions are answered while reading the blog, if you have any other questions, leave a comment below!