Iseltwald is located on the southern shores of Lake Brienz. This fairytale village embraced by the Swiss Alps is a beautiful holiday destination. Iseltwald is a lovely little place that should definitely be on your holiday bucket list. The location is superb directly at the crystal clear water of Lake Brienz. Today we will inform you about everything you need to know about Iseltwald to prepare yourself for a visit to beautiful Iseltwald. Let's start!
Where is Iseltwald located?
Iseltwald is located in the canton of Bernese Oberland, as we mentioned already on the southern shore of Lake Brienz. Iseltwald is actually quite close to Interlaken. The distance between Interlaken and Iseltwald is only around 20-25 minutes by public transport. By car, you're even faster, in only 15 minutes you can travel from Interlaken to Iseltwald. For sure a nice thing to combine Iseltwald and Interlaken, both beautiful places. The map below shows you a bit of an overview of Lake Brienz with Interlaken on the left and middle under you see Iseltwald. Brienz is on the right corner.
How to get to Iseltwald?
Iseltwald is easily reachable. As we already mentioned above, from Interlaken to Iseltwald only takes around 10-15 minutes by car or 20-25 minutes by public transport. If you travel from Lucern it takes around 2-2.5 hours, this is cause you will have to drive through the mountain roads, here the speed averages are lower of course. From lucerne to Iseltwald is around 80 kilometres. If you travel from Bern to Iseltwald it will take you around 1 hour. This trip is around 66 kilometres. Check the route here. Travelling by public transport to Iseltwald from Bern will take a little longer: 1 hour and 18 minutes.
How to get to Iseltwald by boat?
This is probably the most unique and most beautiful way to travel to Iseltwald. There are several boat cruises on Lake Brienz. They have a stop at Iseltwald. The boat trip offers you the opportunity to explore the villages surrounding lake Brienz. This is really an unforgeable experience. We loved it. The boat trip starts in Brienz or Interlaken Ost. Check the departure times and prices here.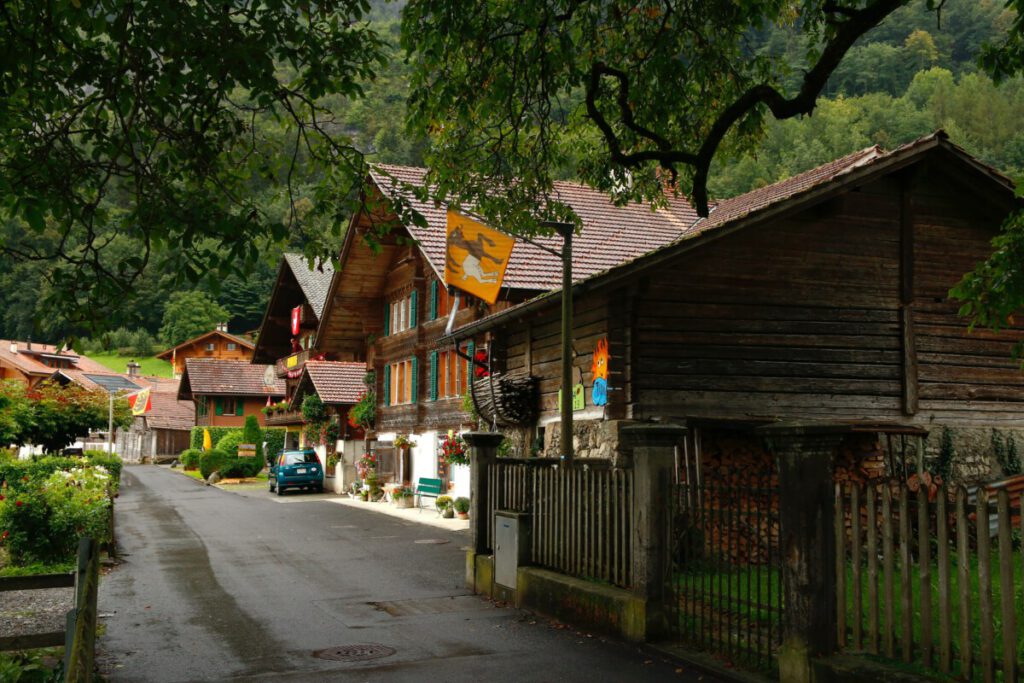 What is the best time to visit Iseltwald?
This is a really tricky question, which can be answered in our opinion in only one way. Every season has its pros and cons. If we would have to choose one season, we would choose the summer season. Then it's warmer and sunnier in Switzerland. This makes a boat trip a bit more comfortable.
The con is that it is more crowded during the summer months in Switzerland. To avoid busy places, maybe visit Iseltwald in the autumn season or in the spring season. This is of course a beautiful time of the year as well, with the leaves turning colours or with the flourishing nature. We actually made a post about the best time to visit Switzerland, check it out here.
What language is spoken in Iseltwald?
Many people assume Swiss people only speak Swiss-German. This is not fully true. Most people in Switzerland speak quite good English. So no worries, English is perfect. of course, they appreciate it if you speak some German:) In the tourism sector, English is almost spoken everywhere.
Is Iseltwald worth visiting?
Iseltwald is such a fairytale place. This village is definitely worth visiting, we love this place. Iseltwald is located in such an idyllic place, directly at the shores of Lake Brienz. It is a lovely place. Whether you just enjoy strolling through the village, admiring the beautiful views over Lake Brienz or are in for some adventurous water activities. We are sure you can have a lovely time in Iseltwald.
Top things to do in Iseltwald
Stroll along the lake in Iseltwald
Iseltwald is situated along the shores of Lake Brienz. The beautiful promenade offers you splendid views, sit down at the promenade and just enjoy the view for a while. At the promenade, you will find a lot of colourful swiss chalets, so wonderful. The colour of the water is so deep blue, we were impressed by the colour of the water. There are some restaurants located on the promenade, here you can have lunch or dinner with a fabulous view.
Book a boat tour
You can easily start with a boat cruise in Iseltwald. The boats stop in Iseltwald, the boat leaves from Interlaken and travels all the way to Brienz. This takes around one and a half hours. The boat stops for example at Iseltwald. The view when you're on the boat on the lake is so different compared to the promenade, really impressive.
The Schloss Seeburg
This is our favourite part of visiting Iseltwald, visiting the iconic castle, Schloss Seeburg. The castle is definitely an eyecatcher and many people have seen it on Instagram or google once. If we are not wrong, it is now private property, so unfortunately you can only view it from a distance.
Swimming in Lake Brienz
We could not forget this one, especially on the warmer sunny summer days, it is a nice way to cool down. Take a dip in the cold water of Lake Brienz. Yes, it is really cold…The water of Lake Brienz is one of the cleanest in the whole of Switzerland.
Swimming in Lake Brienz can be done for example at Iseltwald lido, this place is perfect to cool down and have a relaxing swim. The place is open daily from May to the end of September, the entry is free! Check out the website for up to date information.
The hike to the Giessbach waterfalls
The Giessbach waterfalls are so impressive, that you can hike to the waterfalls from Iseltwald. The hike is not that hard, it is around 5.8 kilometres long, there is some uphill hiking and on the way back some downhill hiking. But we did not find it a really hard hike. If you'd like to see the impressive waterfall from the back, walk to the station with the boats of Giessbach, then take the funicular or walk to the hotel, this hike took us 20 minutes.
Conclusion
We can conclude that this pretty village located at the southern shore of Lake Brienz is a unique and beautiful place. Iseltwald is definitely worth visiting. Iseltwald is located near Interlaken so you could combine these two wonderful places.
There are many things to do in Iseltwald, from strolling through the village, a stroll along the lakeside over the promenade or booking a boat cruise to see the villages around Lake Brienz. Iseltwald has a variety of things to offer, we hope you will have a lovely time visiting this lovely village.