Thinking of your next destination for the winter ski holidays? Consider reading this post, we think St Moritz is the place for you to go to this winter. In this blog post, we will tell you why Ski holidays to St Moritz are a great idea.
St Moritz is a village located in the upper Engadine, more to the southeast of Switzerland. St Moritz is a popular and famous ski resort, well-known all over the world, let's find out why St Moritz is such a popular winter-sports holiday destination!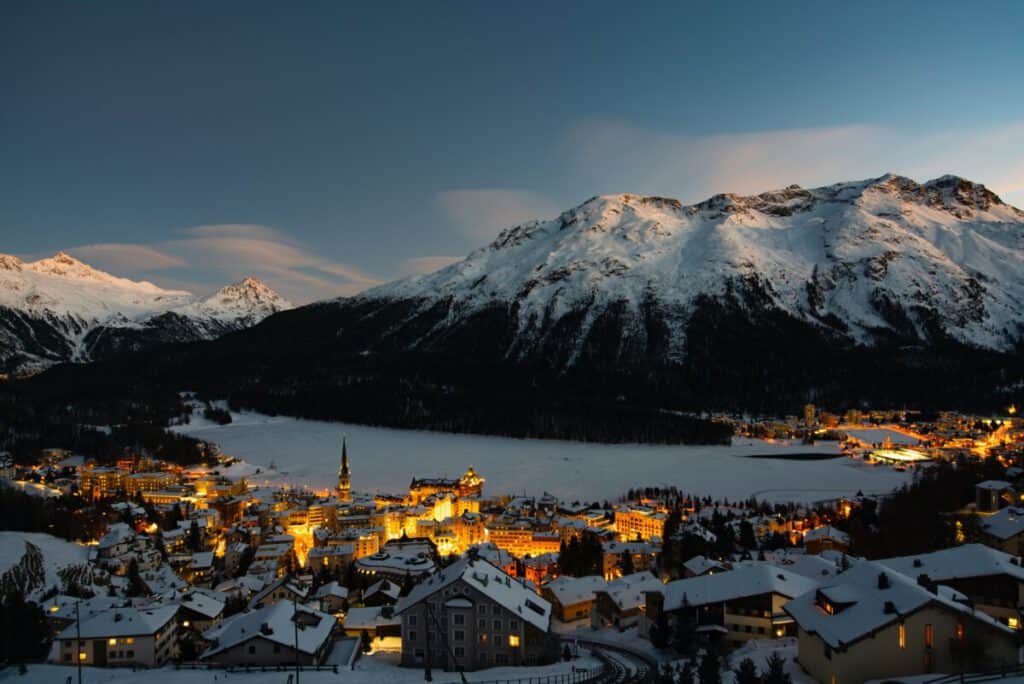 Why consider St Moritz as your next ski holiday destination?
This particular question could be answered quite easily if you would only look at a picture of beautiful St Moritz. But here are some reasons, why you should consider St Moritz as a possible next ski winter holiday destination.
St Moritz is the birthplace of Alpine winter tourism(skiing/snowboarding)
There are over 350 kilometres of outstanding slopes in and around St Moritz
St Moritz offers way more than just skiing and snowboarding, a wide variety of winter activities such as ice-skating, curling, polo and cricket are available to do in St Moritz as well.
Amazing winter hiking trails are available.
A wide variety of hotels, and apartments, from ultimate luxury to a more traditional stay, are available to hire!
The departure point for the Glacier Express
These are just some reasons, why St Moritz is such a perfect ski holiday destination. To give you more of an idea, of why St Moritz is so unique let's dive a bit more into it.
Wintersports in St Moritz
This alpine luxury destination, famous all around the world offers, yes, you hear it right over 354 kilometres of pistes. This idyllic place, is on a sunny terrace-like Verbier. Located in the wonderful Engadin Valley which is overlooking a big frozen lake, makes it is probably one of the most idyllic and scenic winter ski holiday destinations you could think of.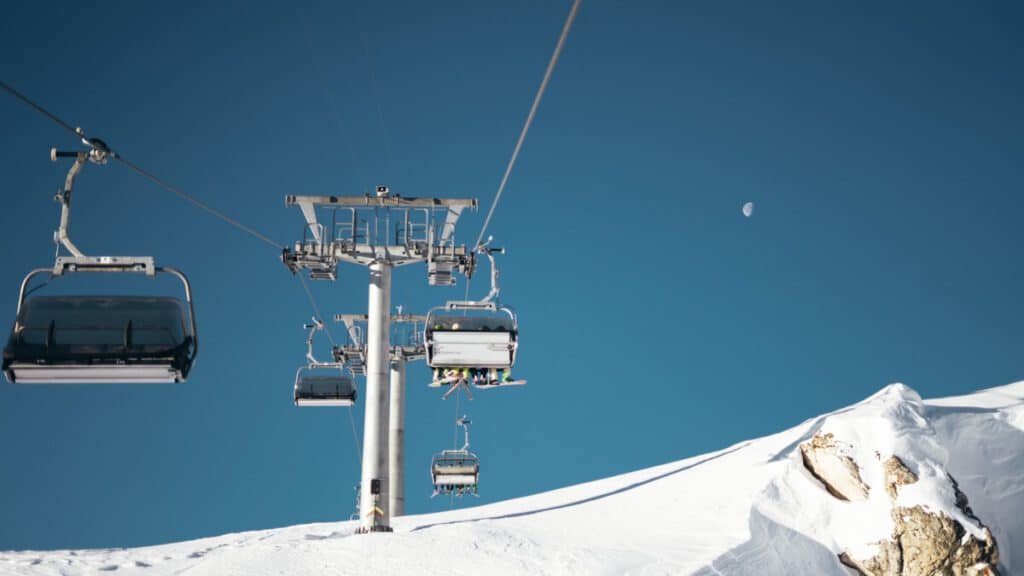 Skiing in St Moritz
As mentioned above, there are over 354 kilometres of pistes available. There are three ski areas in St Moritz, the lovely thing is: they all have something special, they all have a special and different character.
The closest to St Moritz is the area Corviglia, this is the largest area, most skiers and wintersport lovers who visit St Moritz go here. Plenty of pistes, plenty of space. Most people are happy to be in this area and explore this area. This area has 96 kilometres of pistes with a total of 87 pistes. The other two areas are: Corvatsch & Diavolezza Lagalb.
Average prices for skiing in St Moritz
Many people always have this question: how much will my trip, to St Moritz approximately cost? We have made a small calculation for a 7-day trip to St Moritz, during the winter season. These calculations may vary for you personally, but this calculation is valid for most people.
| | |
| --- | --- |
| | Prices |
| Ski Pass | 400 CHF (depending on the period you stay in St Moritz) |
| Ski Equipment | 150 CHF |
| Food | 400 CHF (really depending on what you prefer, luxury, self-cooking etc). |
| Travel costs | 350 CHF |
| Hotel costs | 3/4 star hotels ranging from 1000-2500 CHF |
| Total Costs | around 2500 CHF |
What are the prices for a ski pass in St Moritz
The prices for a ski pass in St Moritz vary depending on the period you stay in St Moritz. But on average the price for an adult for a ski pass is around 60-70 CHF. This also depends on the particular area you want a ski pass for.
A tip: book early, the earlier you book your ski pass, the more affordable and more discount you can get. If you travel with your family, consider checking out the family ski pass, this may save you quite some money!
Another important tip, which can save you a lot of money! from 23 of October till 8 May of 2022 around 100 hotels offer a discount deal if you stay at one of these hotels you can get a ski pass for just 45 CHF per day.
Skiing in St Moritz as a beginner
If you are a beginner and want to learn how to ski, experience your first moves, we have to say: St Moritz is a great place for beginners. There are pistes for beginners in all areas mentioned above. St Moritz is considered as one of the most beginner-friendly ski resorts in Switzerland. We recommend going to the pistes of Corviglia, closest located to St Moritz, these pistes are the most beginner-friendly.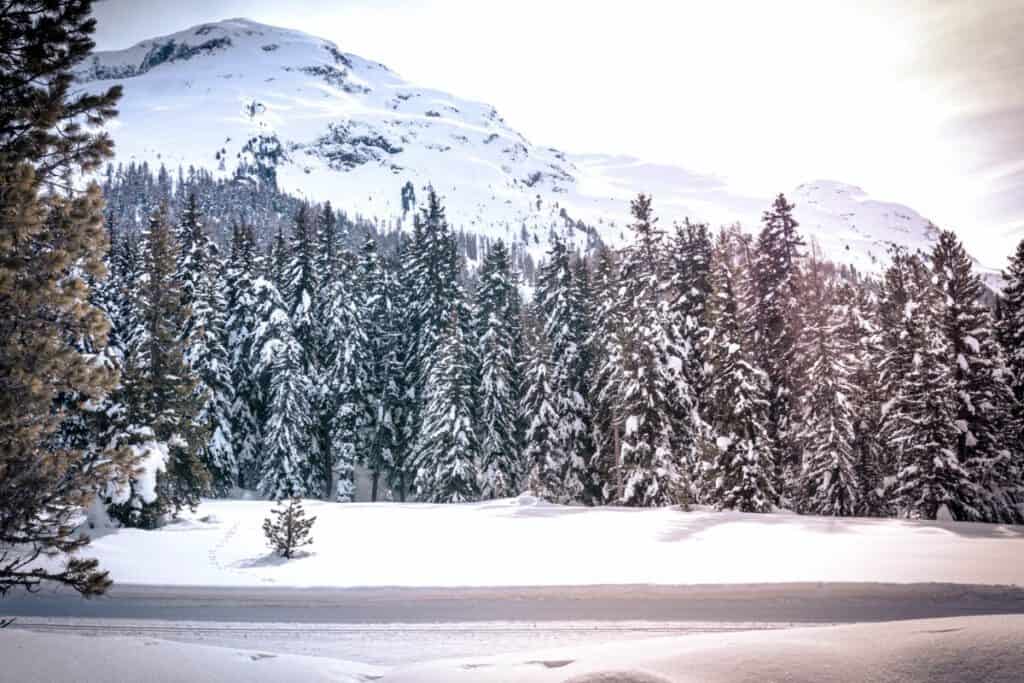 Where to learn how to ski in St Moritz?
Of course, if this winter ski holiday will be your first-time skiing, we highly recommend taking some ski classes. This will make sure you are safe from the pistes and can enjoy your holidays to the fullest. There is one ski school, actually the oldest of St Moritz, which has over 350 employees professionals who can teach you how to ski or snowboard.
Is St Moritz an expensive winter holiday destination?
yes, we will be totally honest with you, because of its famous well-known name, St Moritz is quite expensive. But..good news, there are several places to stay according to your budget. Yes, there are outstanding, ultimate luxury hotels but there are also budget-friendly hotels. So in fact St Moritz is a place for everyone.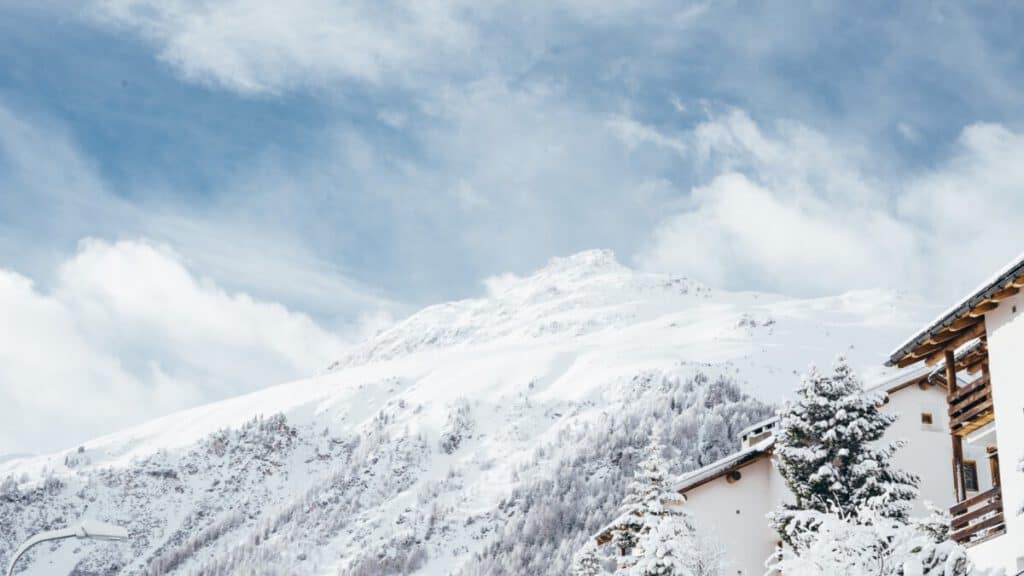 What language is spoken in St Moritz
The main language spoken in St Moritz is German. But, Italian is spoken as well, as it's close to the neighbouring Italian valleys, Some French is spoken as well. But a lot of people in St Moritz speak excellent English as well. So do not worry, English is good enough.
Want to prepare yourself for your next visit to Switzerland?

Checkout our travel guide!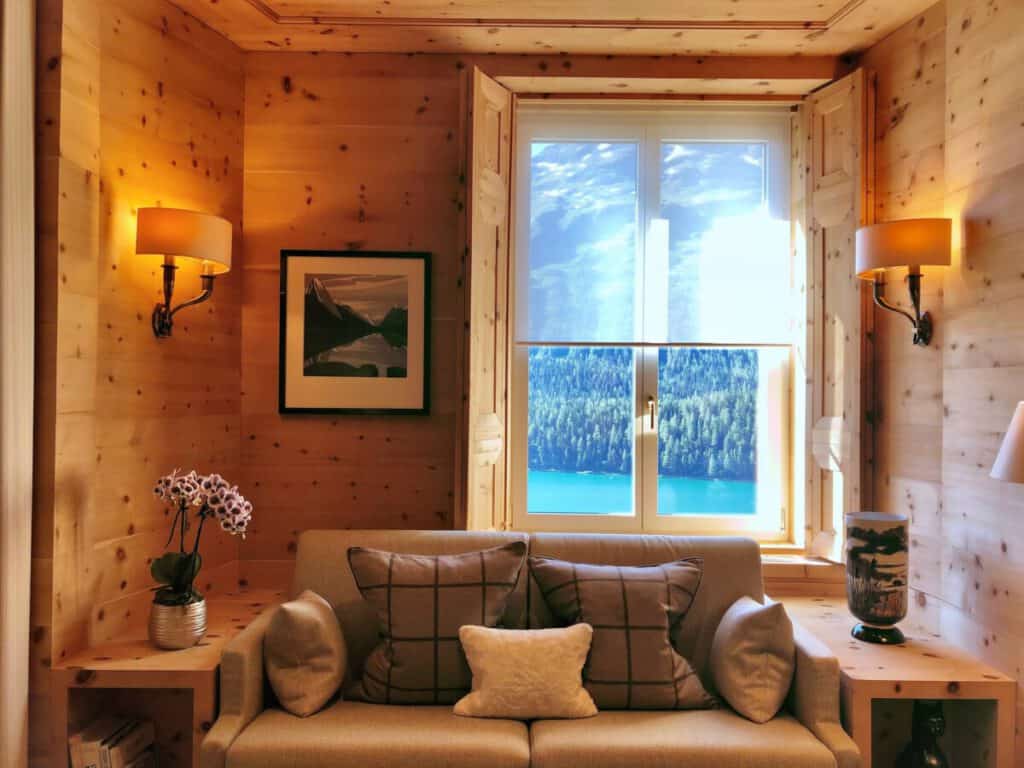 Hotels in St Moritz
St Moritz as said offers a wide variety of hotels! From luxury hotels to apartments, there is something for everyone. To save costs, you can also consider staying just outside st. Moritz.
Where to have dinner in St Moritz
St Moritz is well known as a gourmet Mecca for real food lovers, St Moritz offers an impressive 1 out of 10 restaurants with a world-class restaurant rating. This is exceptional. One interesting side note, Switzerland has according to the Michelin guide, the highest concentration of star-rated restaurants in Europe!
Three of these Michelin star-rated restaurants in St Moritz are:
Ecco
Da Vittorio
Igniv
But of course, there are way more restaurants with delicious culinary treats, such as local meat, and of course, let's not forget the famous raclette and cheese fondue.
We have made a selection of three high rated, restaurants, this is a top 5 of restaurants in St Moritz:
Chesa Veglia
Dal Mulin
Banfi's
Engiadina
Veltlinerkeller
Non-winter-sports activity: The Glacier Express
We could not end the blog here without telling you a bit more about the Glacier Express. The probably most iconic and well-known train of Switzerland leaves from St Moritz, travelling to Zermatt.
Duration: 8 hours and 3 minutes
Distance: 291 kilometers
This is a unique experience, if you have time during your winter holidays consider going with the Glacier Express from St Moritz to Zermatt or vice versa. This is such a remarkable and fantastic experience, imagine, in 8 hours you cross the alps, over 291 bridges, going through 91 tunnels, while admiring the breathtaking views, simply magnificent. Read more about the famous Glacier Express in this blog.
Conclusion
All in all, we can conclude, that we think you should really consider St Moritz as your next winter ski holiday destination. This place offers so many winter sports activities, outstanding quality pistes, and food. St Moritz offers excellent hotels, for every budget and excellent dinner opportunities for every budget as well. We hope we could inform you a bit more about what St Moritz has to offer. If you do have any questions, do not hesitate to leave a comment below.