Zermatt is a well-known ski resort, worldwide known for its excellent ski facilities, and reliable snow not to be forgotten, Zermatt is such a charming village. In this blog post, we will give you 10 reasons why to make Zermatt your next winter holiday destination!
Zermatt is located in the canton of Valais, beautifully situated at the foot of the majestic Matterhorn. The Matterhorn, with a summit of almost 4500 meters is one of the highest mountains in the Alps. But what makes the Matterhorn so special? Let's find out, why so many people yearly visit Zermatt and the Matterhorn!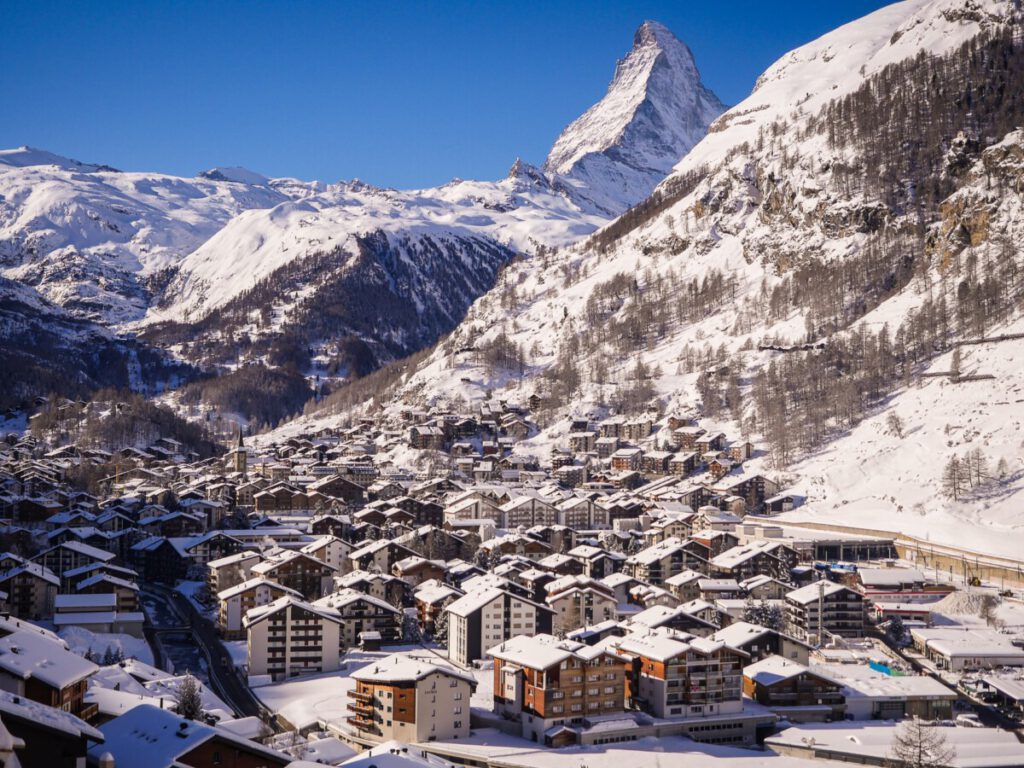 1. Excellent Ski facilities
This one reason is probably one of the most important ones when choosing your next winter holiday destination. And yes, Zermatt is the place to be for excellent ski facilities. With over 360 kilometres of ski pistes, this destination is perfect for winter-sport lovers!
Ski resort Zermatt is worldwide known as one of the best ski resorts in Europe because of its reliable snow conditions, well-maintained pistes and great quality equipment to hire. If you love snow, love to ski or snowboard, you should definitely consider visiting Zermatt during your winter holidays!
2. Snow reliability
One other important aspect to look at when choosing your next winter holiday destination is snow reliability. Luckily you can be quite certain about sufficient snow amounts. Zermatt has an average snow depth of around 160 cm. One tip, try to visit Zermatt at the beginning of December, during the beginning of December, it is less crowded compared to Christmas time and you can still enjoy the snow.
For the people wondering, is there snow in Zermatt during Christmas time? Yes, there is almost always snow during Christmas time, in fact, Zermatt often has more snow during the Christmas season compared to other top ski resorts in Europe. Besides the snow, Zermatt is also so charming during the Christmas season with all its lights and happy people.
3. Perfect for every level

Are you a beginner and you want to learn how to ski or snowboard, in Zermatt you are good to go. With many ski schools, you have plenty of choices. Professional ski teachers will teach you all the things you need to know, and of course, you can also get help to improve your technique or to explore some of the best parts of the Zermatt ski area.
Zermatt is known for its variety of pistes. There are slopes for beginners, and for immediate skiers and there are pistes for the more advanced skiers. This winter destination is the perfect place to learn your first moves on the skies!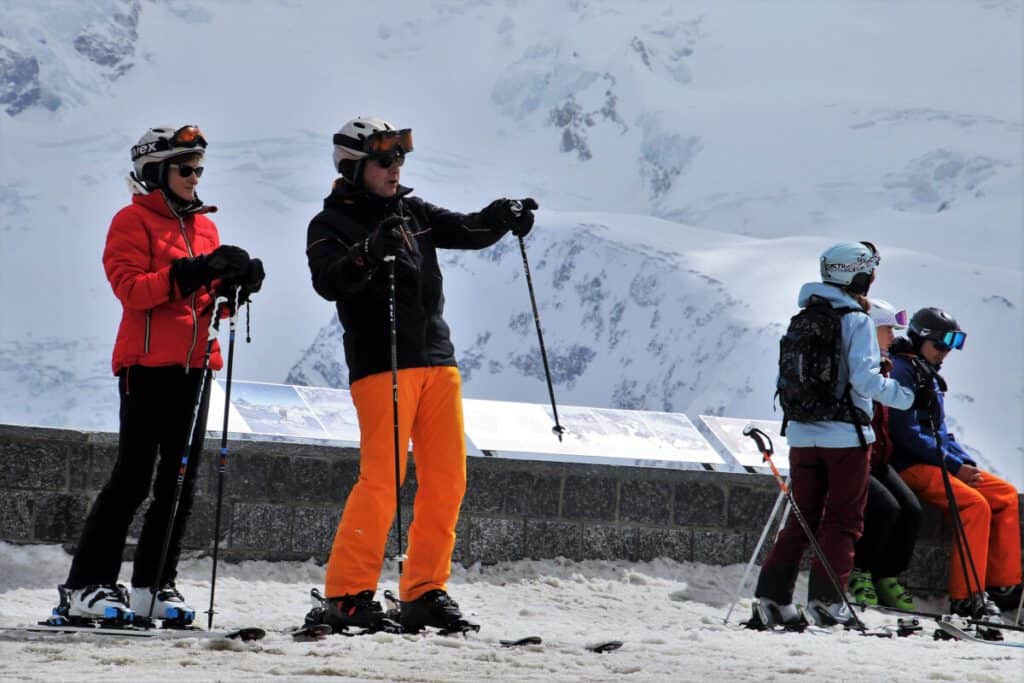 4. Food
You probably will be on the pistes for the whole day, but after a long day of skiing or snowboarding, you probably would love some good food. Zermatt offers a lot of restaurants serving local dishes and international dishes as well. Time to enjoy dinner with your best friends or with your beloved family.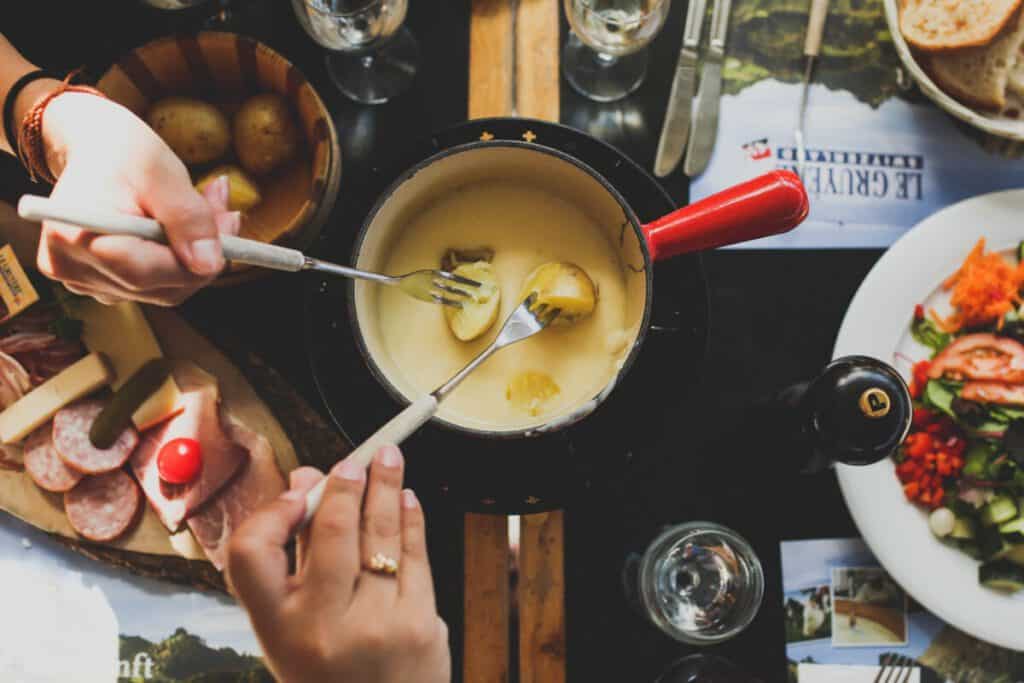 Zermatt offers lots of great restaurants and yes, of course, here you can try the typical Swiss cheese fondue. Although you might think it's a bit weird to eat such amounts of cheese, we encourage you to just try it once, you will probably be surprised, cheese fondue with a glass of good wine is a perfect combination. And let's not forget the exceptional breathtaking views from most of the restaurants.
5. Pure relaxing in wellness
Besides snowboarding, skiing, perhaps sledging it's time to relax as well during your winter holidays. Many hotels offer excellent spa facilities, with hot tubs, sauna cold water tubs and massages. This will definitely make you feel relaxed and recharged. Or of course, you can just enjoy reading a book in the restroom. Besides the winter sports, you also need to relax a bit:)
6. The famous Swiss chocolate

Switzerland is famous for its chocolate. Swiss chocolate can be found all over the world, because of its amazing taste and outstanding quality. Something unique about Swiss chocolate is the fact that the production entirely takes place in Switzerland. There are so many flavours, we actually still find it so hard to choose in a supermarket or a shop. Because they are all so delicious.
7. Outstanding hotels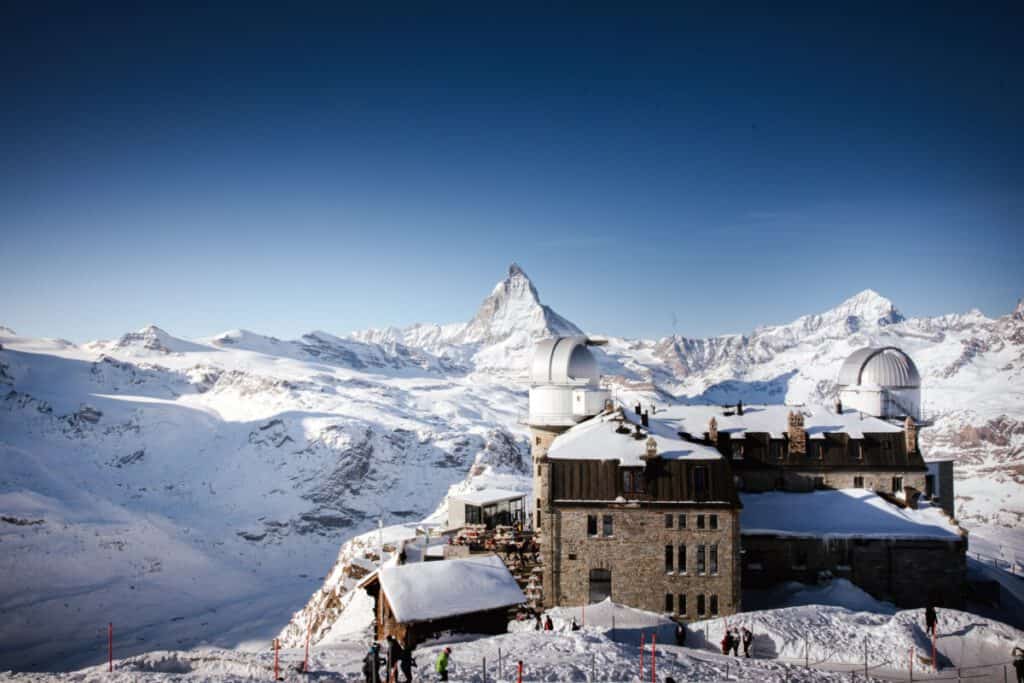 Zermatt offers amazing hotels, a wide range of hotels from more classical wooden lodges, to modern hotels. Most hotels offer excellent spa facilities as well. Zermatt is close to the Matterhorn. You can book a hotel that is closely located to the slopes, some hotels even offer the possibility to ski directly from the hotel.
8. The Matterhorn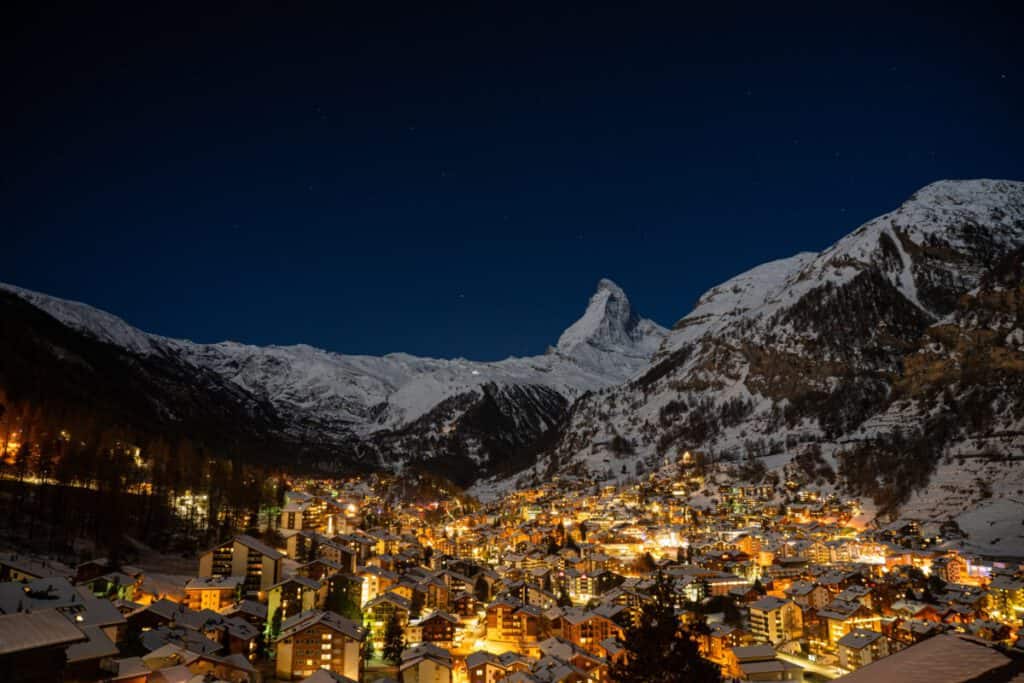 Most people if you ask them what do you know about Zermatt will answer, it's close to the Matterhorn. Zermatt lies directly at the foot of the majestic Matterhorn. The Matterhorn is almost 4500 meters high! The pyramid shape of the Matterhorn makes it so famous. At around 3800 meters you can ski down to the valley, this is the highest altitude ski area in entire Switzerland. As you can see from the image, the Matterhorn is really important for the success of Zermatt, one of the reasons why so many people visit Zermatt yearly.
9. Après ski
Zermatt has vivid party places, with live music, pubs, open-air bars and cosy lodges with local music. Here you can listen to the classic apres ski hits. There are many spots to enjoy an afternoon or evening together with your friends. We think after a long day of skiing and adventure on the pistes, it is time to enjoy some apres ski, time to party!
10. Car-free village
Something quite special about Zermatt is that the entire village is car-free. No cars are allowed within 5 kilometres of the village. Of course, there are several ways to get around in Zermatt, you can get around on foot, by a classic horse carriage, by an electric taxi maybe with a bike or a mountain bike or with the electric bus.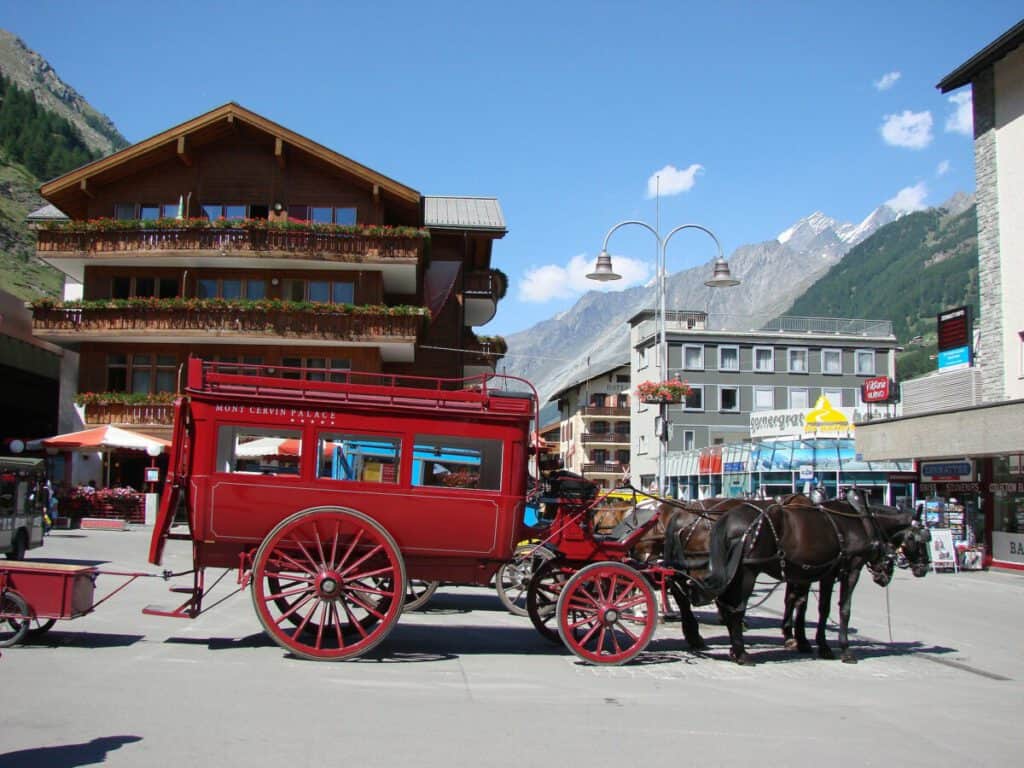 Conclusion
All in all, we can conclude that you definitely should consider Zermatt as your next winter holiday destination. In this blog, we mentioned 10 reasons why Zermatt is the place to be during the winter season. With some highlights: excellent ski facilities, pistes for beginners, intermediate and the more advanced skiers.
Outstanding hotels, with relaxing spa facilities and excellent food. After skiing, you can enjoy an apres-ski with your friends or family. If you have any more questions about your next visit to Switzerland, do not hesitate to leave a comment below!