In today's post, we will show you an itinerary for a 48-hour stay in St. Moritz during the winter season. St. Moritz is known as a popular luxury ski resort. St Moritz is a scenic town located in the upper Engadine, more to the southeast of Switzerland. Let's find out how to spend 48 hours in St Moritz!
St Moritz overview
Before we start, we would like to point out why St Moritz is such a nice destination to stay. There are various reasons why to visit St Moritz:
St Moritz is the birthplace of Alpine winter tourism(skiing/snowboarding)
There are over 350 kilometers of outstanding slopes in and around St Moritz
St Moritz offers way more than just skiing and snowboarding, a wide variety of winter activities such as ice-skating, curling, polo and cricket are available to do in St Moritz as well.
Amazing winter hiking trails are available.
A wide variety of hotels, apartments, from ultimate luxury to a more traditional stay, are available to hire!
Departure point for the Glacier Express
Reading through these points might already make you enthusiastic. Let's start with a 48 hours St Moritz itinerary!
Day 1
10:00 am: Arriving at the hotel
We're gonna start on Friday in the morning, arriving at the hotel. St Moritz has a wide variety of hotels to offer. From the traditional wooden lodges to the modern hotels, St Moritz has it all. If you click the blue button(search) below, you can view hotels in St Moritz if you haven't yet booked a hotel yet! After arriving at your hotel, you can unpack your bags, have a coffee perhaps and rest a bit from the journey to St Moritz.
11:00 am: Walk around Lej da Staz
After leaving your bags at the hotel, it's time for a small walk along the Lej da Staz, here you can take beautiful pictures and enjoy nature. During summertime, you can have a refreshing swim in the lake.
12:30 pm: Time for lunch
You are probably quite hungry after the walk or swim, it's time for a nice lunch. We recommend having lunch at the restaurant at the lake, called the restaurant Lej da Staz. Enjoy lunch with a splendid view on the spacious sunny terrace. The regional specialities and the view make this a perfect spot for lunch.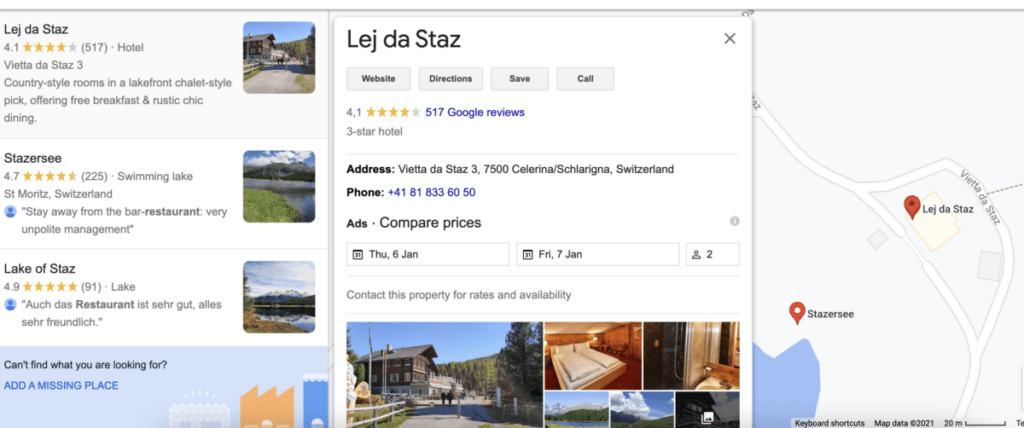 14:00: Ski at Corviglia
After a nice lunch, it is time to pick up your skies and equipment, time to ski or snowboard:)! A little info about the skiing part, you will need a ski pass, the prices vary between 50-60 CHF. In our other post you can read lots of information about skiing in St Moritz please check it out here.
So after buying your ski pass, and after you have hired your ski equipment for example at Skiservice Corvatsch St. Moritz Dorf it's time to head to the slopes. After arriving at the slopes of St Moritz: Corviglia enjoy some hours of skiing!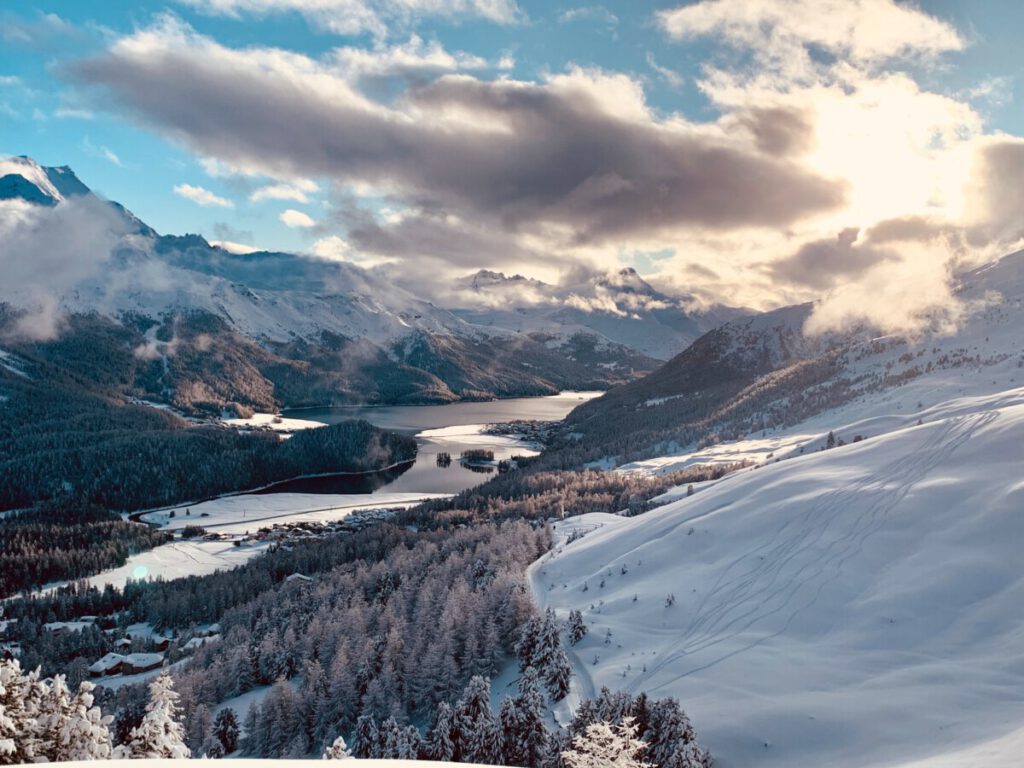 16:00 pm: Warm up
When you're toes are a bit frozen after some hours of skiing it is time to warm up in for example the Alpinahutte, here you will find lots of skiers enjoying a beer, hot chocolate or a gluhwein. The atmosphere in ski huts is so lovely. There is music, nice people and a good bar, I think you can't wish for much more!
17:00 pm: Visit St Moritz
After spending some time in the Alpinahutte it's time to go down the slopes, back to St Moritz. Head to your hotel, dress up for dinner! You are probably quite hungry:)
18:30 pm: Dinner
St Moritz is known for its culinary scene. Discover gourmet delights of the highest order in St Moritz. From top award-winning restaurants to some traditional charming alpine huts or the simple guesthouses, no matter your taste of dining, it's possible in St Moritz. You are guaranteed a wonderful unforgettable culinary evening experience. We have made a selection of our top 5 best restaurants in St Moritz:
Chesa Veglia
Dal Mulin
Banfi's
Engiadina
Veltlinerkeller
21:30 pm: Lounge
End the evening by having a nice glass of wine or a cocktail in the lounge of a hotel.
Day 2
8:30 am: Breakfast
There are several ways to have breakfast in St Moritz. If you stay in a hotel, you can have breakfast in the hotel. But of course, you can also decide to have breakfast in St Moritz. Perhaps in the classic Hanselmann's pastry shop, since 1894, they offer lovely delicious cakes too!
Our recommendation: enjoy a typical Engadine Nusstorte, it's a local speciality. This is a sticky shortbread confection of delicious walnuts and sticky caramel. It costs around 4 CHF, enjoys it together with a coffee in the morning.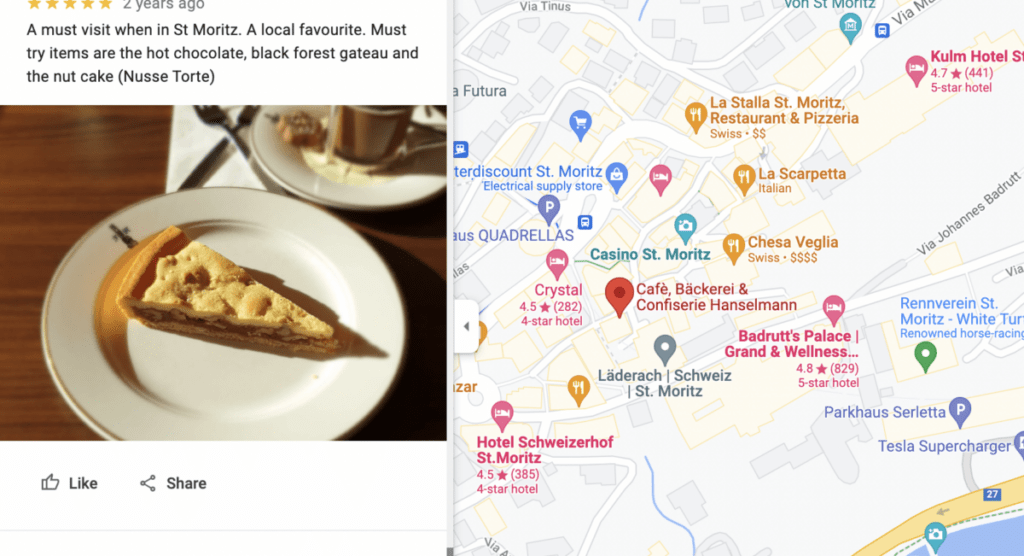 10 am: Spa time
After a coffee and breakfast, it's time to relax your muscles a bit after the exciting day yesterday. Head up to the Ovaverva bathhouse. This is a Swiss palace with modern spa facilities. This place is the place to fully relax, amazing…imagine hot tups, relaxation rooms, steam rooms, saunas and heated outdoor pools. There is a great pool too, a kids' area and a sports centrum. The entrance prices are 37.50 CHF for entrance to the pool and the spa facilities, check the website for more prices.
12:30 pm: Lunch time
Time for lunch, hopefully, you're fully recharged after the refreshing morning in the pool or spa. Get your ski equipment and head to the peaks. Take the Chasella ski lift, in 8 minutes you are at the top. We're gonna have lunch at Suvrettas Trutz Chalat, this restaurant is located at 1936 metres above sea level, a beautiful view is guaranteed. The restaurant has 45 seats and a direct entrance to the ski and hiking area. A perfect place to have a nice lunch. The prices for a lunch plate vary between 25 and 35 CHF.
14:30 pm: Shopping
After a delicious lunch with a spectacular view, we're gonna move toward St Moritz again. Let's explore the cute boutiques, for example, the shop called Lamm, a shop with cashmere, or Faoro, known as a stylish clothing store with a cafe. St Moritz may be small but has many of the popular international designer shops. From Gucci to Cartier, this luxury alpine village offers a wide variety of international brands.
16:00 pm: Coffee stop
You probably want to warm up a bit, and looking forward to a fresh coffee and perhaps a cake. Check out Pur Alps, this is a cafe, with six different apple juices, some jams and cheeses, all local products, highly recommended. Or have a coffee at one of the many cafes St Moritz offers.
18:30 pm: Time for dinner
Already the last evening in St Moritz, time to try something different, something new. Having a true culinary evening, head to the restaurant called: Dal Mulin, known for its elegant atmosphere and dishes prepared with local ingredients.
Another option is to have dinner at Banfi's a lovely place, and excellent food. You may find prices are high, but compared to the quality standards it is a fair price. People are really enthusiastic about this restaurant.
23:00 pm: Party
St Moritz has a vivid nightlife, we recommend checking out Stübli St. Moritz, this is a great place with live music, it's quite a small bar, but you can have a great evening here.
The End
Unfortunately, our journey in St Moritz is over. We've had an amazing two days in St Moritz, enjoyed skiing, lovely atmosphere, amazing lunch and splendid views. Hopefully an unforgettable experience. If you have any questions about this itinerary or other questions, leave a comment below.