Zermatt is a charming town located in the Swiss Alps at the foot of the Matterhorn. It's a must-visit destination for anyone who loves outdoor activities, breathtaking scenery, and rich cultural heritage. Whether you're an adventurer seeking an adrenaline rush, a history buff eager to explore, or a foodie looking to sample local cuisine, Zermatt has something for everyone. So, is Zermatt worth visiting? Absolutely! Here's why.
The Matterhorn
Zermatt is known for its stunning mountain scenery. The town is surrounded by the Swiss Alps and is home to the great Matterhorn. This is one of the most famous peaks in the world. The Matterhorn is a symbol of Zermatt and is visible from many points in the town. Whether you're taking a scenic hike, a cable car ride, or just admiring the view from your hotel room, the Matterhorn is sure to take your breath away. You can read more about the Matterhorn here.
Outdoor activities
Zermatt is also a hub for outdoor activities, such as skiing, snowboarding, hiking, and mountain biking. With its beautiful mountains and glaciers, Zermatt is the perfect place to enjoy these activities. Whether you're a professional mountaineer or a novice, there are trails and slopes to suit all levels of experience. The town is also a great place to try something new, definitely recommended to try new activities such as paragliding or ice climbing. As you understand there are a lot of possible activities to choose from when you're in Zermatt.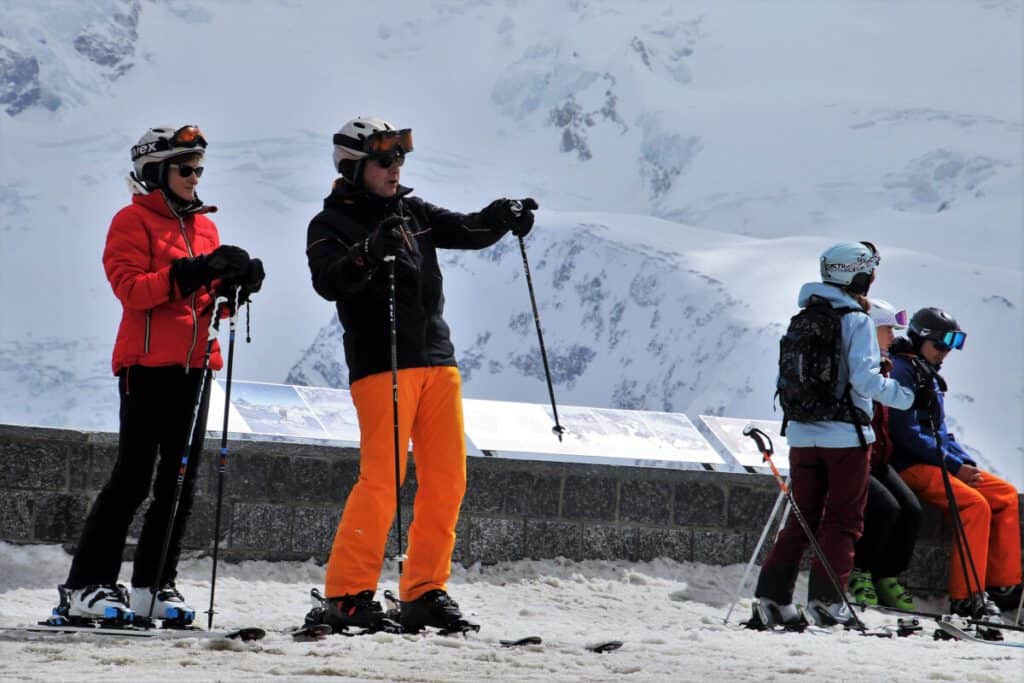 Culture and history
The town of Zermatt is rich in cultural heritage, dating back to the 12th century. When you're in Zermatt you can explore historic churches and traditional Swiss chalets, many of which serve as museums and exhibitions. The town's architecture is also worth exploring, with many buildings constructed in the traditional Swiss style. Whether you're admiring the quaint streets, stunning views, or local museums, Zermatt offers a beautiful glimpse into Swiss history.
Shopping
There are abundant shopping possibilities in Zermatt, so no worries. Of course, there are several souvenir shops selling traditional Swiss products like swiss knives, glasses, chocolates, and cheeses. You can also find high-end boutiques selling designer clothing and accessories, as well as local artisan markets selling handmade crafts and souvenirs. Whether you're looking for a nice souvenir or something more special to treat yourself, you're sure to find it in Zermatt.
Fine dining
Zermatt is also a hub for fine dining, with many restaurants offering traditional Swiss cuisine and international dishes. From fondue and raclette to gourmet cuisine. Visitors can also sample local specialities like Swiss cheeses, chocolates, and wines. Whether you're in the mood for a casual bite or a formal dining experience, Zermatt has something for every taste and budget. That's a big pro for Zermatt.
Conclusion
In conclusion, Zermatt is a great place to go to spend your well-deserved holidays. The beautiful scenery, the Matterhorn and the endless possibilities for outdoor activities make this a great holiday destination. So pack your bags and head to this charming mountain town for a great new adventure. Whether you're looking for adventure, relaxation, or a bit of both, Zermatt has something for everyone. So what are you waiting for? Book your trip to Zermatt today! If you have any questions left, feel free to leave a comment below.