Switzerland is known for its outstanding nature, breathtaking panoramas and amazing atmosphere. But Switzerland is also known as quite an expensive country, especially not for tourists visiting Switzerland. Luckily there are ways to save money while travelling to Switzerland. Here are 12 ways to save money while visiting Switzerland.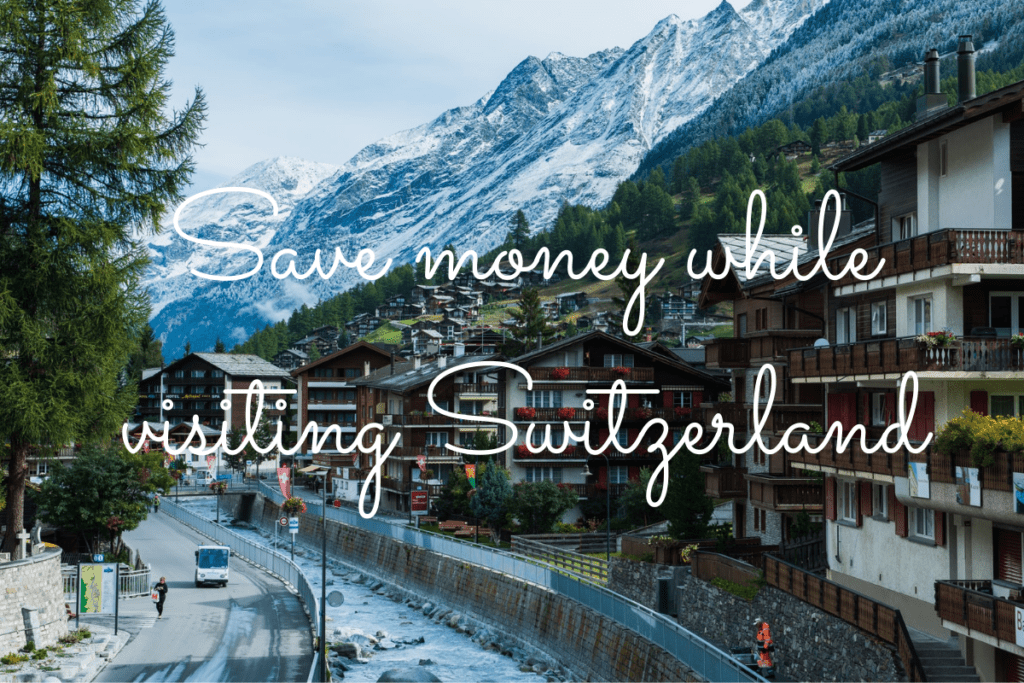 Before we start, we would like to explain why Switzerland is considered as an expensive country. The main reason is that the standard wages for Swiss people are higher compared to other countries. If you would ask a Swiss why is Switzerland so expensive? Well, Switzerland is only expensive for the people not living in it.
So what they mean is that the higher costs are equal to the higher wages. Although this might explain the expensive costs of visiting Switzerland, it still does not fix the problem for tourists wanting to visit Switzerland.
But please, don't let this make you stop visiting this beautiful country! You will be surprised by the high quality of food, facilities hotels and more. This being said, let's start with the first way to save money while visiting Switzerland!
1. Save on food and drinks
Most travellers will spend quite a lot of money on food and drinks. Probably on drinking even more. We won't make this more pleasant, in general, Swiss cuisine is more expensive than in most countries. But yes there are ways to save money.
Swiss supermarkets for example are well known for their good quality of food, vegetables, fruit and meat, and are relatively cheap compared to the quality you get. If you are travelling on the go, just enter a Coop or a Lidl and buy a pre-packed meal, this could be perfect for you. Taking it up with you in the mountains, eating with a beautiful view, sounds great right?
Do not buy tons of bottles of water, the tap water in Switzerland is of course free and known for its outstanding water quality, it is seriously delicious and full of minerals.
For the people enjoying a beer from time to time, we advise buying alcohol in the supermarkets, such as the Coop or Lidl, beer and wine in restaurants is expensive. But of course, you should experience the swiss cuisine during your stay, we highly recommend a Swiss fondue combined with a fine glass of wine.
You may wonder, during a summer day, can I drink a beer or a glass of wine in a park during a picnic? Yes absolutely, drinking in public is not illegal in Switzerland.
2. Hiking in the Swiss nature
Switzerland is known for its beautiful nature. And remember nature is free and for everyone. You only need a good pair of hiking shoes, a backpack, the right clothes and you are good to go. Ready to explore what Switzerland has to offer.
If you want to save money, but still want to go up on the mountains by cable car? Consider going to the less touristic villages, most of the time these cable cars are less expensive. The great benefit of hiking is that it can be performed during the whole year, unlike swimming in the lakes for example. Winter hiking is completely normal and is actually so beautiful with the white blanket of snow covering Switzerland.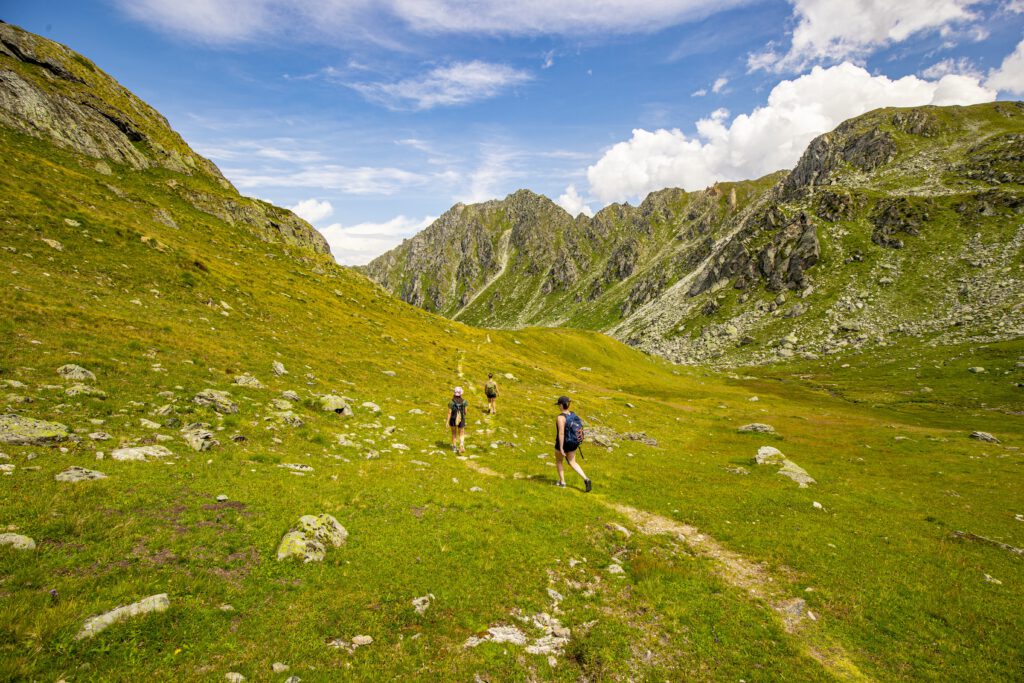 3. Join a free walking tour
Exploring a city on your own can be amazing, but what about a free walking tour through the city, in this way you get to know a lot about the history of a city, maybe you even met some nice people along the way. The free tours are mostly performed by volunteers, they are so enthusiastic about their city, lovely to experience. The tour is usually performed in several languages as well. Maybe you can find a lovely free tour in the city of your interest on this website.
4. Swimming in lakes and rivers
Switzerland has around 1500 lakes, yes you read it right, an impressive number. These crystal clear lakes are so refreshing to swim in. We made blogs about the famous lakes as well, check out blogs about: the Blausee, Caumasee or Oeschinensee.
Besides the lakes in the mountains, the rivers that run through the cities have spots where you can swim as well. If you would think of places like the rivers through New York, swimming is an issue. In Switzerland, it is very normal and common to swim in the rivers.
5. Skip staying in big cities
Of course, there are benefits of staying in Zurich for example, easy access to restaurants, museums, sights and more. But..the prices are really high compared to for example the less popular towns and villages. You can save huge amounts of money if you stay just outside a big city, you can easily travel by taxi, bus or train to the main cities. The public transport in Switzerland is super efficient and clean.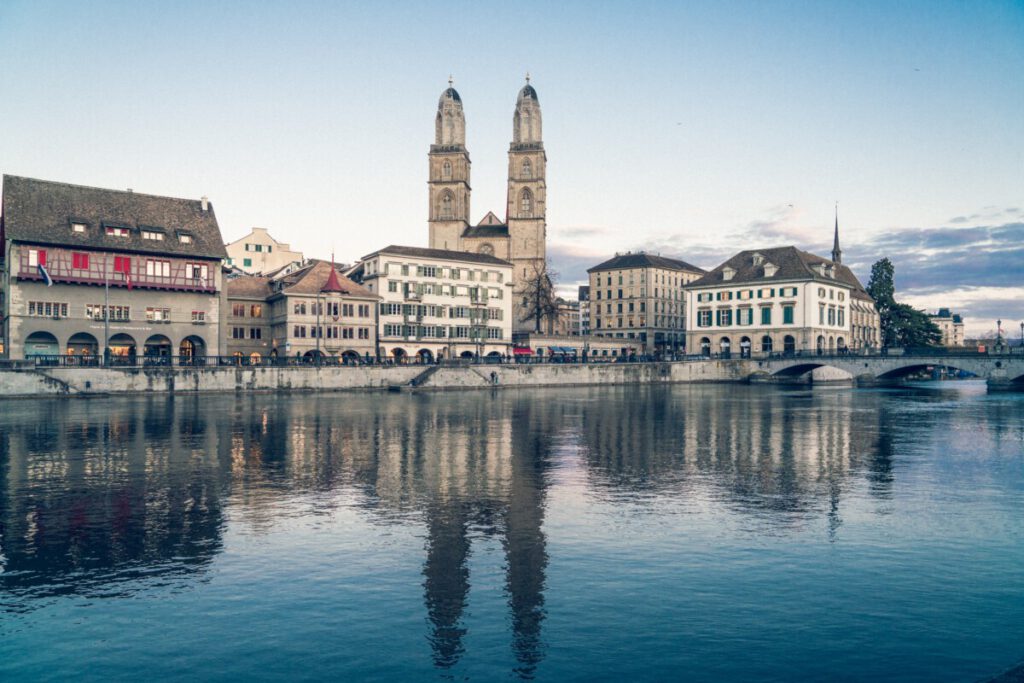 6. Having dinner at home
The grocery shops in Switzerland offer high-quality products, such as vegetables, fruits and meat. You can easily buy products in the supermarkets to create an amazing dinner. Of course, this is not new to budget travellers, but there are actually supermarkets which are cheaper, the Aldi, Lidl and Denner are the cheaper supermarkets compared to the big supermarkets: Coop and Migros.
7. Consider buying souvenirs at supermarkets
Of course, we understand you would love to buy some souvenirs, to think back to the amazing time you hopefully had in Switzerland. Did you know that supermarkets such as Coop, Migros and Denner actually sell almost the same souvenirs as the souvenir shops do? Yes, the assortment is smaller but we are sure you can find some amazing souvenirs in the supermarkets, while simultaneously saving money.
8. Experience the museums(free of charge!!)
Culture is really important to the Swiss. That's why many museums in Switzerland are free, please check the website of the museum you would like to visit to see on which day visiting is free. And many museums offer discounts on certain days. We made a small list of museums that offer free entrance in Zurich:
Fluntern Cemetery
Botanical Gardens
Palaeontological Museum of the University of Zurich
Zoological Museum
Museum of Modern Art (this museum is free on Wednesday)
Anthropological
This is a small selection of beautiful museums in Zurich, please check the website of the museum you would like to visit if the entrance is free on the day of your visit! If you would like to know the top things to do in Zurich, check this link.
9. Visit Switzerland during the less popular and crowdy months
The prices of almost everything in tourist places rise when the ski season starts, or the summer season arrives. We highly recommend visiting Switzerland during the so-called shoulder seasons, which take place in the season's spring and fall. Besides the cheaper prices for stays, and activities, it is also less crowded. The shoulder seasons in Switzerland are from April and June, and from September to October
10. Consider the Swiss travel pass
It really depends on how you travel through Switzerland. But if you will make use of public transport a lot, consider the Swiss travel pass. This can save you a lot of money, time and stress. Please check our blog about the Swiss Travel Pass here!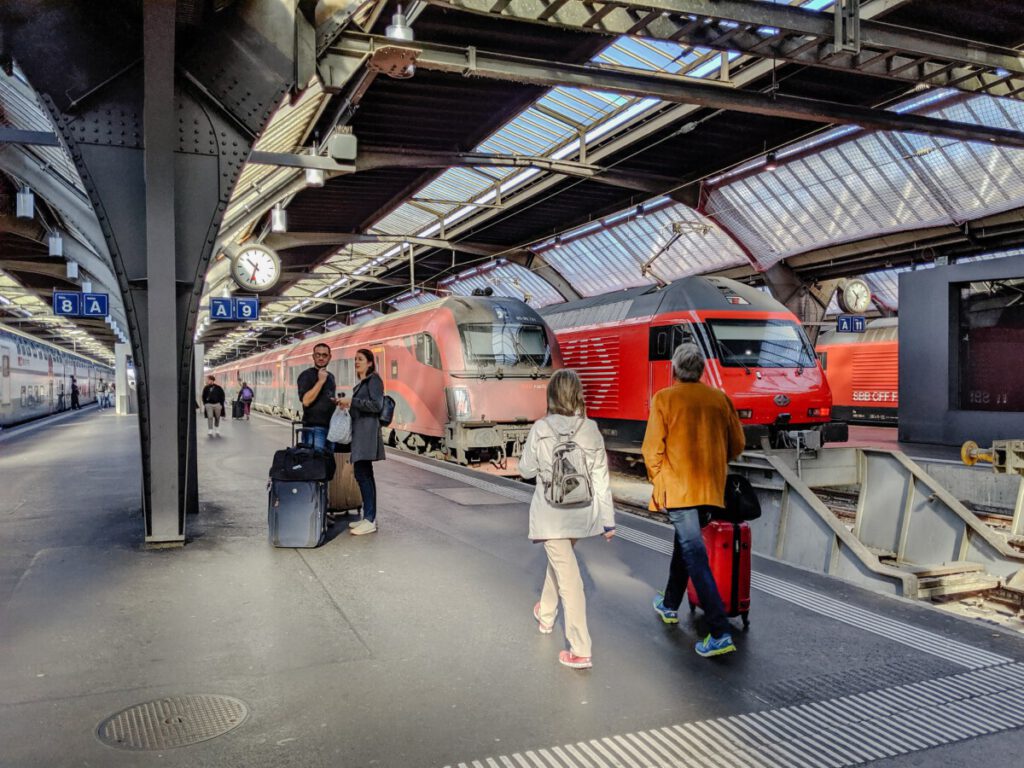 11. Save money as a student
This tip is especially applicable for students, please check when you want to book a ticket for a museum, ski pass or train ticket if there are any special prices for students. Most of the museums, train tickets, ski tickets and so on offer special prices for students, elderly, children, groups and so on.
12. Staying in Switzerland
One of the biggest expenses, when you visit a country, is most of the time accommodation. Yes, there are expensive hotels in Switzerland, but there are hotels for smaller budgets as well. Many hotels offer great facilities for a fair price. But of course, you can also decide to camp in Switzerland, this is, of course, a cheaper way of staying in Switzerland! One great tip, consider staying in one place for longer than one night. The more nights you stay, most of the time prices decrease. Many hotels also offer, if you stay longer, free transit passes for the busses in the region or discounts on the ski lifts.
Conclusion
All in all, we have learned that Switzerland is quite an expensive country. But luckily there are several ways to save money while travelling to Switzerland. In this blog, we have told you 12 ways to save money. From saving money by buying groceries at the cheaper supermarkets to visiting Switzerland during the shoulder season. Hopefully, our tips can help you. If you have any questions, leave a comment below!