Switzerland transforms into a breathtaking winter wonderland with crisp air and snow-capped mountains. Get ready to explore the top places to visit in Switzerland during the winter season and enjoy an unforgettable vacation. The majestic Alps, stunning views, and charming winter atmosphere create a magical experience for visitors. The festive cheer and Christmas mood add to the delightful atmosphere during this time.
Imagine yourself skiing on the snowy slopes of Zermatt, St. Moritz, and Grindelwald or enjoying winter sports in Interlaken, Davos, and Gstaad. Take a scenic train ride on the Glacier Express or visit the Jungfraujoch, the highest railway station in Europe. For a more relaxing experience, indulge in Swiss cheese fondue or explore the picturesque villages of Arosa, Engelberg, and Lenzerheide.
Switzerland in winter is truly a nature masterpiece, with captivating views everywhere you go. Don't miss the chance to experience the beauty and charm of Switzerland during the winter season. Let's start with the top 15 most beautiful places to visit during the winter season.
Top 10 wonderful places to visit in Switzerland during winter
1. Zermatt
Zermatt is a must-visit destination during the winter season in Switzerland. The town is located at the foot of the Matterhorn and boasts over 360km of ski slopes for all levels, making it amazing for winter sports lovers. Skiing and snowboarding are not the only activities on offer – you can also go snowshoeing, ice skating, and paragliding.
The picturesque town of Zermatt is car-free, making it a peaceful and serene environment. You can explore the charming streets lined with restaurants, bars, and shops. And don't forget to try the local speciality, cheese fondue, while enjoying the stunning views of the Matterhorn. Zermatt is also a great place for après-ski activities, with plenty of options for nightlife and entertainment.
With its breathtaking views and endless winter activities, Zermatt is the perfect destination for a winter getaway in Switzerland.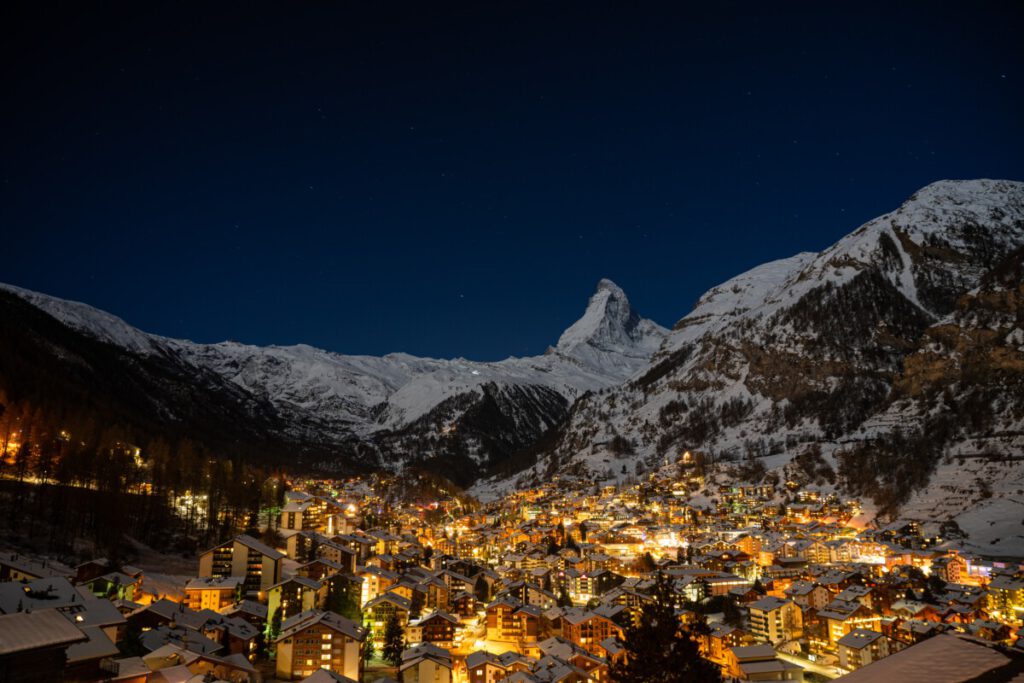 2. St. Moritz
St. Moritz is a glamorous winter destination that offers some of the best ski slopes in the world. With over 350km of ski runs, it is a paradise for skiing and snowboarding enthusiasts. But there's more to St. Moritz than just skiing – you can also try out tobogganing, ice-skating, and curling.
St. Moritz is famous for its luxurious hotels, high-end shopping, and gourmet dining options. You can explore the town's chic streets, enjoy a spa treatment or take a horse-drawn carriage ride through the snow-covered landscapes. And for the adventurous, the famous Cresta Run toboggan track is a must-try experience.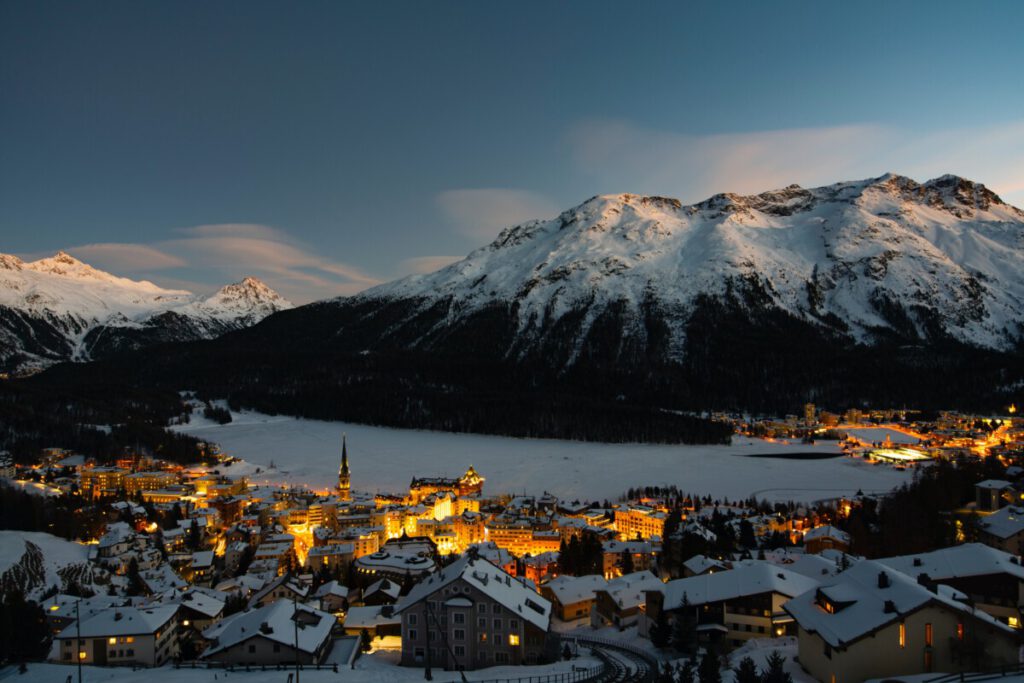 Whether you're looking for an adrenaline-filled adventure or a relaxing winter getaway, St. Moritz has something to offer everyone. So why not indulge in a luxurious winter vacation in one of the world's most glamorous winter destinations? Check out our other blog about St Moritz here.
3. The Glacier Express
It isn't really a city or town, but the Glacier Express couldn't be forgotten. This is an experience you won't forget, it's just too beautiful. If you visit Switzerland during winter we highly recommend taking The Glacier Express.
This train travels within roughly 8 hours, from Zermatt – St. Moritz and vice versa. It passes 91 tunnels and crosses over 291 bridges. The Glacier Express is a relaxing journey, you will sit and enjoy the panoramic views.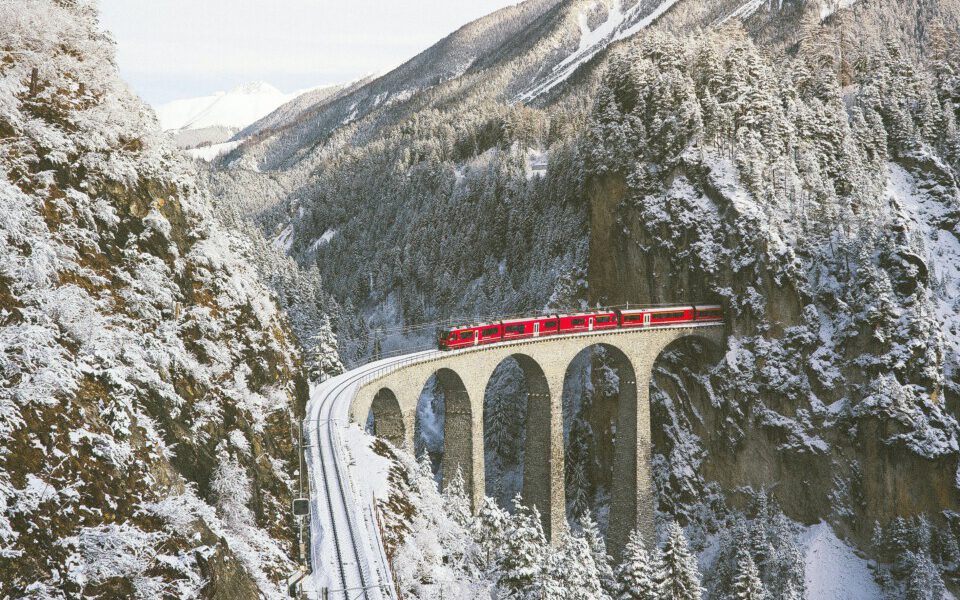 There is a new excellence Class, this is an experience of another level. You will sit in luxury, with windows with panoramic views, onboard entertainment en personal travel guides. You will enjoy spectacular landscapes, while being served with champagne, followed by a five-course meal with delicious wine. Because of this new service, the Glacier express now offers one of the most exclusive touristic attractions in Switzerland.
The route: From Zermatt – St. Moritz and vice versa.
The distance and duration: 291 kilometres – 8 hours and 3 minutes.
4. Lucerne
Lucerne is a charming city to visit during the winter season in Switzerland. The picturesque old town is decorated with twinkling lights, creating a cozy and magical atmosphere. You can stroll along the Chapel Bridge and take in the stunning views of the snow-capped mountains reflected in the calm waters of Lake Lucerne.
During the winter months, Lucerne hosts a variety of events and activities, including Christmas markets and ice-skating rinks. You can also take a scenic boat ride on the lake or visit the nearby Mount Pilatus for some skiing or snowboarding. After a day of exploring, warm up with a cup of hot chocolate or a traditional Swiss meal in one of the many cozy restaurants.
Lucerne is a perfect destination for a winter break with its picturesque surroundings and festive activities. Experience the magic of the winter season in Switzerland in the heart of Lucerne.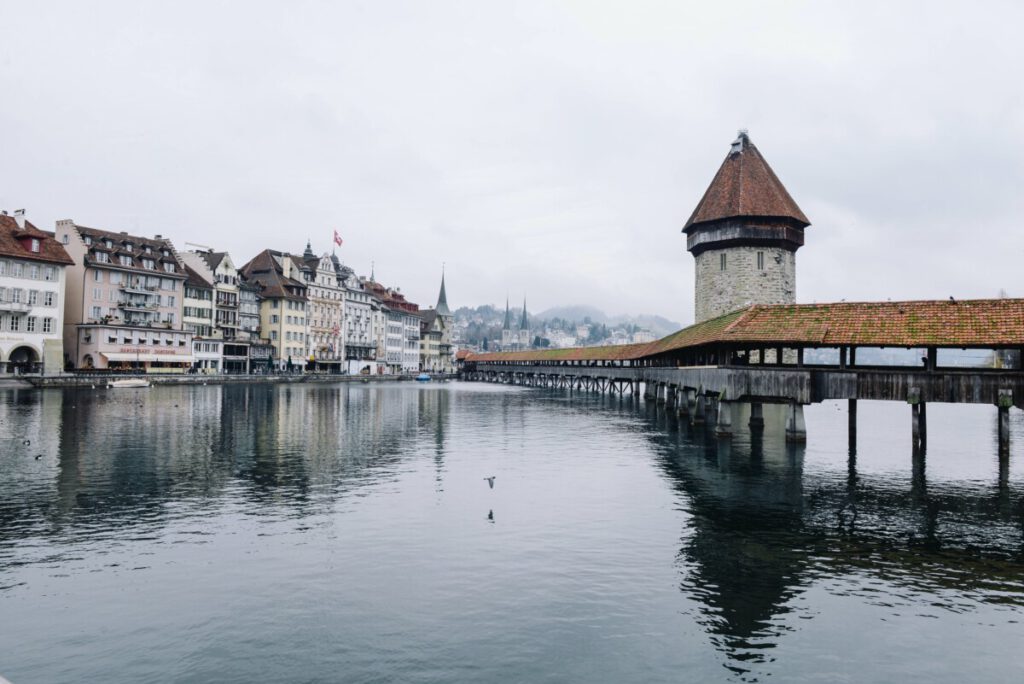 5. Zurich
Zurich is the biggest city in Switzerland. Zurich is known as the city with the best quality of life in Europe. During winter, Zurich buzzes with life, and many tourists are visiting Zurich during winter. In winter, tourists can enjoy Zurich's town squares, cosy coffee shops and magical promenades. We highly recommend exploring Old Town Zurich, narrow streets of Niederdorf are full of both chain and boutique shops, as well as charming restaurants.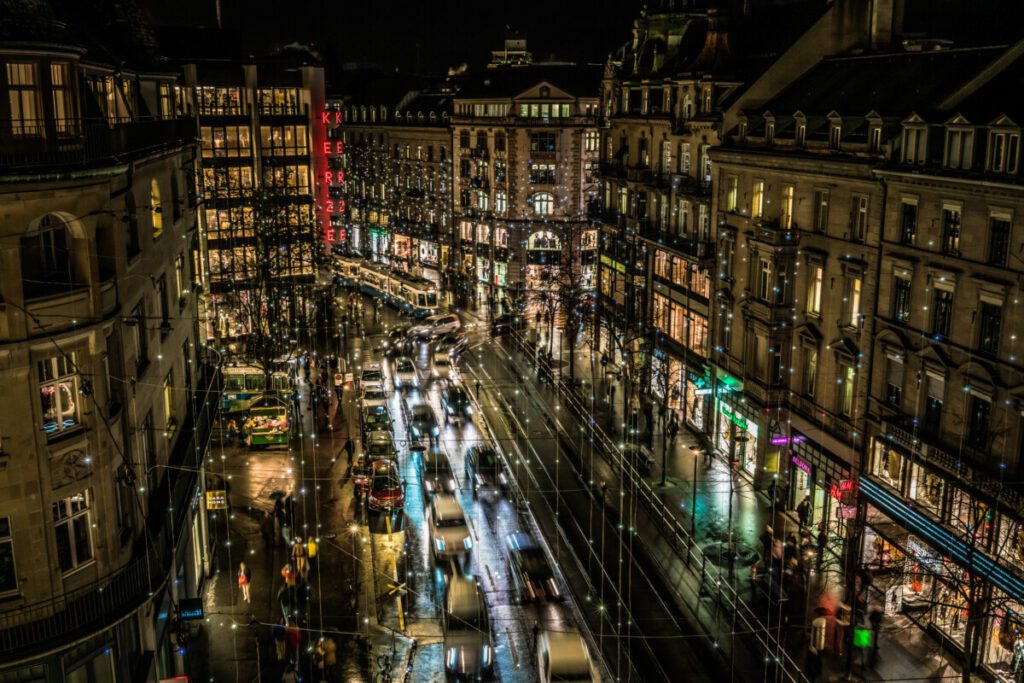 When walking in the Old Town of Zurich you will see the two most popular sights of Zurich: the Grossmünster Church and the Fraumünster Church, both are must-visits. If you are into history, we advise catching a guided tour to learn more about the history of Zurich. The famous Bahnhofstrasse is a must-visit as well. Here you can find everything that your heart desires: fashion, art, international brands and boutiques and Zurich specialities that attract local residents as well as visitors. 
If you are more into winter sports, Zurich is a perfect base to combine activities in the snow with cultural activities and cuisine. Zurich offers great shopping facilities, nice bars, and excellent top-level cuisine. There are also relaxing wellness facilities. Guaranteed plenty of fun and entertainment during the cold months of the year.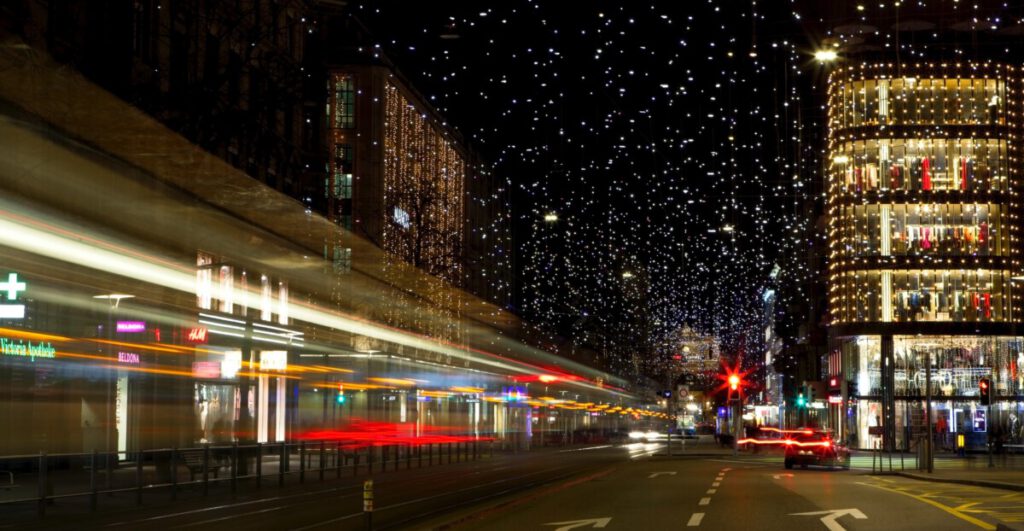 If you are able to visit Zurich in the month of December, we would recommend doing so. During this month, Zurich is turning magical, with many picturesque Christmas markets, traditional events, delicious and cosy fondue chalets and the Märlitram fairy tale tram. Zürich is actually the perfect combination for winter-sport lovers, who love a vivid city and some culture during their holidays. 
6. Davos
Davos is a winter wonderland and one of the top destinations to visit during the winter season in Switzerland. It offers over 300km of ski slopes for all levels and is particularly known for its extensive off-piste skiing. Snowboarding, ice skating, and tobogganing are also popular activities to enjoy in Davos.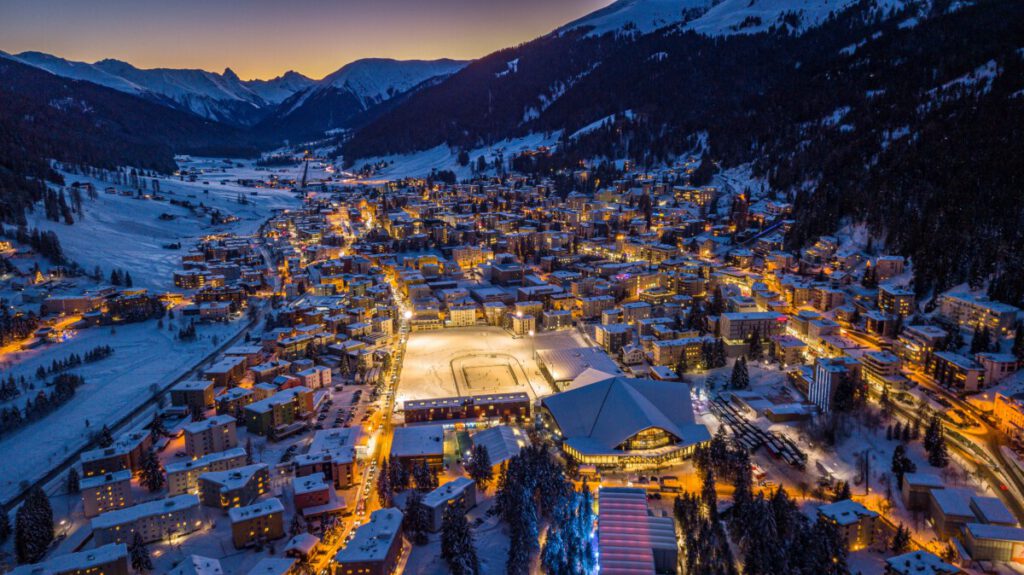 Aside from winter sports, Davos also hosts the annual World Economic Forum in January, bringing together influential leaders from all over the world. You can also visit the Kirchner Museum, dedicated to the expressionist painter Ernst Ludwig Kirchner.
The town itself is lively and cosmopolitan, with a range of restaurants, bars, and shops. You can also indulge in some relaxation time at the local spa and wellness centres. With its perfect combination of winter sports and cultural events, Davos has something to offer everyone during the winter season in Switzerland.
7. Arosa
Arosa is located in the canton Graubunden, this tradition-rich Grisons holiday resort is situated at the end of the romantic Schanfigg Valley. It is located at an altitude of 1800 metres above sea level. Impressive panorama views, of the mountain peaks, can be seen all around. Wintersport lovers, you can choose from over 225 kilometres of lsopes with almost always guaranteed snow, in the region of Arosa Lenzerheide. This makes it the largest interconnected skiing region of Graubunden.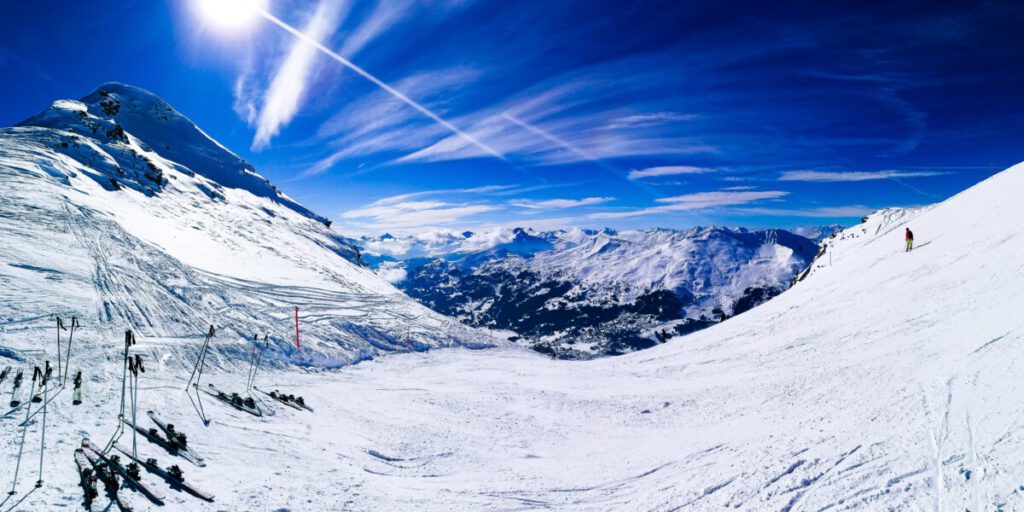 In just 3 minutes guests can go by cable car from the resort, Arosa Hörnli to the resort Lenzerheid Urdenürggli. A nice fact is that you can now use the Urden cable car as a pedestrian to enjoy over 140 kilometres of hiking and walking trails in good condition. There is a fantastic cool slope for freestylers, two snow parks and perfect snow.
8. Flims
Flims is a popular destination to visit during winter, located in canton Graubunden. This place is perfect for wintersport lovers, hikers and families. Flims is known as one of the most varied vacation regions. The Ski resort Laax is easily accessible from Flims in a few minutes. There are over 235 kilometres of pistes for everyone, beginners, more advanced skiers and freestylers. Laax is Europe's leading freestyle resort, with a special highlight, the biggest halfpipe in the world.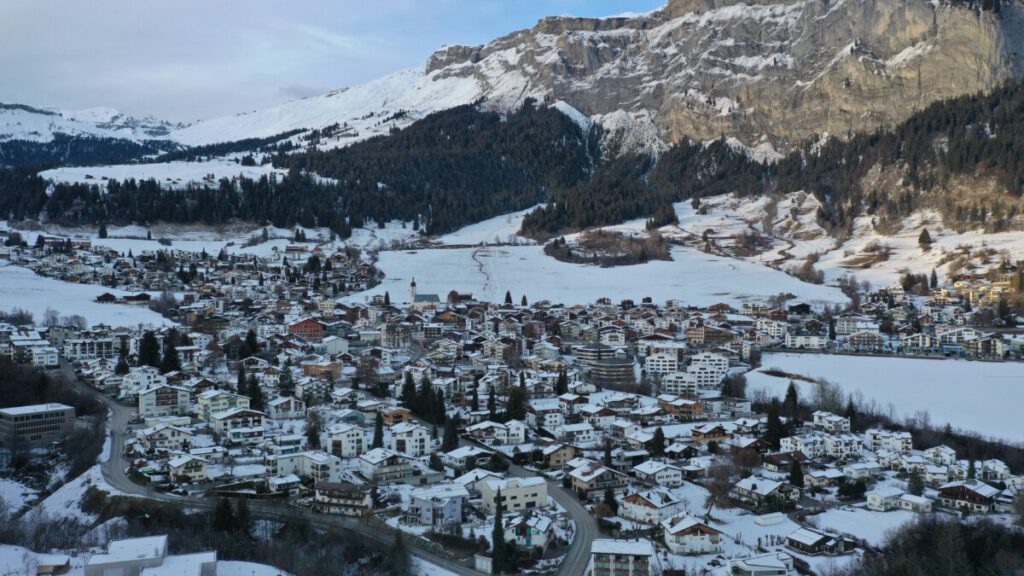 Close to Flims is the town Falera, here you can go ice skating. The entrance is free and open for young and old. There is a kiosk for some nice drinks and small snacks. You can find the ice rink at the playground directly below the ST. Remigius Church.
You can't visit Flims without visiting lake Caumasee. During a beautiful winter day, you may enjoy a nice walk through the forest to experience the magic lake Cauma offers.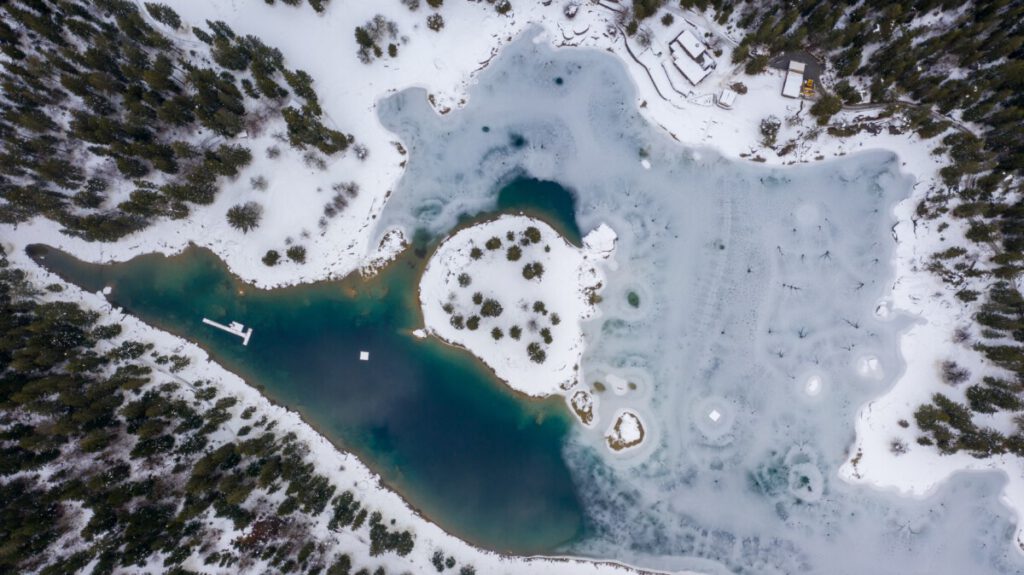 To get to Lake Cauma you can start at Flims Waldhaus and enjoy a leisurely walk through the forest. The path is very well accessible with a buggy or by wheelchairs. Good to mention, there is a possibility to take the lift down to the lake. If you'd like to get deeper information about Flims, check out our other blog specifically about Flims.
9. St. Gallen
It has four cross-country skiing trails, a natural ice rink, three ski lifts, and several weeks per winter snow. The three ski lifts, Beckenhalde, Schlössli and Vögelinsegg operate every day if snow conditions are good. The lifts offer night skiing and ski races as well.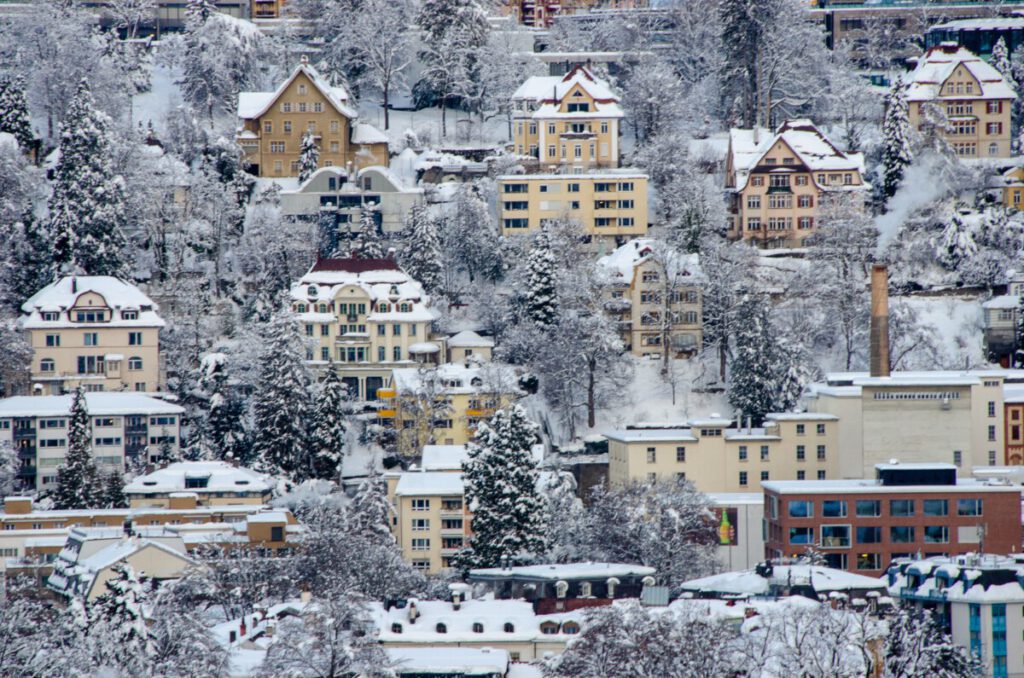 We mentioned the natural ice rink on the Buebenweiher, which is the middle one of the famous Three Ponds, this is a very special experience, which you will not forget. When the ice is thick enough, the pond becomes a place for skaters of all ages. 
10. Interlaken
Interlaken has a central position in Switzerland, which makes it an excellent destination for ski holidays, as it is situated in ski regions of the Jungfrau top Ski Region: Mürren/Schilthorn, Kleine Scheidegg/Männlichen and First, if you travel with your family you could visit the ski region of Beatenberg or Axalp-Brienz. There are about 200 kilometres of pistes in these regions.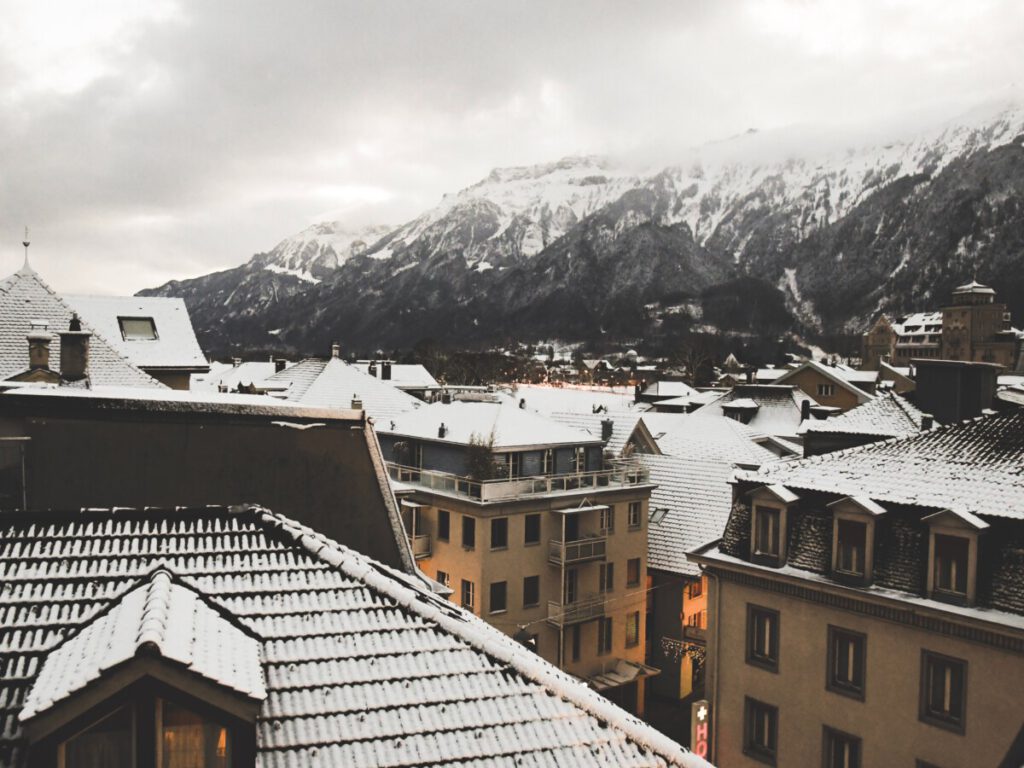 Interlaken is perfectly situated between mountains and beautiful lakes. What makes Interlaken a perfect holiday destination? There is something for everyone. Interlaken offers winter hikes, rapid descents on ski slopes, ski tours and much more. Interlaken is a cute village, situated between the Swiss Alps. You can relax here, or go on an adventure in the mountains. Enjoy a warm hot tub with a good beer, or a scenic mountain walk at the lake.  
Ready for some adventure, to rise your adrenaline level? Go paragliding, run off the mountain and fly over Interlaken, and enjoy the incredible view. Paragliding is Interlaken's most popular sport, if you stay in Interlaken in a hotel, you can enjoy the para-gliders coming by. If you are into history there are guided tours that will guide you through Interlaken to get to know more about the village of Interlaken. 
11. Grindelwald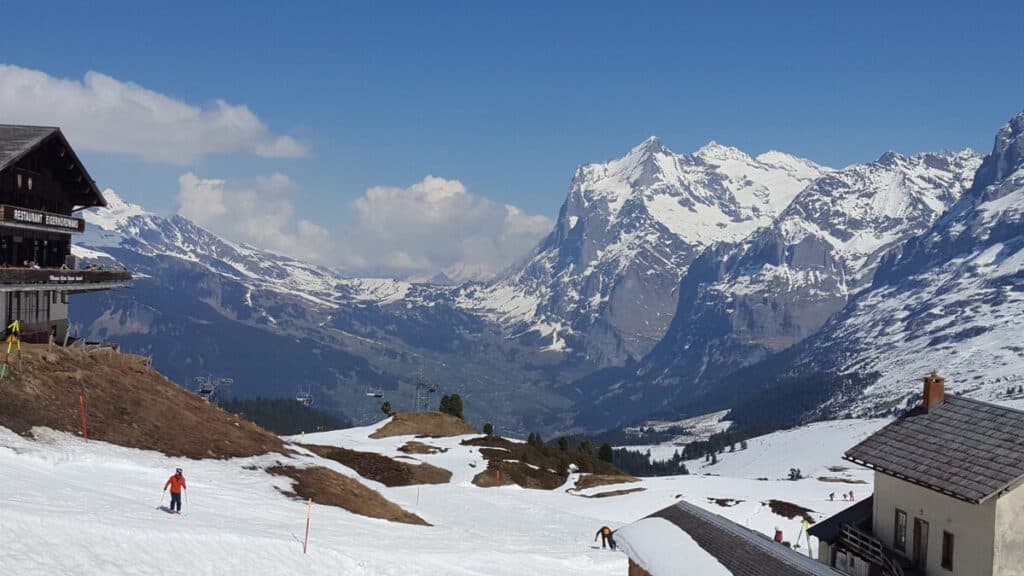 Grindelwald is a stunning winter destination in Switzerland that offers an unforgettable experience. The town is nestled in the heart of the Swiss Alps and boasts some of the best ski slopes in the world. Whether you're a beginner or an expert skier, you'll find the perfect slope to match your skill level. You can also go snowboarding, ice skating, and tobogganing.
In addition to winter sports, Grindelwald offers breathtaking scenery and a peaceful atmosphere. You can take a scenic train ride to the top of the Jungfrau mountain or go for a winter hike to explore the picturesque landscapes. The town is also known for its cosy chalets and delicious Swiss cuisine, including raclette and hot chocolate.
Grindelwald is a magical winter wonderland that should be on your list of places to visit in Switzerland. With its stunning views and endless winter activities, it's the perfect destination for a memorable winter vacation. Read more about things to do in Grindelwald in our blog here.
12. Gstaad
Gstaad is a picturesque Swiss village that's perfect for a winter getaway. Located in the Bernese Oberland region, Gstaad offers a unique winter experience with its beautiful scenery and world-class skiing. With over 200km of slopes, the ski area caters to all levels, from beginners to advanced skiers.
Aside from skiing, Gstaad also offers other winter activities such as snowshoeing, tobogganing, and ice skating. After a day on the slopes, you can unwind and relax in one of the village's luxury spas or indulge in some après-ski activities at the local bars and restaurants.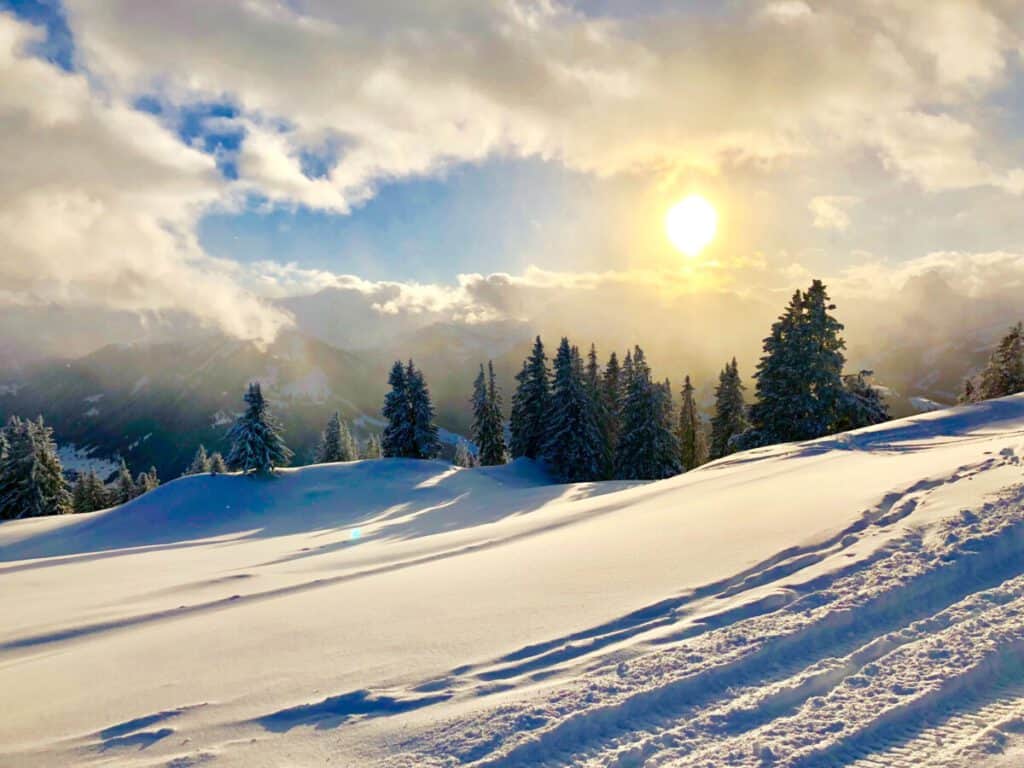 Gstaad is also known for its glamorous and upscale atmosphere, attracting celebrities and high-profile individuals from around the world. Despite this, the village maintains its traditional charm and offers a welcoming and friendly environment for all visitors. With its stunning scenery, diverse winter activities, and luxurious accommodations, Gstaad is a must-visit destination for anyone looking to experience the best of Switzerland during the winter season.
13. Verbier
Verbier is a popular winter destination located in the southwestern part of Switzerland. The town offers exceptional skiing experiences with its 400km of ski slopes, ranging from beginner to expert level. Apart from skiing and snowboarding, visitors can also enjoy other activities such as ice skating, snowshoeing, and dog sledding.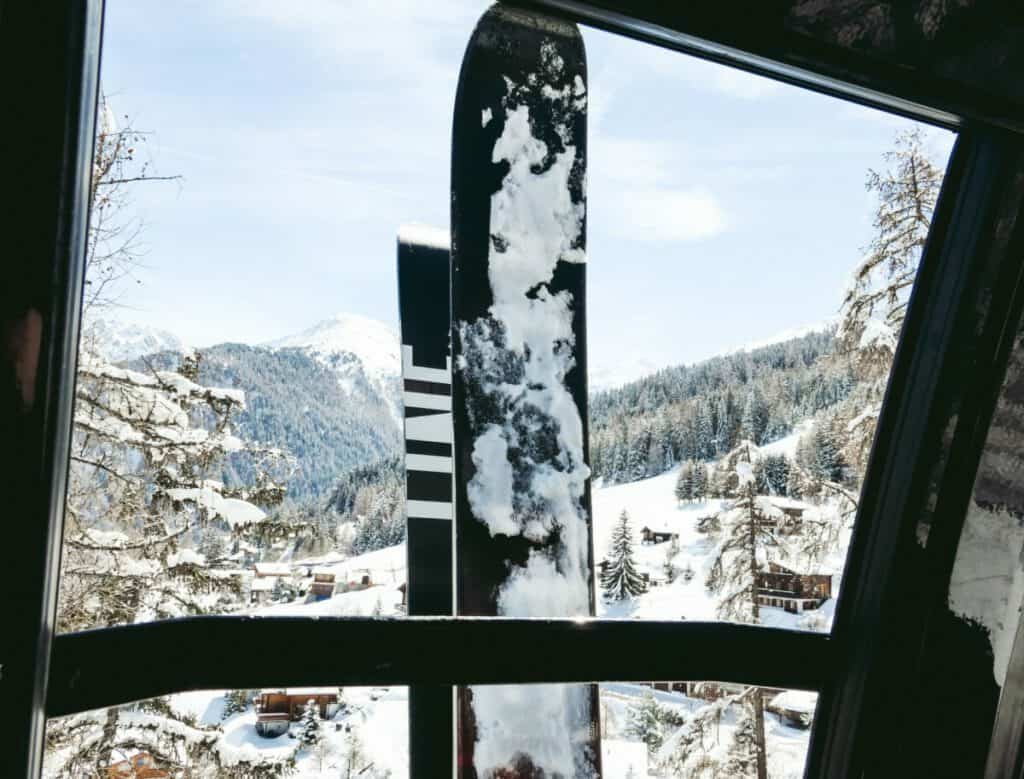 In addition to winter sports, Verbier is known for its vibrant après-ski scene. There are plenty of bars, restaurants, and nightclubs that cater to visitors looking for a lively nightlife. The town also hosts several events and festivals during the winter season, including the Verbier High Five, a competition that includes various winter sports, and the Polaris Festival, an electronic music festival.
Overall, Verbier offers a perfect combination of winter sports, stunning scenery, and lively nightlife. It's an ideal destination for those seeking an exciting and memorable winter vacation in Switzerland. Read our blog about ten reasons why to make Verbier your next winter holiday destination here.
14. Saas-Fee
If you're looking for a unique winter experience in Switzerland, Saas-Fee should be on your list. Known as "The Pearl of the Alps," this picturesque village is surrounded by thirteen towering peaks, creating a stunning winter wonderland. The ski area is diverse and has slopes for all levels, with some runs extending as high as 3,500 meters. You can also try ice climbing, winter hiking, or snow tubing.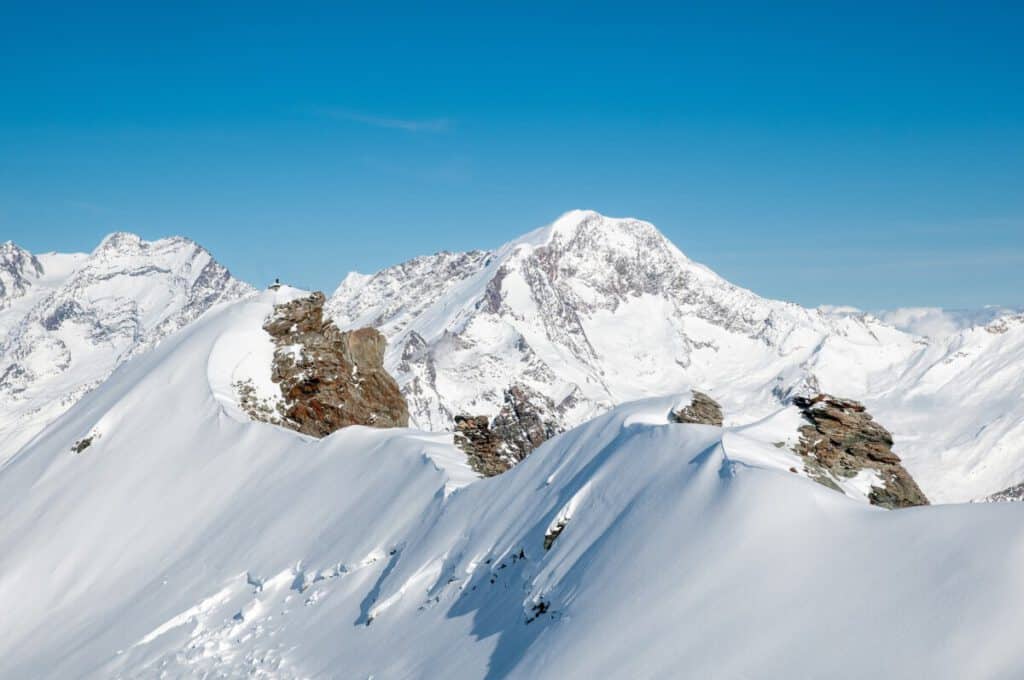 Saas-Fee is a car-free village, making it an incredibly peaceful and relaxing destination. Take a stroll through the charming streets and admire the quaint houses and traditional chalets. The village also boasts a variety of bars, restaurants, and shops, offering a delightful après-ski experience. And don't forget to visit the world's largest ice pavilion, which features an incredible ice sculpture exhibition.
In summary, Saas-Fee offers a unique winter experience with stunning alpine views and diverse winter activities. With its charming village and car-free environment, it's the perfect place for a peaceful winter getaway in Switzerland.
15. Laax
Laax is a winter paradise that offers something for everyone, making it a great destination for a winter vacation in Switzerland. With over 235km of ski slopes and 70km of cross-country ski trails, Laax is a popular spot for skiing and snowboarding. The slopes cater to all skill levels, from beginners to experts, and the resort also offers lessons and rentals.
But Laax is not just for skiing – you can also try snowshoeing, ice-skating, and even freestyle snowboarding in one of the snow parks. The resort town also boasts a vibrant après-ski scene, with plenty of bars and restaurants to choose from.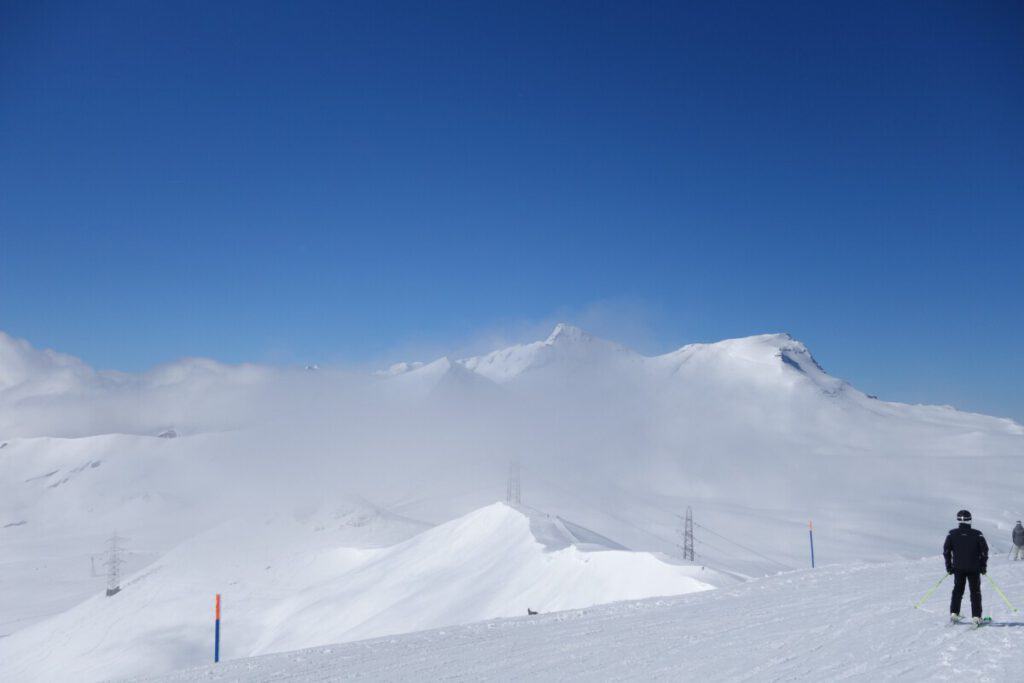 Laax is a stunning destination with breathtaking views of the Swiss Alps. The town has a modern and vibrant feel and offers a variety of winter activities, making it a great place for a winter vacation in Switzerland.
Conclusion
In conclusion, Switzerland is a winter wonderland offering a wide range of activities and experiences for visitors. The top 15 places to visit during the winter season provide unforgettable moments that will be treasured forever. From the stunning scenery of Zermatt, St. Moritz, and Grindelwald to the charming villages of Arosa, Verbier, and Laax, each destination offers its unique winter experience.
The winter season in Switzerland is not just about skiing and snowboarding, but also about immersing oneself in the local culture, indulging in Swiss cuisine, and enjoying the festive cheer. Take a scenic train ride on the Glacier Express, or try your hand at ice-skating or snowshoeing. The opportunities are endless, and each destination promises an unforgettable vacation.
If you're looking for a winter getaway, Switzerland is the perfect destination, and the top 15 places to visit during the winter season should definitely be on your travel list.