Switzerland is known for its stunning panorama and has gained a high reputation among people all over the world. In this blog, we will inform you about the top 10 most beautiful places to visit in Switzerland during the Summer. Are you ready to discover majestic Switzerland? Whether you're visiting or perhaps relocating, don't miss out on our top 10 places to visit in Switzerland during the summer season.
1. Zurich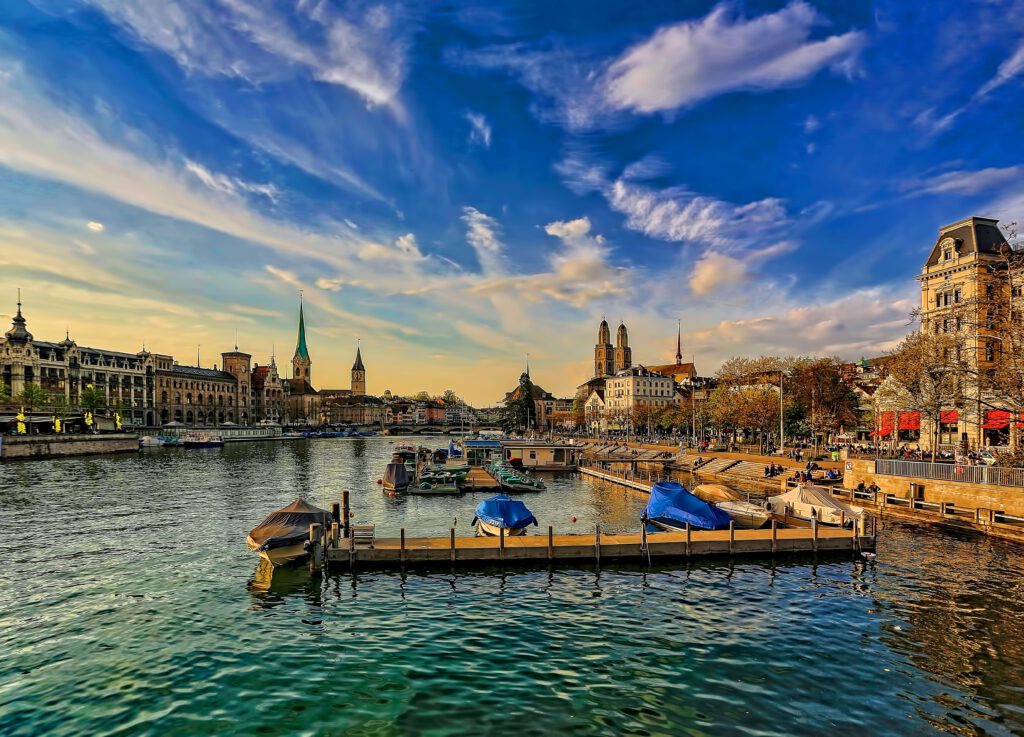 Number one of the top 10 places to visit in Switzerland during Summer is Zurich. Zurich is known as the city with the best quality of life in Europe. During summer, Zurich buzzes with life, many tourists are visiting Zurich during the Summer season. In the Summer period, tourists can enjoy Zurich's town squares, garden terraces and magical promenades.
We highly recommend exploring Old Town Zurich, narrow streets of the Niederdorf are full of both chain and boutique shops, as well as charming restaurants. When walking in the Old Town of Zurich you will see the two most popular sights of Zurich: the Grossmünster Church and the Fraumünster Church, both are must-visit. If you are into history, we advise you to catch a guided tour to learn more about the history of Zurich.
You won't want to miss…
When it's nice and sunny in Zurich, we recommend enjoying a cable car ride with spectacular views to the top of Mt. Titlis, here you can enjoy a fabulous view over the Alps.
explore the beautiful old town and explore attractions like the Bahnhofstrasse or Lindenhof.
Switzerland is known for its Chocolate, in Zurich you can find the Lindt Chocolate shop, a must-visit.
Go with the magical Dolderbahn, all the way up to the stunning Zurichberg district.
2. Flims
Flims is a popular destination to visit during Summer, located in canton Graubunden. This place is perfect for bikers, hikers and families. Flims is known as one of the most varied vacation regions. This place offers numerous hiking trails, mountain bike routes and stunning lakes. A great mix of adventure and relaxation.
No matter what your purpose is of your visit, it's possible. You can relax and take a swim at Lake Cauma. If you're up for an adventure you can find beautiful mountain bike routes and hiking trails with magical views. This picturesque village has fabulous skiing facilities and is a popular winter sports destination! During Summer you can go up in the mountains in modern cable cars while enjoying the fantastic view. When arriving at the top, there are many different hiking trails available, with many different levels of difficulty. A more simple hike with less height differences, or challenge yourself and take a more difficult route.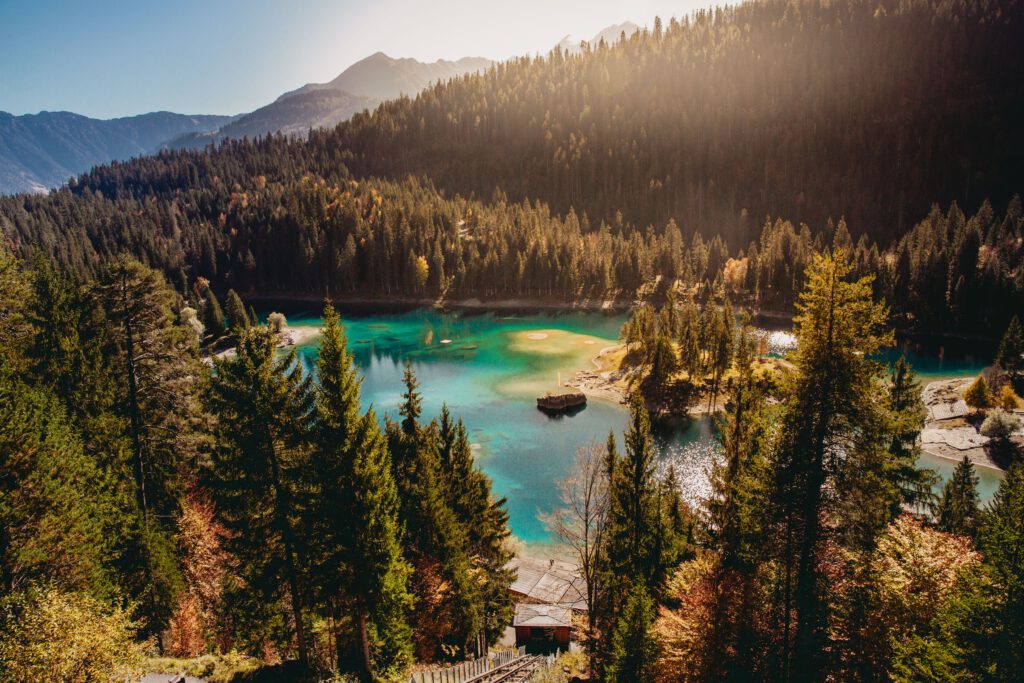 Flims does not only offer great hiking and mountain bike trails. When you visit in the Summer you can walk to the beautiful Lake Cauma, To get to Lake Cauma you can begin at Flims Waldhaus and enjoy a leisurely walk through the forest. The path is also accessible with a buggy or by wheelchair. I really enjoyed this hike through the forest to Lake Cauma. Good to mention, there is a possibility to take the lift down to the lake. This lake is known as Lag la Cauma, which means lake siesta. Lake Cauma is known as the jewel of Films, fantastic for a swim or just chilling or sunbathing. To get to know more about Flims, Laax and Falera we recommend reading our other blog: Top things to do in Flims, Laax & Falera
3. Verbier
When I ask you to think about something when I am talking about Verbier, you probably mention skiing, winter sports and magical sceneries in the Swiss alps and evenings huddled around with log fires packed at a bar, at a late night apres-ski. Good news, after the winter tourists go home, and Summer starts Verbier is turning in greenery again. Under the snow thousands of kilometres of footpaths and trails, perfect for mountain biking and hiking appear. If you have never considered Verbier as a summer destination, it's time to rethink!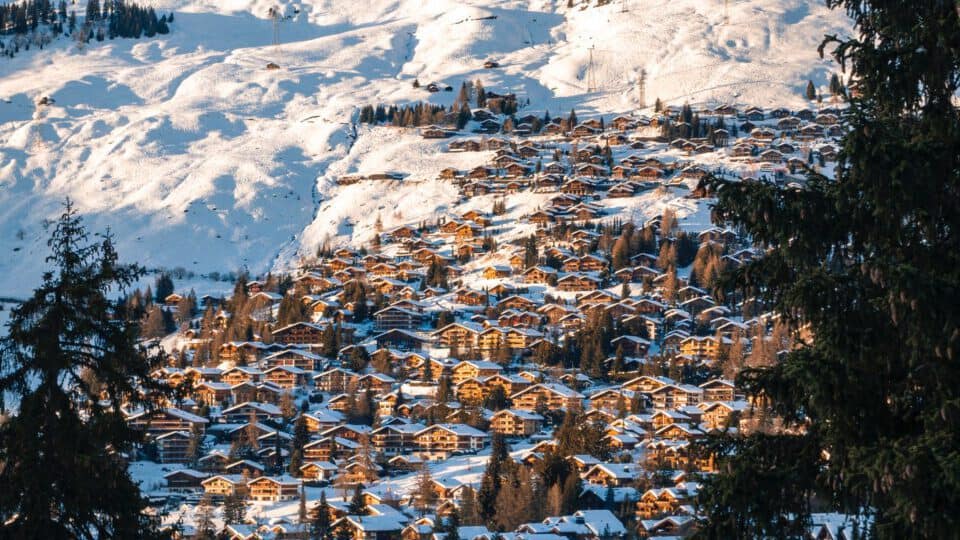 With over 400 kilometres of walking trails and routes, Verbier offers perfect surroundings for a hike. Last year, Verbier worked very hard to offer downhill mountain bike. There are blue trails for beginners and trails for the more advanced mountain bikers.
If you are a true venturer, there are possibilities to para-glide or skydive! Paragliding offers a way more relaxed way to enjoy the view than skydiving, but your adrenaline level will probably rise significantly when you are going to skydive! When paragliding, you can enjoy the beautiful view of Mont Blanc and the surrounding mountains.
4. Lugano
Time to discover Lugano, probably one of the most charming towns in Switzerland. Located at the base of the Swiss alps and overlooks Lake Lugano. You will experience a Mediterranean climate, with pretty constant sunshine. Lugano is a perfect starting point to explore the Ticino region. There are many things to do in Lugano, but the highlight is definitely Lake Lugano. Lake Lugano is a concurrent of the lakes Coma and Maggiore. A fun fact is that 1/3 of the Lake Lugano is in Italy, and the other 2/3 is in Switzerland. During summertime, the Lido di Lugano is a busy place, here you will find a beach volleyball court, children's pools and an Olympic heated pool!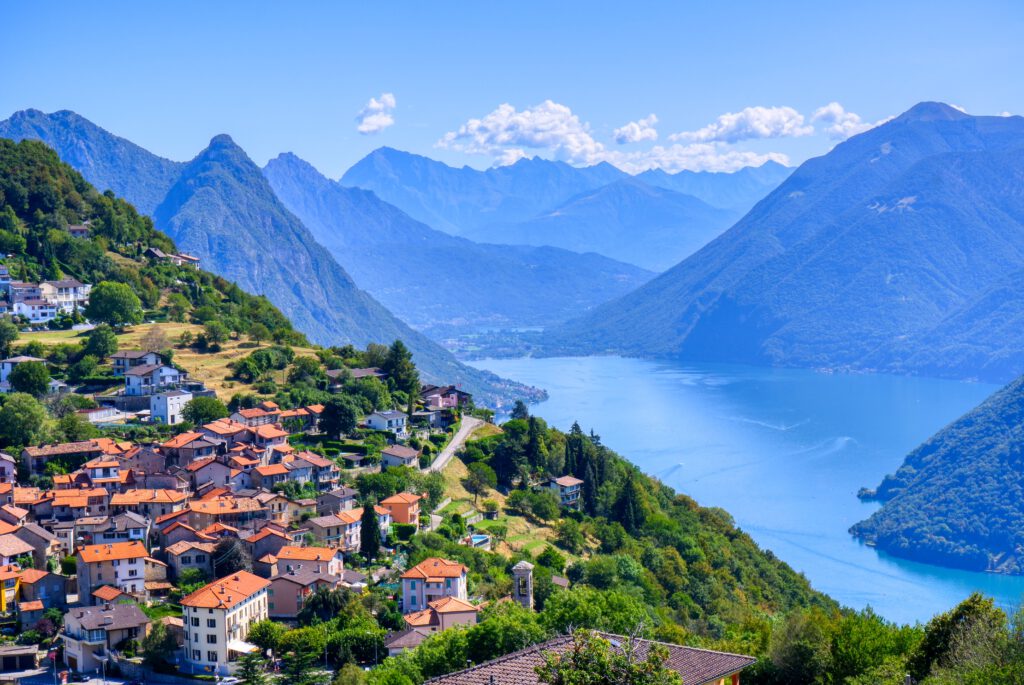 But let's not forget the beautiful picturesque Old town of Lugano, with many shops. We would advice visiting the Lugano Cathedral as well. This Cathedral, also well known as the Cathedral of San Lorenzo was built in 1517 and you will find some stunning Baroque frescoes by Ernesto Rusca.
5. Geneva
When the summer starts, Geneva almost feels like a beach resort. Skis are put away, and swapped for sandals. Geneva is really energetic during Summer! In Geneva there are plenty of possibilities to relax or cool down after a warm day, in a swimming pool, paddling pool or on Lake Geneva. Besides cooling down, there are also many activities in Geneva. This summer, over 60 open-air classes are organised. Sports like Pilates, gym, yoga and many more are offered for free.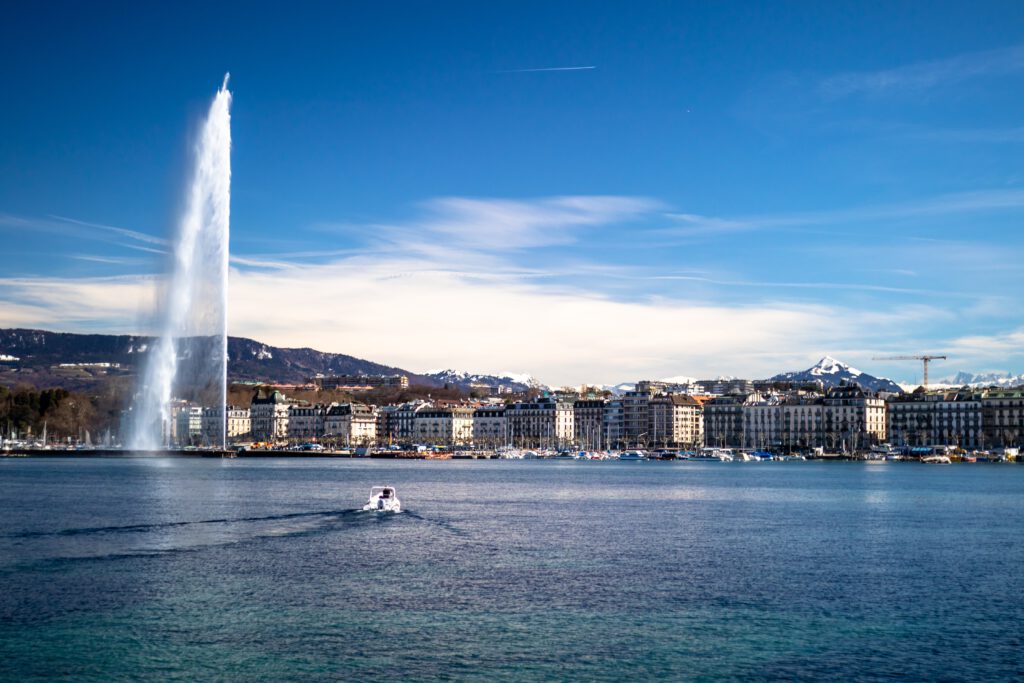 At lake Geneva, you can enjoy a boat excursion. There are many daily cruises that offer a chance to discover the stunning shores of Lake Geneva. One important sight which we can not forget is the Geneva Water Fountain. The fountain is a symbolic and historic icon of Geneva.
Our recommendation is to visit the park in Geneva called: Bastions park. Enjoy a coffee at Cafe Restaurant du Parc des Bastions. Starting your day of exploring Geneva is great to start at a peaceful place like this park. After the coffee enjoys a walk through the park. After that experience, the magic Geneva has to offer.
6. Schaffhausen
The Rhine Falls are the largest waterfall in Europe, we recommend visiting the Rhine Falls in the months: of May, June, or July. At this time, water density peaks, and the views will be the most spectacular. You can easily park in Schaffhausen after a nice walk down you will see the power of nature. Plenty of boat excursion companies offer a unique experience to go to the castles in the middle of the Rhine Falls basin, at this might rock right in the middle of the waterfall, you will experience the power of nature even more intensely.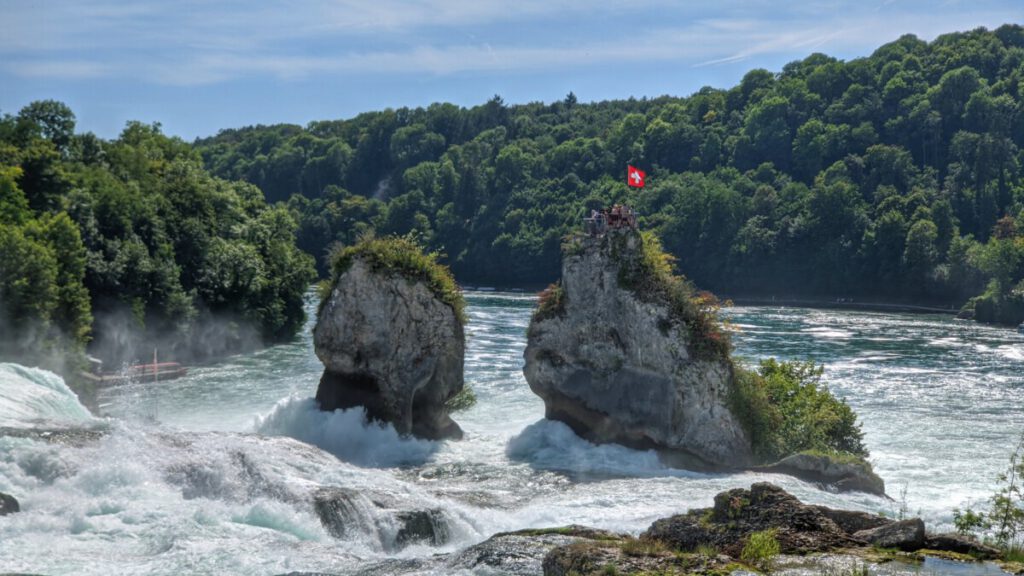 Schaffhausen is a lovely little city, but a big town. Very walkable in the centre. Do not miss the Munot, a must-visit, you walk up there from the town. The historic town in northern Switzerland has a beautiful historic centre. Architecture from the renaissance period, and is located nearby Europe's largest waterfall. A must-visit!
7. Interlaken
This town is a wonderful town attracting tourists from all over the world, to experience the beautiful Jungfrau region with their own eyes. When you visit this town you can enjoy the fresh air, while enjoying two crystal clear blue lakes surrounded by impressive mountains. During summer there are plenty of activities going on. Hiring a kayak is an awesome adventure. You can kayak on the beautiful blue-coloured water of lake Brienz. The view of the lake is even better. A kayak can be rented for about 2-3 hours for 15 euros.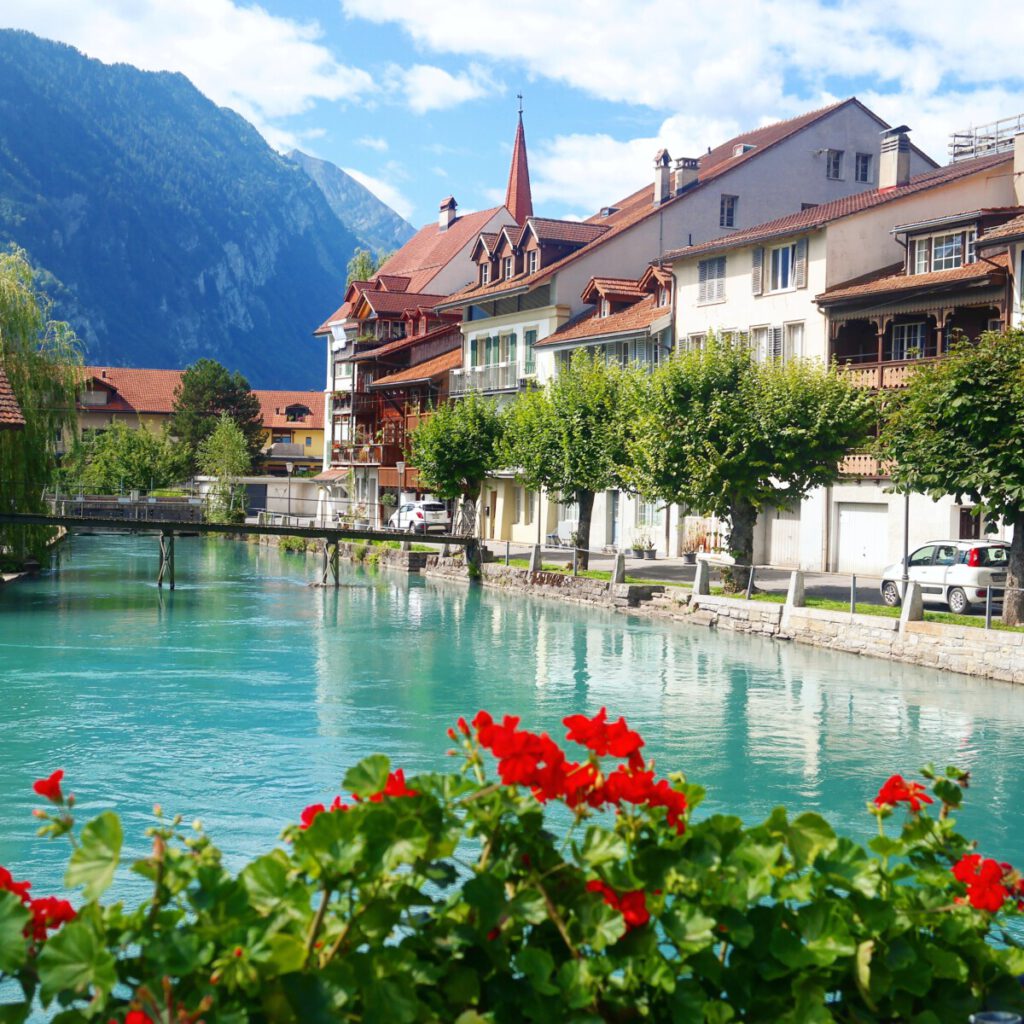 A swim at lake Thun is fantastic. There are many swimming spots on the shores of the lake. The water is relatively cold during the whole year, but when it's Summer the temperatures will be higher, and then it's the perfect way to cool off.
8. Zermatt
Zermatt is located at the foot of the majestic Matterhorn. The famous touristic town, Zermatt is closely linked to probably the most famous mountain in the world. Remarkably is the fact that this vacation destination is a car-free zone. Zermatt has preserved its traditional and original character and offers nearly unlimited opportunities as regards excursions.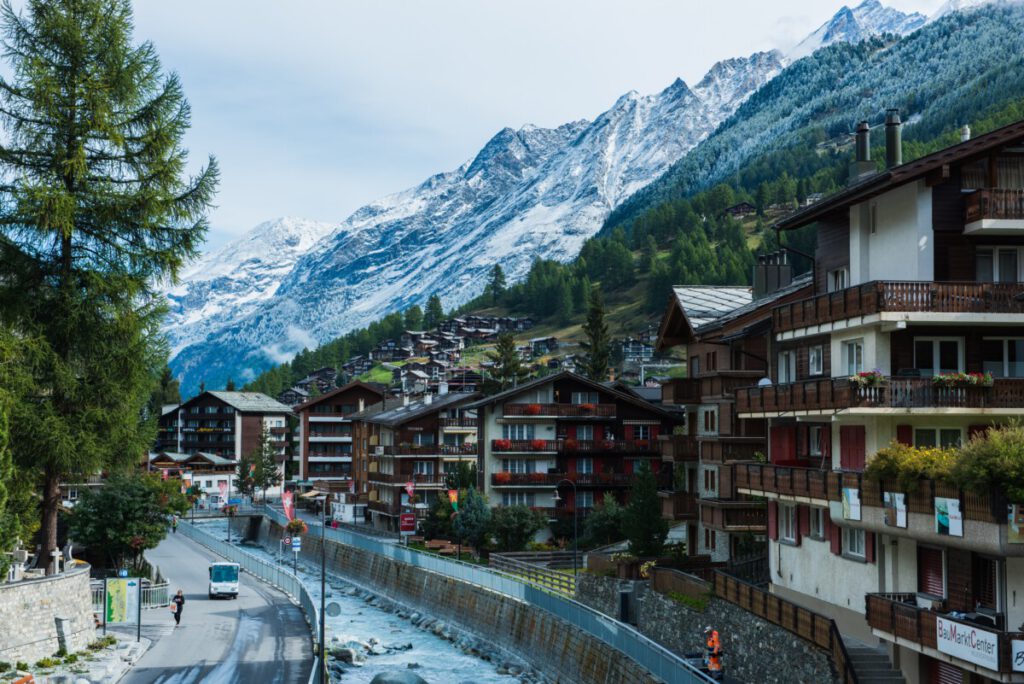 Very special about Zermatt is the fact that it is possible to ski in the Summer at Klein Matterhorn. Over 322 kilometres of slopes are available. Particularly a big advantage for the people who really love skiing and can't wait till winter. This is making Klein Matterhorn the largest and highest altitude summer ski area in Europe.
During Summer there are plenty of activities possible in Zermatt, from walking to climbing. There are over 400 kilometres of walking trails available with spectacular views. We highly recommend the cog railway, which goes from Zermatt to the 3039 meters high Gornergrat. An interesting fact is that the Gornergrat Bahn was the first electrified cog railway. At the summit, you can enjoy a cup of coffee or lunch and sit back and view the majestic Matterhorn, Monte-Rosa massif, and the glaciers.
9. St. Moritz
Most people know St. Moritz as a winter sports destination. However not many know that originally St. Moritz began as a vacation Summer destination, mainly due to the healing mineral springs. These days St. Moritz attracts many visitors during Summer with the diverse activities which are offered, the beautiful landscape, and the awesome events which are being organized during summer.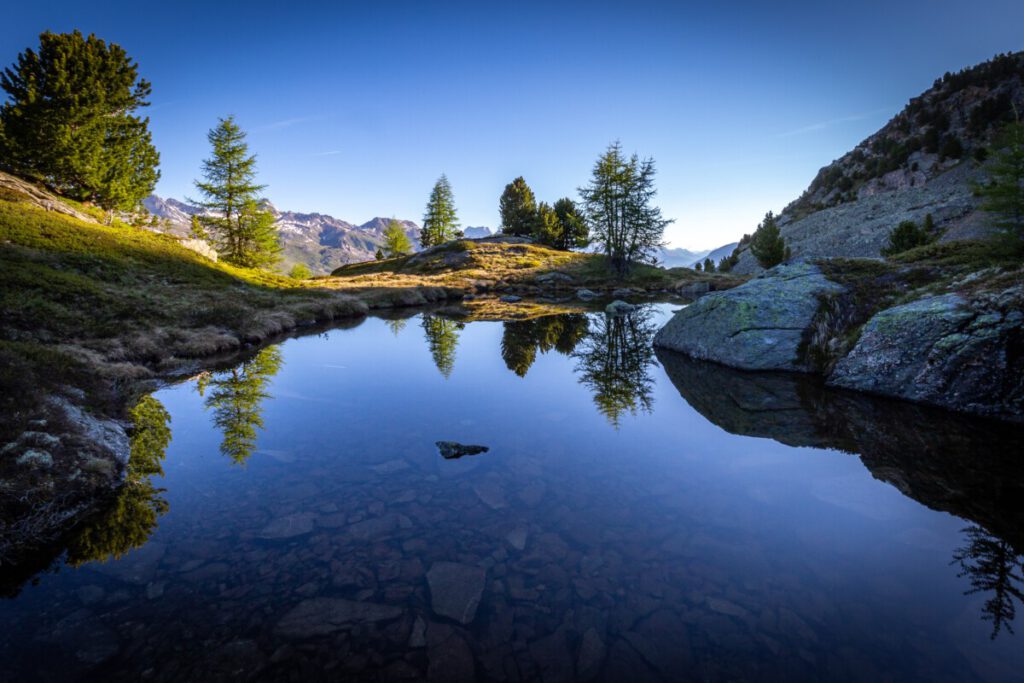 St. Moritz has beautiful lakes as well. You can enjoy numerous water activities or just chill at the lake. Lake st. Moritz is particularly popular among sailors. Several regattas are being organized at lake St Moritz during the summer season. St Moritz offers great shopping as well, from Gucci to Prada. Besides clothing, you can find shops with beautiful watches and jewellery. A coffee at Hanselmann is fantastic, enjoying homemade coffee and a delicious slide of Engadine nut tart.
10. Bern
Summer in Bern is known as a period of a chilled atmosphere and sociability. This creates a special holiday feeling. Bern is the capital of Switzerland. A reason to visit Bern in the summer is to experience the atmosphere at the Aare river. During Summer the Aare becomes the soul of Bern. When temperatures start to rise, you will see locals, swimming, rafting, or chilling at the Aare. It's truly magical how the Aare is winding its way through Bern. The Aare is crystal clear, with turquoise colour, quite a highlight.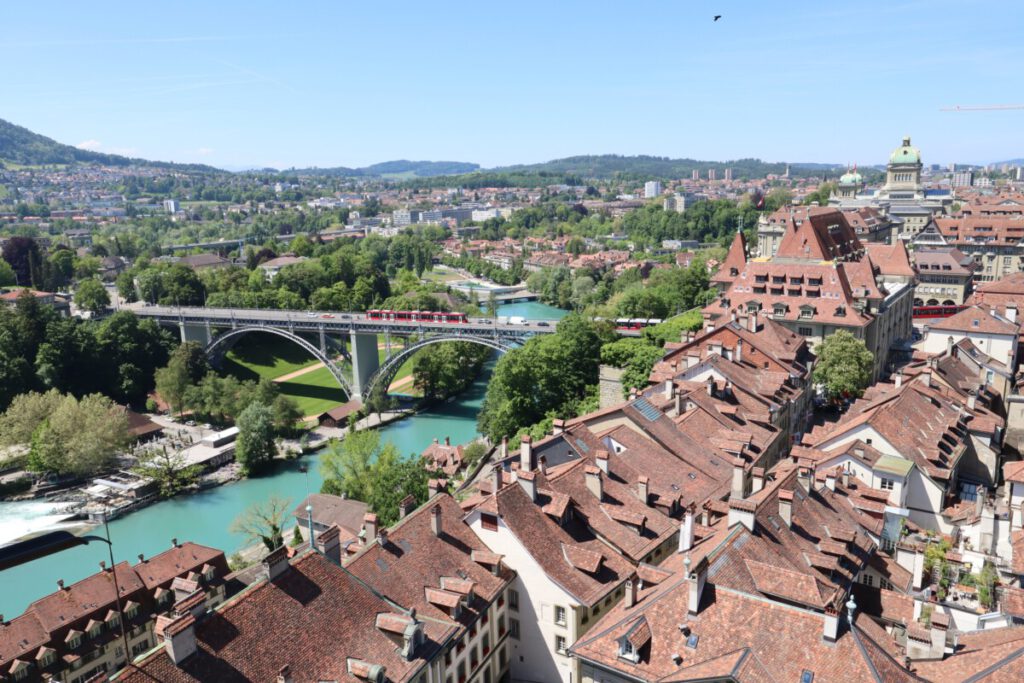 You can not visit Bern without eating ice cream! Caramel, strawberry, or yogurt, the locals really try to create the best ice cream. The locals from Bern are as proud of their ice-making as on the beautiful river Aare.
A swim in the Aare is so refreshing, the water is from the glaciers, and the water comes directly from the glacier in the Bernese Alps. Interesting is that the locals mention, the colder the water is, the more refreshing and exciting it gets.
We highly recommend reading our blog about the best time to visit Switzerland, to be sure you prepare yourself well for your visit to the beautiful country of Switzerland. We hoped you liked this blog and found it interesting and helpful.
Conclusion
Switzerland has so many beautiful villages and larger cities such as Zurich or Lucerne. In this blog, we've informed you about the top 10 places to visit in Switzerland. Ranging from the smaller villages such as St. Moritz to the larger cities such as Zurich. We hope this list inspired you for your next holiday to Switzerland. If you have any questions, feel free to leave a comment below.